Welcome to Night Vale Live Does Not Exist, But You Should Go Anyway
BY: Will Landon |
Mar 10, 2014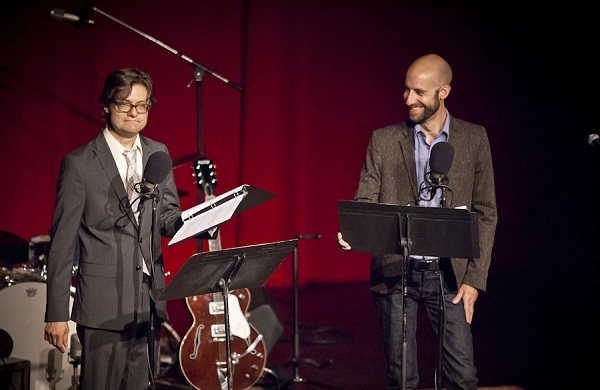 A sci-fi take on
The News from Lake Wobegon
, this live version of the podcast promises musical guests and a brand-new script that blends the mysterious with the mundane.
Think
The News from Lake Wobegon
, but with demons, angels, and transdimensional monsters. That's the best way to describe the twice-monthly podcast
Welcome to Night Vale
. Less than two years since its first episode aired, the program has amassed a fervent cult following thanks to its wry blend of the mundane and fantastical. The small desert town of Night Vale has many freakish occurrences: a rip in space and time interrupts a PTA meeting. A high-school basketball player is given super-strength after being hit by a sentient bolt of lightning. Deadpan narrator Cecil reports on these events, but only between announcements about the opening of a civic building or an ad for the town's only pizza joint. As co-creators Joseph Fink and Jeffrey Cranor say, for the people of Night Vale, "weirdness is just part of day-to-day life."
Night Vale
is currently on a
live tour
featuring a brand-new script, "The Librarian," and a surprise musical guest. Schubas and Lincoln Hall present the show's Chicago stop at the
Athenaeum Theatre (2936 N. Southport Ave.)
on Saturday, March 22, at 10 p.m. Any fan of the podcast is already familiar with the town's colorful characters and locales, but for the uninitiated, here's a quick rundown:
THE FACES
Cecil:
The humble narrator and broadcast journalist at the community radio station. As our link to the world of Night Vale, he offers sly commentary, describes the town's horrific goings-on, and relays messages from local businesses and the ominous City Council.
Carlos:
A visiting scientist investigating the strange local phenomena. He keeps a state-of-the-art laboratory next to Big Rico's Pizza, a strong jawline, and flowing black hair with a dignified touch of gray. According to witnesses, he's just perfect.
Khoshekh:
A cat that floats 4 feet above the floor, next to the sink in the men's restroom at the radio station. Despite being unable to go elsewhere, he seems happy, and will purr if petted.
Josie:
An old woman who lives by the car lot and claims to have been befriended by two angels. She says they sometimes help her with the housework—one even changed the porch light.
The Apache Tracker:
Though he appears to be ethnically Slavic, he sports a cartoonish, offensive, and inaccurate Native American headdress. He also investigates mysteries, but no one takes him seriously.
Hiram McDaniels:
An 18-foot tall, five-headed dragon with "mostly green" eyes. Having escaped an arrest for insurance fraud, he's considering running for mayor.
THE PLACES
Night Vale Community Radio:
Where Cecil broadcasts his show. He's usually joined by a guest or interrupted by the enigmatic Station Management, who issues commands via envelopes spit out under their office door. No one has ever seen the inside.
The Dog Park:
Citizens are not allowed to enter, look directly at, or spend too long thinking about the Dog Park—or the mysterious hooded figures who regularly meet there.
The Public Library:
Reportedly the home of several killer librarians. The town claims it's constantly closed for renovation.
Desert Flower Bowling Alley and Arcade Complex:
The pin-setting area behind Lane 5 contains an entrance to a sprawling underground city.
As complex as Night Vale is, it isn't too late to catch up! Listen to the podcast here. Tickets for the live show are $25, and can be purchased here.
Photo by Liezl Estipona
BY: Will Landon
Will Landon is a Chicago-based writer who sings punk rock songs with the Blue Ribbon Glee Club and occasionally works for free as an assistant stage director.