What a Bears Pregame Reporter Wears to Stay Warm
BY: Emily Wachowiak |
Dec 10, 2013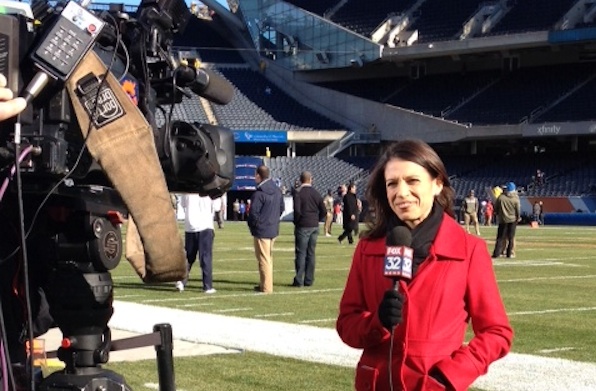 Chicago and Cleveland are both known as chilly lakeside cities, but having covered NFL teams in both places, Fox 32 sports reporter
Dionne Miller
gives the cold-weather edge to the Windy City. "I feel like here the wind always blows toward you," she says, "[and] it is always 10 degrees cooler on the field at Soldier Field than it is anywhere else in Chicago." When covering the Bears each week, Dionne is continually amazed by the short-sleeved—or often shirtless—fans who seem impervious to the wintery gusts. "They sit out in that weather every single year and every single week and they cheer on that team," she says. "They're so into it—it's fun to be a part of." But unlike the die-hard fans whose uniforms consist of blue and orange body paint, Dionne opts to layer up on game day. During our interview, she walked me through her on-the-field attire, which I used as inspiration as I assembled an ultimate cold-weather outfit of my own.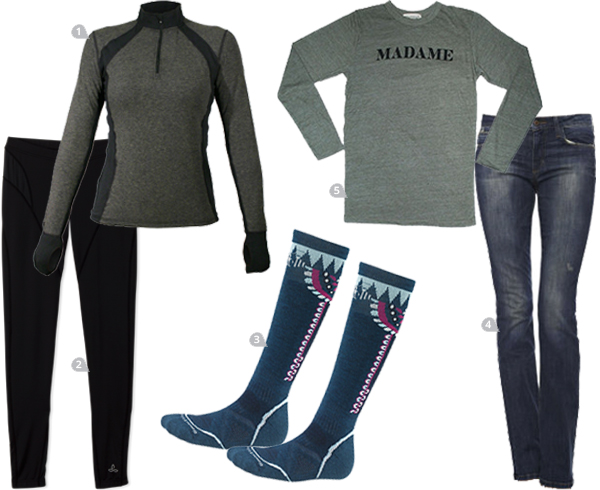 BOTTOM LAYERS
1. Merino wool stretch 8K zip-T; Hot Chillys ($80)
Dionne starts off with a cold-weather running shirt—"usually a mock turtleneck so it goes up my neck." Thumb holes on the long sleeves of this shirt provide extra hand protection.
2. Prana Deena pant; Road Runner Sports, 1435 N. Kingsbury St. ($79.99)
Cold-weather running pants round out Dionne's base layer. "Sometimes people think they're tights, but they're not," she laughs.
3. PhD ski socks; Uncle Dan's, 3551 N. Southport Ave. ($23.95)
"I wear socks up to my knees, and that keeps my toes warm." This first layer is important, she says, as the feet are the first thing to go numb. "If I can feel it early, like before the game even starts, then I know it's going to be a bad day."
4. Bootcut Vintage Reserve jeans; Joe's Jeans, 1715 N. Damen Ave. ($165)
Even though they're casual, Dionne has found that jeans provide the most cold-weather protection. As long as her lower body won't be seen on camera, she slips on a pair over her running pants and socks.
5. Long-sleeved T-shirt; Sir & Madame, 938 N. Damen Ave. ($40)
"My upper body gets a lot colder than my lower body," Dionne says, so she'll usually don a long-sleeved T-shirt as a second top layer. "This is gonna sound crazy, [but] then [I'll add] a blouse if I can get the collar to pop through the jacket, so it looks a little bit more professional." On top of that she'll sometimes add a sweater—that makes up to four whole layers before she even adds her coat.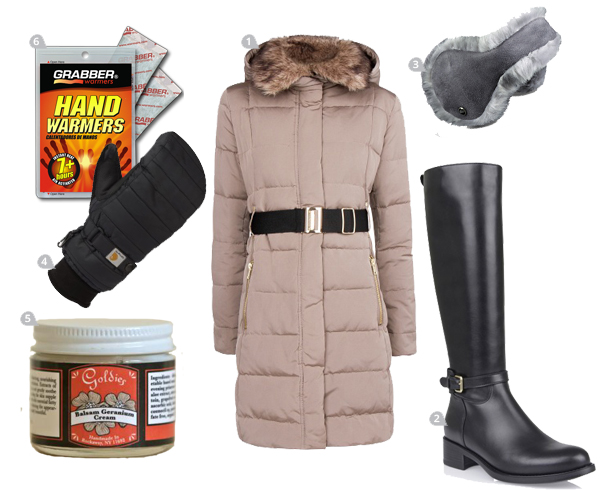 TOP LAYERS
1. Belted feather-down long coat; Mango ($189.99)
Though she keeps several coats in rotation—including stylish pea coats in three different colors—Dionne prizes her "no-nonsense coat" on the chilliest of game days. Dionne opts for a long model with "head to toe" coverage, complete with a fur hood for extra warmth. A belt adds a fashionable touch and makes the coat feel less bulky, but she says that when the temperature drops, "I really don't care about looking cute."
2. La Canadienne Sandra boots; Lori's Shoes, 824 W. Armitage Ave. ($378.95)
Dionne owns four or five pairs of riding boots, a favorite option in winter, though she also keeps some thermal-lined snow boots on hand for game-day blizzards.
3. 180s Winterlude ear warmers; Uncle Dan's ($30)
She always keeps a hat handy, but Dionne also favors behind-the-head-style earmuffs, which can be slipped on and off with minimal damage to her hairdo. She never goes all out with the styling, though: "I know it's a losing battle, but I try to keep my hair intact in some capacity so I don't look too disheveled."
4. Quilt mitts; Carhartt ($22)
Dionne's hands need to stay dexterous so she can take notes during games, so she usually wears a pair of cheap knit gloves under more heavy-duty waterproof mittens. If your hands get wet, "it's brutal," she says.
5. Goldies balsam-geranium face cream; Una Mae's, 1528 N. Milwaukee Ave. ($36)
Dionne takes extra care with her makeup to protect her skin from the biting winds. A layer of moisturizer under foundation is essential, as is ChapStick underneath lipstick. "I know my nose gets red, and you can't change that when you're cold," she says, "[but] I try to play up my eyes a bit more and hope that you can't notice it that much!"
6. Grabber hand warmers; REI,1466 N. Halsted St. ($1.50)
Dionne started stuffing disposable hand warmers in her pockets after a college coach handed them to her during a game. "They don't always work," she says, "but I feel like if I have them, I'm a little bit warmer than I was before, so I always try to keep a couple in my bags at all times."