A Day in the Life of a Dog-Sledder
BY: DAN CAFFREY | 2.20.2015 |
It took a couple of tries before we finally connected with Peter McClelland, a man who's more accustomed to hearing dogs barking than cell phones ringing. As a dog-sledding expert and co-owner of White Wilderness Sled Dog Adventures, McClelland spends most of his time outside among the snowy pines of Ely, Minnesota, tending to his pack of Alaskan huskies and teaching visitors the ins and outs of being a musher. Fortunately, we were able to catch the soft-spoken naturalist between dog-sledding trips to learn what an average day in his not-so-average life is like.
How does your day begin?
"First thing in the morning," McClelland says, "we get up, feed the dogs, pooper-scoop the grounds, and pack our people food for the day trips. When customers start showing up, we make sure they have the right gear and are prepared for the day."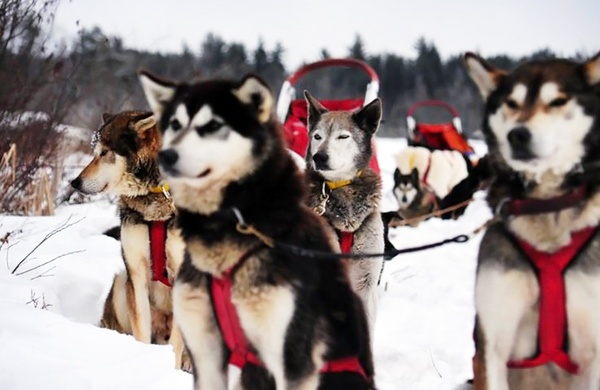 How long is your average dog-sledding trip?
Most trips include a brief orientation and last from 9 a.m. to 3:30 p.m., but McClelland says that can vary depending on the distance. "On a single day," he explains, "we'll [sled] between 20 and 30 miles. We have a stop at lunchtime, where we build a fire and cook brats."
What's it like to spend all that time outside?
"We're in the Superior National Forest, and it's a spiderweb of snowy trails out here," McClelland says, but he doesn't seem to mind the cold. In fact, he'll often head out on the icy rim of Lake Superior for an afternoon barbecue. Dog-sledding is a great way to get away from the hustle and bustle for a while; the closest airport to Ely (population: 3,455) is two hours away, and the terrain farther out gets even more secluded.
What's your favorite part of the day?
"[I love] seeing the dogs grow up and learn how to do everything," McClelland says. "We usually start training them at four months, though they won't pull trips until they're over a year old."
How does your day end?
"The dogs come in, everybody rubs them down, they get treats, and then they get fed their second meal." So, what do these ultra-athletic dogs eat? "We feed them ground-up meat and a high-energy dog food that's 32% protein and 32% fat. These dogs burn a lot of calories, so it's a high-calorie food."
What's something about your day that would surprise people?
Films and TV shows have depicted plenty of mushers cracking whips and gruffly yelling at their team, but McClelland says it's much more relaxed than that. "The dogs don't have reins or anything like horses," he tells us. "They're hooked up to each other as a team and they follow voice commands: 'Ge' for right, 'haw' for left, 'alright' to go, and 'whoa' to stop."

People might also be surprised to learn that a dog sled doesn't really have a place to sit down. "A sled has two runners," McClelland explains. "You stand on the back and have a handlebar and a couple of brakes, which are your biggest friends when you're out there."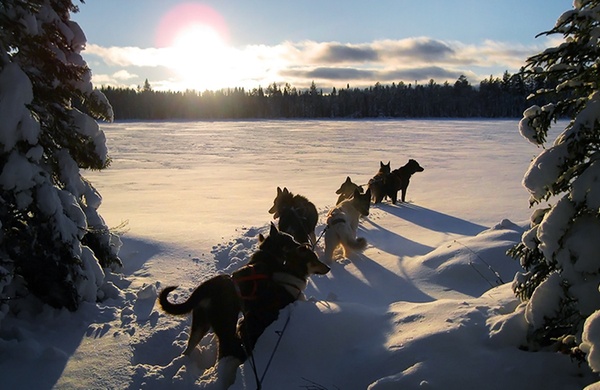 Do you find it easy to leave your job at work when you go home?
It's hard to leave your job at work when you technically work from home. "We actually live here," McClelland says, referring to White Wilderness's onsite cabin. "The dogs stay outside. They each have their own house."
What's the craziest thing that's ever happened to you on the trail?
"We ran into a wolf one time. We ran about 100 yards before our team would stop. The wolf would watch us, then catch up slowly, and when it got too close, we'd take off. It did that for about 20 minutes."

Although adventurers aren't guaranteed to see a wolf on every trip (McClelland says the wild creatures are actually more timid than huskies), they're sure to be dazzled by a mode of transportation that, after more than 1,000 years, is still alive and well—if you know where to look for it. Just don't expect the dog-sledders to answer the phone every time.

Read about other ways to spend time in the snow: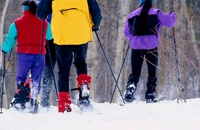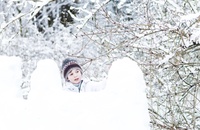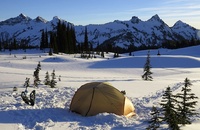 BY: Dan Caffrey
Guide Staff Writer
Outside of Groupon, Dan is a playwright, Senior Staff Writer for Consequence of Sound, and contributor to The A.V. Club.