What Makes the Guys in Fountains of Wayne Say "Humbug" to the Holidays
BY: Tyler Clark |
Dec 17, 2013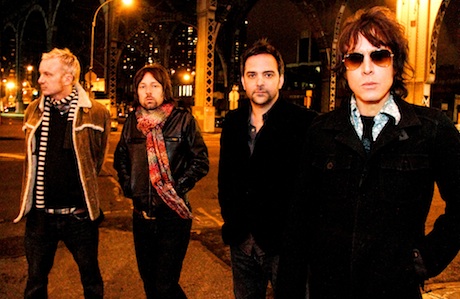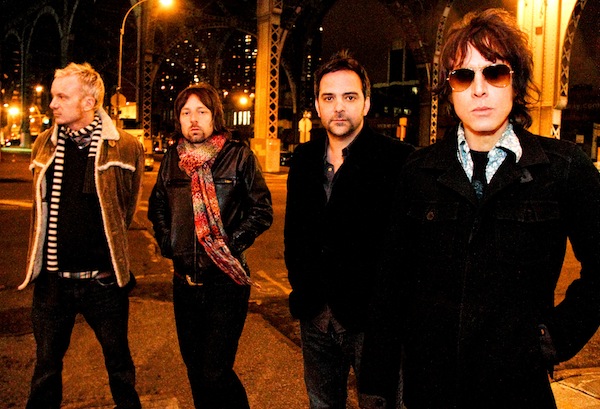 Although they named their band after a now defunct lawn-ornament shop in New Jersey, chances are you won't find Fountains of Wayne's Chris Collingwood and Adam Schlesinger braving the retail mobs this holiday season. You might hear their songs, though; since their release in 1997, "I Want an Alien for Christmas" and "The Man in the Santa Suit" have quietly elbowed their way onto mall playlists across the country. In a recent interview, we chatted with the two power pop kings about their feelings on becoming a part of the Christmas music pantheon.
How did these songs come about? What was the inspiration behind them?
ADAM: "I Want an Alien for Christmas" was written for Hanson, when they were doing a Christmas record. They didn't use it, so we recorded it ourselves while we were on tour in the UK. CHRIS: Adam had written "Alien," and I wrote "Santa Suit" in haste so we would have a B-side for the single. Most fans of the band know that Adam writes the funny ones, whereas mine are typically more dour. I confess that I don't like Christmas. I've always resented its mixed messages—love your neighbor, be kind, consider those less fortunate, but by all means indulge yourself with material things. The character in the song is trying to make ends meet and having a hard time of it, which I think is a far more realistic view of Christmas than you usually get in a holiday song.
What are the top three presents on the man in the Santa suit's Christmas list? What's he getting Loretta for Christmas?
CHRIS: First thing, he takes the money and buys a new water heater because the old one hasn't worked in weeks. Then, for Christmas, they both have a hot bath. The rest of it goes to his credit-card company, who uses it to install a gold toilet in the CEO's jet.
Did you ever get the alien? If not, what's the best gift you've ever gotten?
ADAM: I never got an alien, but I once got a questionnaire from Groupon. I thought that was a thoughtful gift.
Which one would win in a fight: the alien from "I Want an Alien for Christmas" or the hippo from "I Want a Hippopotamus for Christmas"? Please explain your reasoning. Assume Dr. Demento is the referee.
ADAM: The hippo would win because he actually exists.
Christmas music is still dominated by the same songs we've all heard for decades (and, in some cases, centuries). What inspired you to add your voice to the mix? How did writing for a holiday with so many established classics affect your approach?
CHRIS: I don't go near retail places in December for fear of hearing Christmas carols. I don't mind the occasional minor-key hymn—"God Rest Ye Merry Gentleman" comes to mind—but the rest of it sounds like propaganda to me. I have a very good friend whose wife listens to Christmas music all year-round. How that marriage has lasted is beyond me. ADAM: Writing Christmas songs is easy. Armistice Day songs are harder (although Paul Simon did it).
If you were to write another holiday song, what would it be about? What topics remain underexplored?
CHRIS: The genre is riddled with so many clichés that it doesn't take much to break the mold. My friend Harry Shearer wrote a fantastic one called "Christmas in Kandahar," which is told by an Afghani in surreal observations of destruction and occupation ("there's no Kathie Lee and there's no Charlie Brown / just a couple of thousand marines out on the town"). It's a haunting minor-key chant that I've seen Harry perform. It always pierces the room and forces a collective introspection that I find inspiring.
Aside from your songs, what are some of your favorite holiday tunes? What ones do you absolutely hate?
CHRIS: There's a William Blake poem called "And did those feet in ancient time," which, when set to music, is called "Jerusalem." It's not strictly a Christmas song, in that it tells of Jesus returning to England, undoing the Industrial Revolution, and establishing his kingdom somewhere in the hills. It's a lovely melody that I sang for years without actually thinking about. It's actually kind of a nutty idea, and I think Blake may have been on opium. As for the worst Christmas song, it's a tie between "Jingle Bell Rock" and "Sleigh Ride." ADAM: Nick Lowe just released "Christmas at the Airport," which I wish I had written.
How are you spending the holidays this year?
CHRIS: I'm at home. It's cold and I'm hibernating. ADAM: Cutting coupons.
Photo by Violeta Alvarez
BY: Tyler Clark
Tyler is a writer, storyteller, and musician from Chicago. His stories have appeared on stage at shows including Mortified, Story Club, and Lethal Poetry.