What To Do On Your Day Off: A Ravenswood Bike Tour
BY: Will Landon |
May 28, 2013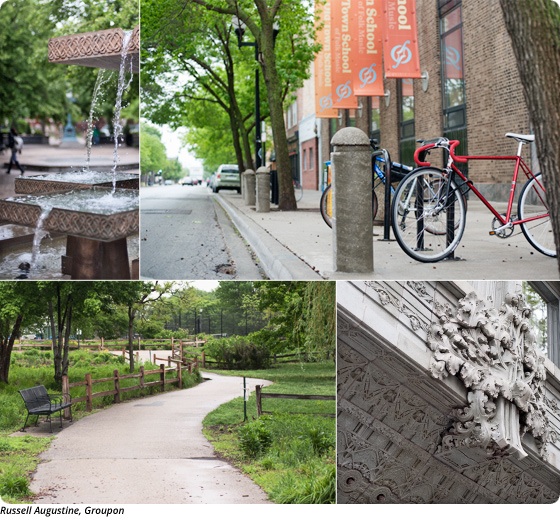 Many of Chicago's major streets are either bike-friendly or marked with dedicated lanes. If you're exploring the North Side on your day off, these roads can lead you to Ravenswood: a former suburb with an old German neighborhood at its heart, and quaint streets filled with fine restaurants and cultural attractions.
At the right time of day, the tree-lined and bike-friendly lanes of Damen Avenue make the street one of the prettiest in the city. Facing north on the south side of its intersection with Irving Park Road, you're presented with two options: continue straight ahead, or veer left onto Lincoln Avenue. If you turn onto Lincoln, you'll soon reach the towering brick façade of the
Old Town School of Folk Music
.
Enter at 4544 N. Lincoln Ave.
You may be greeted by a symphony of folk music—the sounds of kids and adults practicing dulcimer, fiddle, banjo, and of course, voice. Throughout the week, you can see students and instructors display their skills in
free public performances
, or attend shows by famed musicians from around the world.
Continue NW on N. Lincoln Ave.
Before you reach the steel sign arching over the entrance to Lincoln Square, look right at the 4611 N. Lincoln storefront. Here stands the former Krause Music Store, completed in 1922. The original stone façade is still intact and, as the last structure designed on commission by famed Chicago architect Louis Sullivan, is a prime example of his style: organic architecture, characterized by curved lines and intricate floral embellishments.
Continue NW on N. Lincoln Ave.; Arrive at Destination (The Square)
After shackling your bike at one of the small racks by the Kempf Plaza fountain, head to the
Book Cellar
to refuel with a cup of Julius Meinl coffee, a scone or cheese plate, and the smell of books. Take time to wander the maze of bookshelves that contain hard-to-find works of fiction, including books by local authors and graphic novels. Be sure to also check the shop's
event calendar
: on many afternoons and nights, well-known authors stop by for a reading or book signing.
Continue N on N. Lincoln Ave.; Turn right onto W. Lawrence Ave.; Turn left onto N. Damen Ave.
Continue north to Argyle, where you'll see the green expanse of
Winnemac Park
unfold on your left.
Turn left; Turn right; Turn left; Turn right
A web of bike paths crosses this park's gently rolling terrain, a 40-acre natural haven surrounded by residential streets. Join in games on a soccer field and three softball fields, or step off your bike to stroll through a prairie garden. If you listen closely, you might hear the laughter of children echoing from the playground on the park's western side.
Continue N on N. Damen Ave.; Turn right onto Foster Ave.
Pass under the train track arching over Foster, and make an immediate right onto Ravenswood Avenue. This small street cuts past several old warehouses, many of which have been repurposed in the past few decades. One of the first buildings you'll reach, a brick structure with a tiered roof, houses
Koval Distillery
and
Metropolitan Brewing
—two of the best places in the area to appreciate a natural, industrial aesthetic, as well as alcohol in moderation.
Enter at 1767 W. Winona St.
On some Saturdays, the staff at Metropolitan opens the space for tours. These behind-the-scenes excursions let you meet the brewers in person and try free samples of the beers. Alternatively, Koval Distillery lets you tour the premises and sample its organic whiskey every Wednesday, Saturday, and Sunday.
Continue S on N. Ravenswood Ave.
On the corner of Montrose, you'll reach the bike racks and front door of
Lillstreet Art Center
, a former industrial space that now houses several floors of art studios. You may run into some of the center's instructors, who sell their own art and teach age-appropriate classes in ceramics, textiles, printmaking, and painting.
Turn right onto W. Montrose Ave.
At the corner of Damen and Montrose, you'll see the cryptic sign: a faucet protruding from the profile of a man's head.
Fountainhead
is one of the area's best destinations for craft beer and gourmet, Old-World pub food. If the weather is warm, it's best to dine—and toast to a successful ride—on the fully landscaped rooftop garden.
BY: Will Landon
Will Landon is a Chicago-based writer who sings punk rock songs with the Blue Ribbon Glee Club and occasionally works for free as an assistant stage director.