What to Do on Your Day Off: Exploring Chicago Via Its Longest Bus Route—No. 49 Western Avenue
BY: Courtney Ryan |
May 9, 2013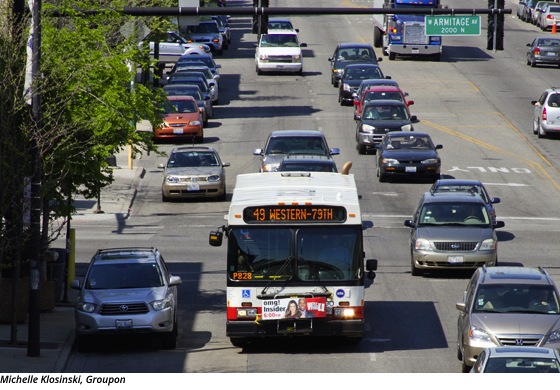 The longest bus route in the city, Western Avenue's
No. 49
runs from Berwyn Avenue on the North Side to 79th Street on the South Side, passing overlooked yet rewarding restaurants, thrift stores, parks, and cultural institutions.
Western and Lawrence
Sweet and savory pancakes at Pannenkoeken
If you're traveling south from Lawrence Avenue, begin your journey with the feathery dutch pancakes at this German eatery just off Lincoln Square. The signature veggie pannekoeken come topped with sautéed vegetables and cheese. Other savory options, such as the grilled ham with pineapple and havarti cheese, are a bit more inventive. The sweet selection includes thinly sliced apples with ginger marmalade and belgian chocolate with bananas.
Tip:
This cash-only place is cozy—
really
cozy. Be prepared for a long wait on weekends.
Lincoln and Eastwood (Stop: Western and Wilson)
Used books and snug crannies at Ravenswood Used Books
The smell of gently worn books and the sensation of returning to a secret childhood nook permeates this literary labyrinth. The shelves appear to have sprouted like trees, and their book-lined trunks climb steadily beside rows of cushion-topped crates. The space is tight, to say the least, but it rewards those who have patience and plenty of time to browse. The selection defies its narrow confines, and shoppers can walk away with discounted titles from all over the world.
Tip:
Owner Jim Mall and store manager Jessica Schrock have an uncanny ability to quickly locate books within the maze. If you can't find what you're looking for, just ask.
Chicago and Oakley (Stop: Western and Chicago)
The Ukrainian Institute of Modern Art is home to a large collection of minimalist and abstract works by Ukrainian and Ukrainian American artists
This bright gallery shines a spotlight on the art of Ukraine and its diaspora. The space features rotating exhibits of modern art as well as permanent works that reflect the experience of immigration following the Bolshevik Revolution and World War II. The gallery also celebrates the experimental artworks that emerged from Ukrainian Village during the 1950s, '60s, and '70s. Curator Stanislav Grezdo happily provides context and information about any of the works on display.
Tip:
Though admission is free, donations are recommended and contribute toward the museum's upkeep.
Archer and Rockwell (Stop: Western and Archer)
Steak tacos and fresh seafood for lunch at Tio Luis Tacos
In 2005, the
Chicago Tribune
presented this tiny taqueria with the award for the city's best tacos. Tio Luis has remained a neighborhood treasure thanks to its carne asada huaraches, shrimp fajitas, and al pastor tacos.
Tip:
Wash down the award-winning tacos with a refreshing horchata or melon fresca.
Western and Archer
McKinley Park boasts an outdoor pool, jogging trails, an ice-skating rink, and a lagoon with fishing areas
Stretching across nearly 70 acres, McKinley Park represents the diversity of its eponymous neighborhood with an equally diverse range of activities. At various points throughout the year, visitors can enjoy outdoor swimming, tennis, and even ice skating. The park was designed by Frederick Law Olmsted, the renowned urban-landscape designer whose other achievements include New York's Central Park and Chicago's own historic boulevards.
Tip:
Stop by
Huck Finn Restaurant
at Damen and Archer Avenues, where you can grab a dozen of the bakery's famous donuts before finding a picnic spot near the lagoon.
47th and Campbell (Stop: Western and 47th)
Secondhand clothes and goods at Brighton Park's Village Discount Outlet
Chicagoans with a knack for deals are familiar with Village Discount stores throughout the city, but this Brighton Park location gets less love than some of its northern siblings. This is a boon for bargain hunters—since fewer people have combed through the store's wares, it remains a treasure trove for clothing, jewelry, and unique decor.
Tip:
Look for the half-price sign that hangs above the registers. This indicates which tags are discounted for the day.
63rd and Maplewood (Stop: Western and 63rd)
Belizean dinner cuisine at Garifuna Flava
Howled about by Guy Fieri on
Diners, Drive-ins, and Dives,
this Caribbean eatery invites diners to sample the flavors of Belize in the form of jerk-spiced wings, oxtail, conch-flavored soup, and panades. The last of these is a Belizean version of empanadas stuffed with buffalo fish.
Tip:
Try the long island cocktail or a Belikin beer—two of Belize's prized exports.