What to Do on Your Day Off: Tour de Chicago
BY: Patrick Wisniewski |
Jun 21, 2013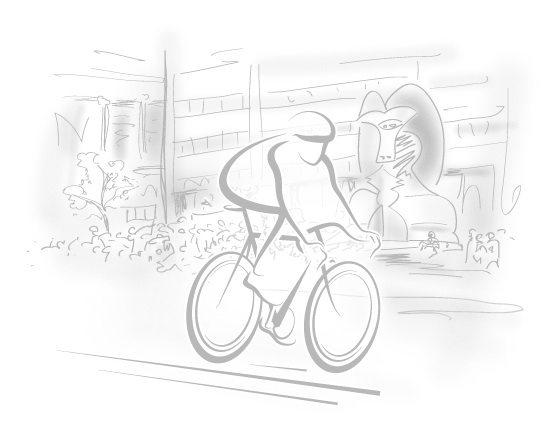 From Saturday, June 29, to Sunday, July 21, cyclists from all nations take to the hills and cobbled roads of France for the fiercest race the sport has to offer. Across 21 stages, these athletes will travel 3,479 kilometers, through towns such as Bastia, Calvi, and Chorges. But that doesn't mean French cycling aficionados are the only ones who can celebrate this collision of sport and culture. In the spirit of the tour, follow this custom bike excursion over Chicago's streets, stopping at exhibits and festivities that honor both the bicycle and France itself.
Stage One | The Art of the Bicycle at the Museum of Science and Industry (Through 2018)
What better way to begin a day on the saddle than by seeing your bike in a new light?
The Art of the Bicycle
exhibit explores the physics and aesthetics that make these vehicles so beloved, juxtaposing the sleek curves of contemporary racing bikes with the multisized wheels and clunky frames of the first models. Restored artifacts and replicas tell the tale of cycling's invention, stretching all the way back to 1818 with a replica of a Draisienne walking machine. This pedal-free pair of wheels, which gentlemen used to sit astride and propel by kicking the ground, gradually evolved into today's top models—some of which incorporate military-grade defense materials. Science aside, cycles hanging in front of blank canvases elevate the machines to works of art, chronicling the evolution from plain steel to sleek spectacle.
Pit Stop | Brasserie by LM
Armed with newfound appreciation for your steed's looks and levers, pedal up the lakefront about 7 miles to the South Loop neighborhood. Not only does this trek impart an admiration for the athletes abroad, it also helps stoke an appetite for lunch. Brasserie by LM replaces those burned calories with France's answer to the Clif Bar: the croque-monsieur. They also pour out French-style coffee drinks for an energy advantage in the stages ahead.
Stage Two | Cave Paintings of Lascaux at the Field Museum (Through Sunday, September 8)
To gain a deeper respect for the prehistoric landscape the Tour riders whiz through, stop at the Field Museum for
Scenes from the Stone Age: The Cave Paintings of Lascaux
. The famed caves were discovered in southern France in 1940 by four boys and a dog named Robot, according to the
Chicago Tribune
. For the next two decades, more than a million people visited them to witness the hundreds of detailed animals—and one human—painted by Cro-Magnons nearly 20,000 years ago. But the fun ended when the French government closed off the caves to protect and preserve them. Today, with the aid of 3D modeling technology and laser mapping, the Field Museum brings those caves and all their riches to American soil. Visitors walk through replica tunnels braced with beams and lit by flickering light as they view full-size copies of the paintings. The exhibit also deconstructs the paintings' layers—projectors peel away at the Great Black Cow panel to reveal engravings and hidden symbols. Still, despite 70 years of analysis and speculation, scientists can only guess at the purpose of the paintings.
Stage Three | Bastille Day: C'est la Fête! (July 13, 4 p.m.–10 p.m.)
Riders who schedule their adventure for Saturday, July 13—midway through the Tour—will be privy to one of the biggest parties Chicago's French community puts on: the Bastille Day celebration. The holiday celebrates July 14, 1789, when a group of French citizens stormed the Bastille, a prison and symbol of King Louis XVI's absolute power. Even though the prison held only seven captives, capturing it alerted the king that his power had limits and that the people would no longer tolerate oppression. The action also helped spark the beginning of the French Revolution. To commemorate Bastille Day, Daley Plaza erupts with cancan dancers, accordion-backed
chanson
with the Marick & Elaine French Cabaret Duo, and live gypsy jazz courtesy of Paris La Nuit. You'll be able to sample french wine and nibble crepes stuffed with brie, and if you have children, you can stop by the kids' corner for face painting, crafts, and games that teach French vocabulary. To meld culture with luck, a raffle puts prizes such as roundtrip airfare to Paris and language classes on the line.
The Finish Line | Paris Club
To round out a day with your head lodged firmly in French culture, coast over to the Paris Club in River North. There, chef Jean Joho prepares classically inspired French cuisine with a technique and eye for tradition that make it impossible for him to hide his roots. Chicken drumettes with aigre-doux sauce and duck confit with braised lentils remind diners that food is a staple of French culture while filling anyone ravenous from their cycling journey. But for those looking to push their endurance, the club also hosts a regular stock of DJs who fuel long nights of dancing with techno, drum and bass, hip-hop, and a splash of everything else.
BY: Patrick Wisniewski
Patrick Wisniewski was born in Michigan, traveled to Baltimore and Belize, and now lives with his fiancée in Chicago. He once touched lava on an active volcano with a stick.