What to Wear: Fall Fashion's Grunge, Gray, and Emerald Trends
BY: Michelle Schuman |
Sep 11, 2013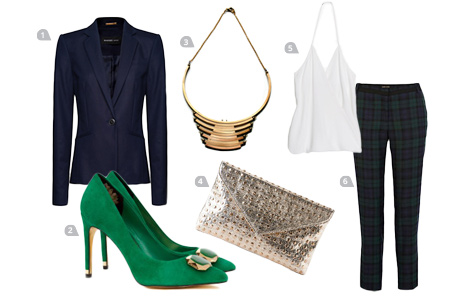 Though it's been months since Anna Sui and Zac Posen debuted their fall collections at New York Fashion Week, the coat-and-scarf weather necessary to don their looks has only just arrived. The trends that emerged on those runways ran the gamut from grunge revival to stark gray minimalism. Some pieces may prove to be gleeful impulse purchases you only wear twice, while others become timeless classics that transition easily from one year to the next. Find both this season with these high fashion–inspired looks.
The Look: Shades of Gray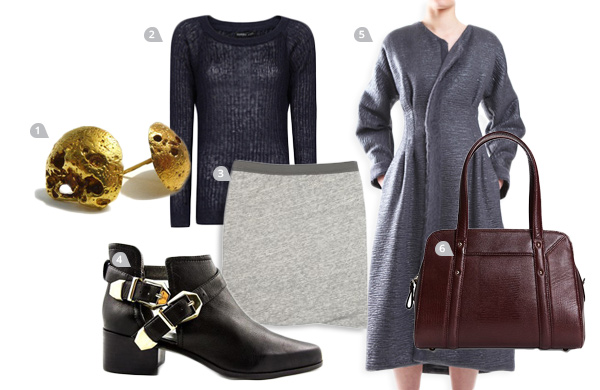 This look combines two trends into one outfit: gray and the rounded-shoulder coats seen in collections from Gucci, Jil Sander, and Céline. Pair a chunky sweater with a mini underneath, being careful not to match your gray tones too much. 1. Cold Picnic erosion stud earrings;
Penelope's
($60) 2. Graphite sweater;
Mango
($24.99) 3. Jersey skirt;
American Vintage
($138.84) 4. Grey City boots;
Wave
($219.95) 5. Collarless coat;
Eva Pazola
($1,650) 6. Burgundy handbag;
Brooks Brothers
($598)
The Look: Emerald Green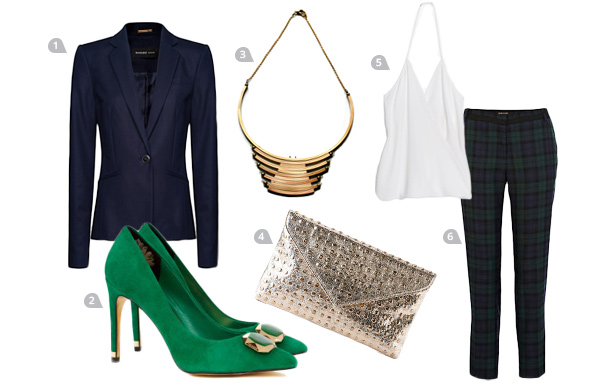 A green-and-blue plaid capri pant ties the vibrant pumps to the rest of the look. A crisp, long blue blazer keeps things work appropriate, and metallic accents both complement the shoes and toughen up the look. 1. Navy blazer;
Mango
($54.99) 2. Embellished emerald pumps;
Ted Baker
($195) 3. Fortuna necklace;
Laura Lombardi
($200) 4. Studded gold envelope clutch;
Francesca's
($34) 5. Chelsea Flower blouse;
Intermix
($188) 6. Plaid pants;
River Island
($46.80)
The Look: Grunge Revival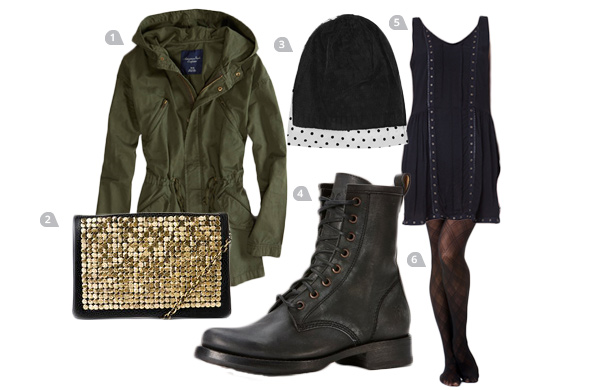 While many of us grew up with, and out of, this trend, it's back with a glamorous spin. A classic anorak jacket toughens up a sweet black mini dress paired with—what else—combat boots. Plaid-patterned tights subtly reference flannel, and a veiled beanie adds an air of playful mystery. 1. Anorak jacket;
American Eagle
($89.95) 2. Cross-body bag;
Francesca's
($38) 3. Veiled beanie;
Topshop
($28) 4. Combat boots;
Lori's Shoes
($254.95) 5. Slip dress;
Stolen Girlfriends Club
($264) 6. Plaid tights;
Francesca's
($12)
BY: Michelle Schuman
Michelle is a freelance fashion designer and dancer from Detroit. She has traveled the US extensively (and loves it!), but her biggest goal is to travel abroad.