What to Wear: Get Jazzed Up Gatsby-Style
BY: Michelle Schuman |
May 22, 2013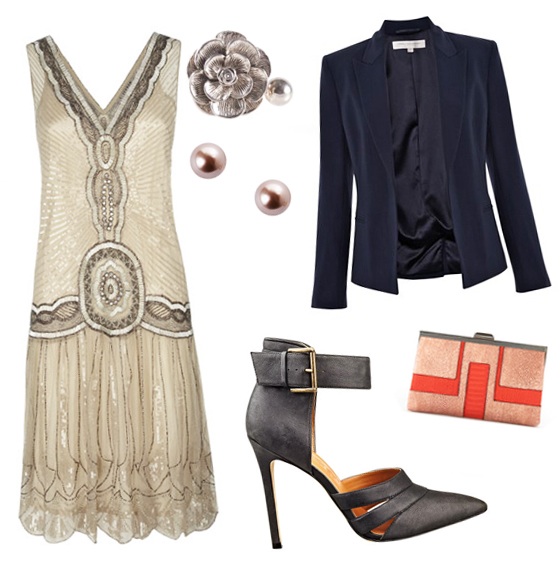 In his new reboot of
The Great Gatsby
, director Baz Luhrmann brings F. Scott Fitzgerald's Jazz Age tale to life with costumes by Miuccia Prada and a soundtrack executive produced by Jay-Z. It's par for the course for Luhrmann, who had actors recite Shakespeare's iambic pentameter amid southern California suburban sprawl in 1996's
Romeo + Juliet
, and opened 2001's
Moulin Rouge
with a medley that included Nirvana's "Smells Like Teen Spirit." As excitement over the film reaches a fever pitch, step back in time, but stay current with a flapper-inspired look perfect for sipping cocktails at
Green Mill
or
Ada Street
, or rowing a boat against the current until your arms give out.
The Look
To keep your outfit from looking like a costume, pair a drop-waist flapper dress with a crisp blazer and modern accessories. The minimalistic, art-deco-inspired clutch adds a pop of color and casts a contemporary spin on the vintage theme.
1. Flapper dress; Jigsaw ($500)
2. Classic Ruth fitted jacket; French Connection ($199.99)
3. Deco clutch; Rachel Roy ($29)
4. Pint pump; Nine West Vintage America Collection ($169)
5. Silver flower ring; Noir Fashion Boutique ($35)
6. Grey pearl stud earrings; Francesca's ($9)
BY: Michelle Schuman
Michelle is a freelance fashion designer and dancer from Detroit. She has traveled the US extensively (and loves it!), but her biggest goal is to travel abroad.