What to Wear On Your Day Off
BY: Michelle Schuman |
Oct 16, 2013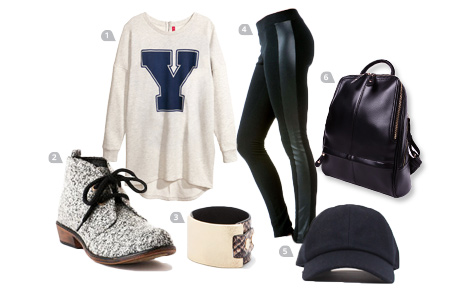 For many, weekday wardrobes are defined by what their workplace says they must wear. And even if you're one of the lucky few with a casual dress code, there's something about dressing for a day off that's exceptionally more interesting. Luckily, between
Chicago Fashion Week
and the many pumpkin- and beer-related festivals (including the
Great Highwood Pumpkin Festival
and the
Festival of Wood and Barrel Aged Beer
), there's nary a weekend devoid of exciting events that call for a casual yet put-together outfit in the coming months. Those more inclined to spend crisper months indoors can check out the Field Museum's new exhibit,
Opening the Vaults: Wonders of the 1893 World's Fair
, which chronicles the historic showcase of human innovation that birthed the museum itself. Below are two ensembles ideal for your day off. I've also highlighted a current trend—sports-inspired apparel—as a bonus, in case watching a football game is in your near future. The first look is built from higher-end pieces, while the second look offers more affordable alternatives.
Designer Look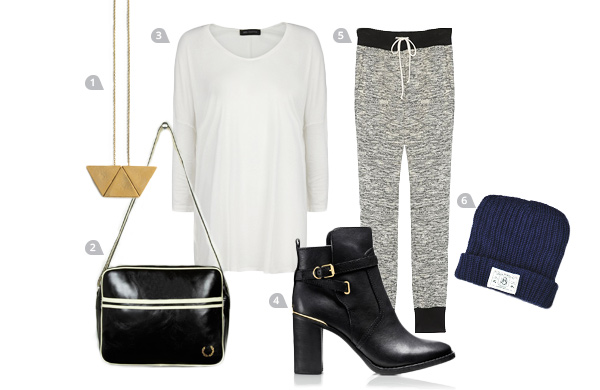 The gray Rag & Bone sweatpants serve as this outfit's focal point—they cling more tightly to the leg than typical sweatpants, mimicking the shape of fall's relaxed trousers and creating an unexpectedly high-fashion look. Heeled ankle boots add a chic touch and elongate the leg for a slimmer silhouette. This ensemble is completed with a draped top and a striped cross-body bag borrowed from the men's department. 1.
Trapezoid necklace
; Laura Lombardi ($55) 2.
Striped bag
; Fred Perry ($71.95) 3.
Dolman-sleeved top
; Mango ($19.99) 4.
Ankle boots
; Tory Burch ($450) 5.
Rag & Bone Easy sweatpants
; Intermix ($350) 6.
Slouchy knit hat
; Sir & Madame ($25)
Budget Look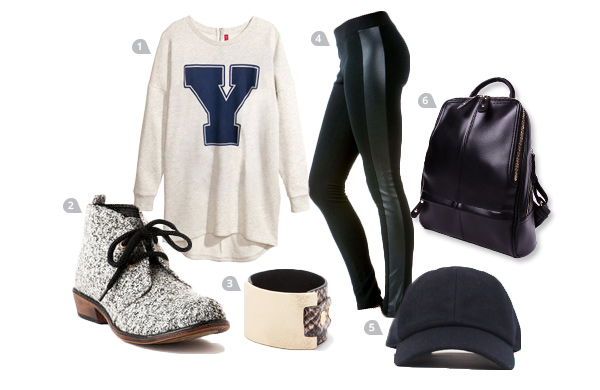 Instead of sweatpants, this look features soft leggings with a sporty faux-leather stripe inspired by track pants. The lettered tunic conjures up images of varsity apparel and is warm enough to wear at the game or while traipsing through pumpkin patches. The soft chukka boots keep feet cozy and dry, and the faux-leather backpack adds an edge. 1.
Sweatshirt tunic
; H&M ($24.95) 2.
Dirty Laundry chukka boots
; Francesca's ($59) 3.
Snakeskin cuff
; Lori's Shoes ($30.95) 4. 
Striped leggings
; Francesca's ($44) 5.
Wool cap
; Penelope's ($28) 6.
Backpack
;
Akira
($56.90)
BY: Michelle Schuman
Michelle is a freelance fashion designer and dancer from Detroit. She has traveled the US extensively (and loves it!), but her biggest goal is to travel abroad.