What to Wear: Soak Up the Sun in this Multitasking Beach Outfit
BY: Michelle Schuman |
Jul 31, 2013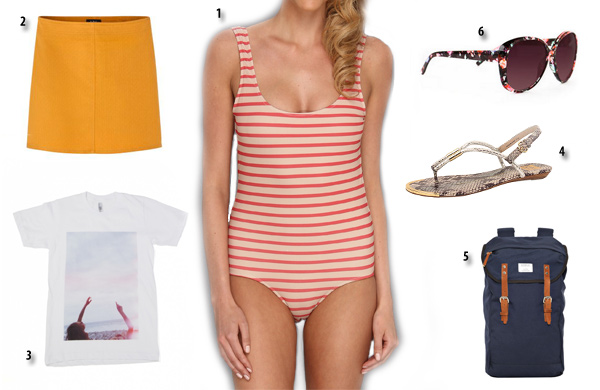 The sands of Oak Street Beach may be scorching on a hot summer day, but beach-goers don't seem to care—many find refuge with a bottle of Corona at the recently revamped Oak Street Beach Food + Drink. Out on the water, sailboats glide serenely by and speedboats whip past, water-skiers in tow. When they need a break, boaters can tie off at the docks of Quay, Bridge House Tavern, and Dolphin, where the dress code requires something a little more formal than a bathing suit and flip-flops.
Thankfully for both beach-goers and boaters, vintage-inspired swimwear trends and the rising popularity of crop tops mean that many swimsuits can easily transition into an on-trend outfit well-suited for a casual restaurant. With the right pieces, you can sashay right off Michigan Avenue onto the beach or conquer the high seas without having to bring a change of clothes.
The Look
With the help of a sunny yellow skirt, this striped nautical bathing suit can double as a bodysuit for on-shore activities. If you wander into one of Chicago's more family-friendly corridors or feel a sunburn coming on, a stylish T-shirt will provide the protection you need.
1. Rachel Pally striped swimsuit; 6pm ($109.99)
2. A-line skirt; A.P.C. ($215)
3. Mark Borthwick T-shirt; Cynthia Rowley ($45)
4. DV by Dolce Vita sandals; Lori's Shoes ($43.90)
5. Waterproof backpack; Sandqvist ($255.19)
6. Floral sunglasses; Francesca's ($14)
BY: Michelle Schuman
Michelle is a freelance fashion designer and dancer from Detroit. She has traveled the US extensively (and loves it!), but her biggest goal is to travel abroad.