What to Wear to a Kentucky Derby Party? A Big Hat (Duh).
BY: Michelle Schuman |
Apr 16, 2014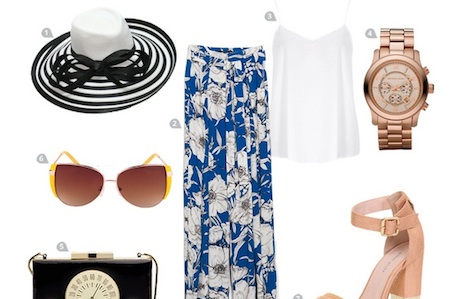 It's tradition. But it doesn't have to feel dated. Update the look with an understated hat and modern palazzo pants.
Derby hats might seem like a wholly American tradition, but just like apple pie and
The Office
, we actually stole it from England. Long before Churchill Downs became America's horseracing epicenter, our British counterparts were cheering on jockeys at the Ascot Racecourse in
some very fancy hats
. Americans started adopting the trend at the third Kentucky Derby in 1877, with international celebrities and local socialites wearing haute couture caps like those seen overseas. But it would be nearly a century until we saw the extravagant designs we know and love today—changing fashion norms and TV cameras arrived at the Derby at the same time, leaving women scrambling to catch the camera's eye with wider brims, brighter prints, and avant-garde designs. And year after year, this pageantry seems to steal more and more of the spotlight from the actual race results. For those who want to see and be seen at a Derby party (or who just like big hats), we've put together a wearable outfit inspired by this fashionable event.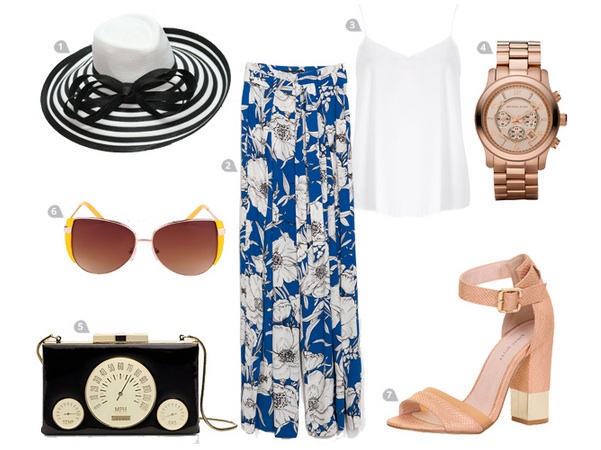 The Look
Since the Brits started the trend, tip your hat to
Eliza Doolittle's amazing plumed topper
from
My Fair Lady
. This understated version feels more modern, though, as do bright palazzo pants that are a refreshing riff on the floral dresses often seen on Derby Day. A simple white cami and nude heels offset the bold print, and the clutch's speed gauge is a subtle nod to the event's actual purpose: racing. 1.
Striped derby hat
; Church Derby Hats ($89.97) 2.
Floral palazzo pants
; Zara ($79.90) 3.
White camisole
; Dorothy Perkins ($21) 4.
Michael Kors rose-gold chronograph watch
; ideeli ($199.99) 5.
Photo Finish clutch
; Kate Spade ($398) 6.
Yellow aviator sunglasses
;
Lori's Shoes
($18.95) 7.
Nude snakeskin sandals
; Dorothy Perkins ($95)