What to Wear to Meet the Parents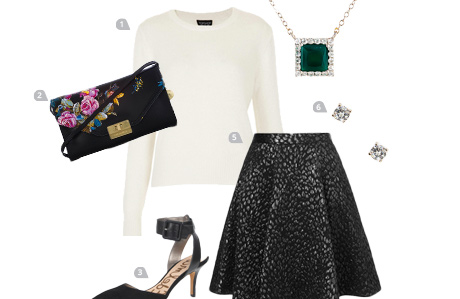 When Greg Focker met Pam Byrnes's folks for the first time in
Meet the Parents
, it was a total disaster. And while most real-life introductions aren't marred by a faux pas as bad as losing the family cat, meeting the parents is still fairly nerve-racking. Many couples cross that bridge during the holiday season, when there's plenty of family gatherings to bring a new mate to. A put-together outfit can certainly help make a good first impression, so here are two holiday looks (one for him, one for her) that balance formality and comfort. Suit pants and gemstone jewelry offer upscale touches, while knitwear keeps things from feeling too stiff. And if you know a gathering is going to be less than formal, a pair of jeans could easily be swapped in to either look.
His Look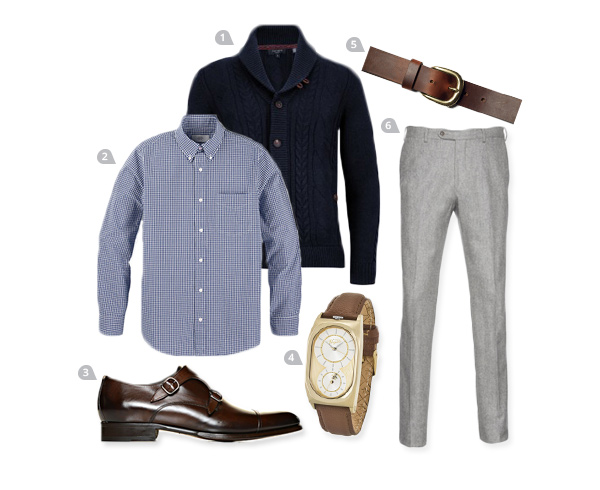 The combination of navy, brown, and gray is classic and approachable, but the slim fit of the pants gives them enough edge that they'll work in your regular wardrobe. The accessories polish the look, particularly a dual time-display watch that lets you keep track of your family's time zone and impress everyone by excusing yourself to call your own parents and wish them a happy holiday. 1.
Cardigan
; Ted Baker ($225) 2.
Checkered shirt
; Jack Spade ($145) 3.
Monk-strap shoes
; Suitsupply ($289) 4.
Watch
; Original Penguin ($145) 5.
Horween for Haberdash belt
; Haberdash ($98) 6.
Trousers
; Suitsupply ($149)
Her Look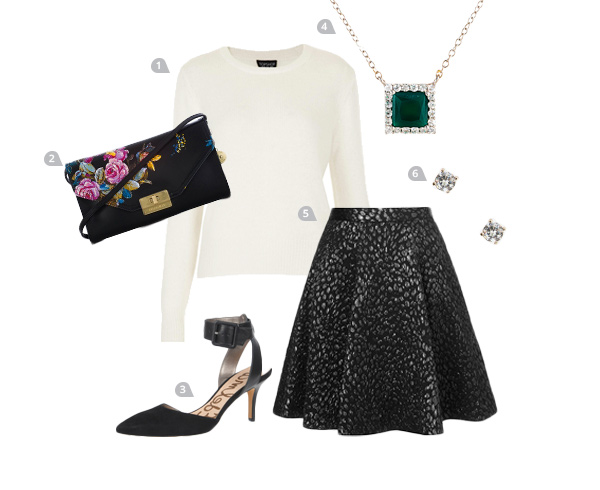 The jacquard skirt and angora sweater create a foolproof black-and-white color palette, which means you can spend less time planning your outfit and more time memorizing plot points from mom's favorite classic films. But the green agate necklace and floral clutch introduce just enough personality to make the look special, and the modest height of the kitten heels makes it easier to walk as you carry grandma's treasured casserole to the dining table. 1.
Angora sweater
; Topshop ($80) 2.
Floral clutch
; Brahmin ($275) 3.
Sam Edelman kitten heels
; Lori's Shoes ($124.95) 4.
Necklace
; Graziela Gems ($240) 5.
Leopard jacquard skirt
; Whistles UK ($225) 6.
Stud earrings
; Francesca's ($9)