What to Wear to the Airport
BY: Michelle Schuman |
Nov 13, 2013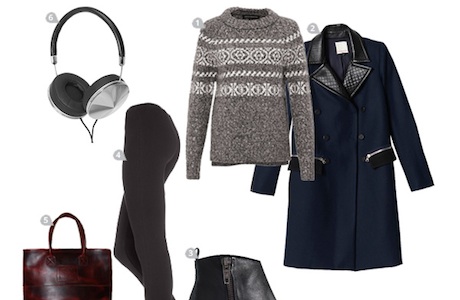 There's no getting around the fact that holiday travel is stressful—everyone's on the move, so airports become overcrowded very quickly. Couple this with inclement weather, and you could be stuck in a veritable purgatory caused by flight delays and frozen planes. In a place where schedules are so unpredictable, comfort is of utmost importance. You'll need an outfit that will remain cozy whether you're squished in a middle seat or curled up at the gate napping through a long delay. Don't forget to consider anything that might slow you down at security. That means packing your jewelry, belts, and lace-up combat boots, but it doesn't mean style has to go out the triple-paned window entirely.
The Look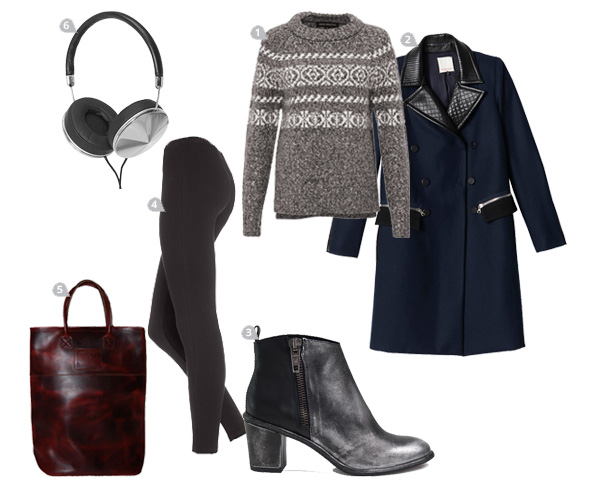 In a pinch, this cozy sweater can double as a pillow if you wear a tee underneath, and the oversized coat can double as a blanket when snoozing at the gate or on the plane. The padded headphones will be more comfortable than wearing earbuds all day and may stop fellow travelers from chatting you up if you wish to be left alone. Leggings are a no-brainer, and the roomy tote can stash snacks, books, and, in the event of a canceled flight, an emergency jetpack. 1.
Turtleneck sweater
; French Connection ($148) 2.
Double-breasted coat
; Rebecca Taylor ($510) 3.
Silver ankle boots
; Mista ($294.41) 4.
Black leggings
; Lori's Shoes ($28) 5.
Tote bag
; Sir & Madame ($350) 6.
Silver headphones
; Aha Life ($200) For a budget-friendly version of this look, check out this
sweater
,
coat
,
boots
,
tote
, and
headphones
.
BY: Michelle Schuman
Michelle is a freelance fashion designer and dancer from Detroit. She has traveled the US extensively (and loves it!), but her biggest goal is to travel abroad.