What to Wear: Transition Your Summer Wardrobe Into Fall
BY: Michelle Schuman |
Aug 28, 2013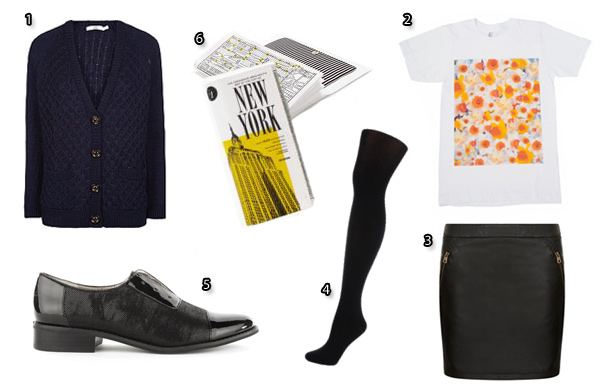 Though it coincides with Fashion Week in New York, Milan, and Paris, September can be an awkward month for fashion in Chicago. As the temperature rises and drops without warning, and the winds threaten to sweep you off your inappropriately sandal-clad feet, it's harder than ever to pick out an outfit in the morning. The day's events may take you from a frigid office to the patio of Old Oak Tap for drinks, or a walk through Humboldt Park to witness the changing leaves. Extend the life of your fair-weather wardrobe with the creative use of tights and layering and catch the last few rays of sun as summer slowly slinks away.
The Look:
A floral tee and a leather mini skirt work in cooler weather when paired with tights and a warm boyfriend cardigan that channels the recent grunge revival. Menswear-inspired oxfords help you boldly step into fall with one of the season's biggest trends. 1. Navy boyfriend cardigan;
New Look
($30.98) 2. Graphic floral tee;
Cynthia Rowley
($45) 3. Faux-leather mini skirt;
Dorothy Perkins
($44) 4. Hue opaque control-top tights;
Lori's Shoes
($13.50) 5. Black oxfords;
Seychelles
($100) 6. New York map clutch;
Kate Spade
($248)
BY: Michelle Schuman
Michelle is a freelance fashion designer and dancer from Detroit. She has traveled the US extensively (and loves it!), but her biggest goal is to travel abroad.