What Wines You'll Be Drinking: The Impending Rise of South African Wine
BY: Kevin Moore |
Mar 17, 2016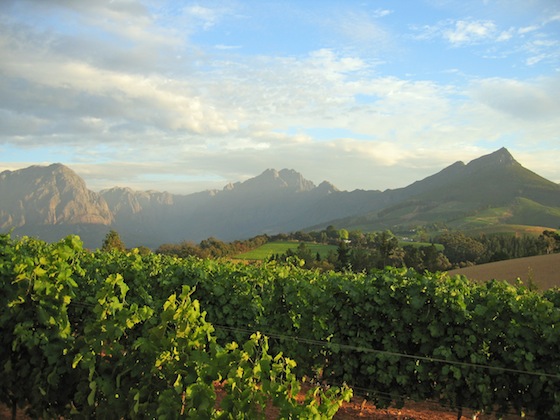 Wine can be a fickle business. Although French champagne may never fall out of favor, other varietals and styles do surge in popularity from time to time. "What I see on the horizon is the emergence of South Africa," said Steve Patun, the manager and wine buyer of Fine Wine Brokers in Chicago. He believes that there are three main reasons for this imminent rise.
Affordability
Relatively limited amounts of South African wines are available in shops across the country, but Steve is routinely impressed by the prices. "[The wines] are excellent at overdelivering for the money," he said. "It's possible to get something that, if it came from Bordeaux, might go for $50 instead."
Burgeoning Quality
Steve credits South Africa's enological renaissance to the end of apartheid in the late 20th century. As boycotts lifted and exports increased, the wines began earning international recognition, Steve said, and the quality continues to improve dramatically as winemakers look to establish themselves in the global market.
Increasing Wine Tourism
Steve claims that South Africa "is probably the most beautiful place in the world" and that travelers will most likely return with stories about trying a few of the local wines. This word-of-mouth advertising can help create more awareness of South African wines while increasing demand.
Chicago-area residents can visit Fine Wine Brokers and chat with Steve about one of the shop's South African selections. They can also check out one of the following spots around town.
Located at 1480 W. Webster Ave. in Lincoln Park Eclectic, international list of wines by the glass and the bottle, which includes almost as many hidden gems as familiar favorites
South African example: A.A. Badenhorst Family Wines' Secateurs chenin blanc—a highly aromatic white with distinctive and refreshing citrus notes
Located at 5418 N. Clark St. in Andersonville Ever-changing selection of wines, beers, and spirits, with an emphasis on affordable and accessible bottles
South African example: Boekenhoutskloof's Wolftrap—a rich, fruit-forward red blend of syrah and mourvèdre, which includes a splash of viognier to enhance the aromatics
Located at 802 N. Bishop St. at Chicago Avenue in West Town Boutique-style wine shop with a curated assortment of beers and wines, including an extensive selection of bottles for less than $20
South African example: Rietvallei Wine Estate's John. B—a cabernet sauvignon and tinta barocca red blend with soft, ripe berry flavors that lead to a lingering finish with toasty hints of spice
BY: Kevin Moore
Iowa-born, Arizona-raised, and Illinois-tax-paying writer who can answer any Trivial Pursuit question about wine or snakes.