When Irish Eyes are Smiling, Ike Reilly is Probably Playing a Pogues Song
BY: Tyler Clark |
Feb 28, 2014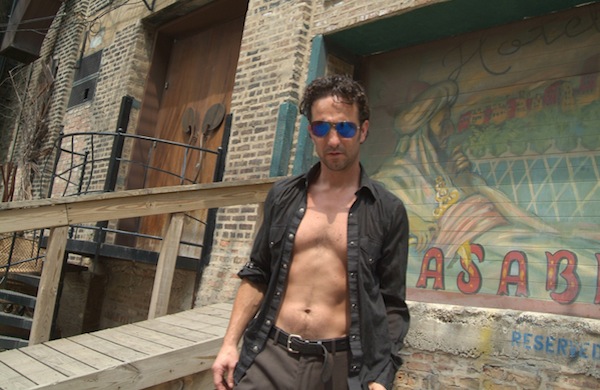 Ike Reilly returns to Chicago on St. Patrick's Day weekend with a show at the Double Door, a new record in the works, and a bottomless pint of green beer.
By the time Ike Reilly got his major-label break with 2001's
Salesmen and Racists
, he'd already spent years living a journeyman's life, both onstage and off. When he wasn't gigging at the tumbledown watering holes in and around his hometown of Libertyville, he was earning his keep in such glamorous careers as cemetery attendant and hotel doorman. That blue-collar doggedness—and the empathy that comes with it—permeates Reilly's music. With their fatalist barflys and ne'er-do-wells with hearts of gold, his songs have led many fans to anoint him as Chicago's modern-day answer to Dylan and Springsteen. In-between prepping a new album and readying his liver for a St. Patrick's Day weekend show at the Double Door, Reilly chatted with us about tunes, teenagers, and why it's hard to love your own record.
GROUPON: So, to start with, you've got a new record coming out. What's the story?
IKE REILLY: It's got a timeless feel to it. I know that sounds cliché, but you don't know really whether it came out in 1970 or 2040, I think. I hope. There's a few pop-culture references that might give it away, but it's a real rock-and-roll record.
G: Does it have a name yet?
IR: We're kicking different names around. Right now the one in the lead is
High On Paradise Lane
, but it could change.
G: You've released your last couple of records under your own name, but this one's going to be another Ike Reilly Assassination album. Why the switch?
IR: Every band member has been on all my records, but for this one, we'd played the songs out a lot, and worked them up more than I had worked up other songs before we recorded them. I got lucky. This is the most I've worked on a record with [former Secret Machines and Tripping Daisy guitarist] Phil Karnats, who I've been playing with the longest out of anyone in the band. He'd had a couple little babies, but he was more available for this recording process than the last one. He's a great producer and a great guitar player.
G: I've read in other interviews that you've never made a record that you love. What about this new one? Could this be the one?
IR: [
Laughing
] No.
G: Why is that? What's keeping you from feeling those feelings?
IR: I love people, not records. There's always some f*cking goofball thing you did on a record for some reason, and you listen to it and go, "Ugh, what an idiot." It's home movies, or looking at photo albums, or listening to your own voice. Remember the first time you ever heard your own voice on a recording machine?
G: It was horrible.
IR: Same thing. There are things I'm proud of on all the records, where I'll think, "Oh, that's really cool." Sometimes I'll listen back to old records and think, "Oh, that's when we were ambitious." This record's ambitious, too. There's always some flaw somewhere. I remember one of my friends—I won't tell you who he is—saying, "God, I love the sound of my own voice!" and I thought, "That's the craziest thing I've ever heard."
G: He's definitely in the minority. I saw that you made your debut at Town Hall in New York back in the fall with TJ & Dave. How did it feel to take the stage at such a legendary venue?
IR: Fortunately, I didn't know how legendary it was before. It felt great. It sounded great, it looked great, and I was in New York City with two of my best friends. It felt gratifying, to know I've been doing this long enough to where it doesn't matter where I do it, I do the same thing and it translates well. One minute you're in a shithole bar, the next minute you're in Town Hall. You've still got to communicate with what you're trying to do, and get people invested in your songs and stories.
G: How did you get hooked up with TJ & Dave?
IR: I've known Dave for years and years and years. I met him in Italy. We were both in school there, years ago. I also went to school with Chris Farley. Later, I was in Chicago, and Chris came to visit me and said he was going to be at Second City, and so I went over there to watch him, and on stage were Dave Pasquesi and Joel Murray, who I'd also met in Italy. I [saw] Joel and Chris and Dave all in the same troupe, and I thought, "F*ck,
anybody
can get this gig!" Dave's a big supporter of my music, and I'm a big fan of his acting ability and him as a person.
G: So, you're playing the Double Door on St. Patrick's Day weekend. Do you have any Irish tunes cooked up?
IR: I don't want to give anything away, but we'll rip a few Pogues songs and I'll probably pull out my songs that have that Irish flair. We play that song "When Irish Eyes Are Burning," and maybe a few more older drinking songs. Well, hell, all the songs are drinking songs. It's not going to be a brief show.
G: Speaking of drinking songs, do you have any notable Chicago St. Patrick's Day memories floating around out there? Anything from your misspent youth?
IR: Well, you know, most of my memories of St. Patrick's Day involve my ability not to remember any of them [
laughing
]. My dad used to have a party at this bar called Binyon's downtown, and we'd watch the parade and drink and hang out. My dad was all Irish, and my mom's half-Irish, half-Italian. I remember, as a little boy, my dad would be putting some green scarf around my neck or something. And I'd say, "Aren't I Italian, too, Dad?" And he'd say, "Yeah, but you don't have to tell anybody that."
G: The Italians can have their day later.
IR: Chicago on St. Patrick's Day has got to be one of the best places in the world. It's silly, and certainly gives everybody a license to be a jackass, which I think everybody needs every once in a while. Once a week. We should talk about the opening band.
G: What can you tell us about them?
IR: They're called The Tribe and I'm producing their record. They're teenage boys from Libertyville. They're also the main protagonists in the song "Paradise Lane." I wrote a song about a little car accident that they got into in our hometown. They sing on it, my kids sing on it, Tom Morello plays guitar on it, so everybody that's in the song is on the song. It'll be the last track on the record. They're kind of a cool, rock-and-roll band, and their record is going to be very good.
G: So you're helping to raise the next generation of troublemakers in Libertyville.
IR: I am not going to take credit or blame for anything they do in their personal lives [
laughs
]. Same goes for my kids, too. I am the patriarch of nothing.
G: That's a very diplomatic answer.
IR: I do like the fact that music breaks down generations. Music breaks down everything, you know? I just look at musicians like nothing other than musicians.
Sing along with Ike Reilly when he comes to the Double Door on Saturday, March 15. Buy tickets here.
Photo provided by Ike Reilly
BY: Tyler Clark
Tyler is a writer, storyteller, and musician from Chicago. His stories have appeared on stage at shows including Mortified, Story Club, and Lethal Poetry.