Where to Enjoy the Symphony, Opera, and Ballet Without Breaking the Bank
BY: Courtney Ryan |
Feb 27, 2014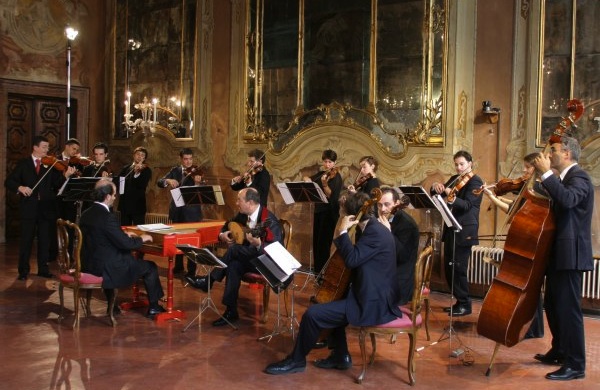 Find out how to see and hear classical performances on a shoestring budget.
It's hard to enjoy a night out at the opera or symphony without dropping a pretty penny on your seats. And though the theater should always remain a special place, there's no reason it can't also be an accessible one. Luckily for those of us who live in Chicago, there's never a shortage of affordable classical performances. You just have to know where to look.
The University of Chicago Presents: Venice Baroque Orchestra with Philippe Jaroussky, Countertenor
After 70 years at the University of Chicago, the
UCP series
is no stranger to virtuosic performances. Just about any music lover would be hard-pressed to look over the
calendar
and not find something that piques their fancy. This winter's appearance of the
Venice Baroque Orchestra
is especially exciting since it's rare to hear such an acclaimed ensemble devoted entirely to period instruments. Using only baroque pieces and channeling the works of Neapolitan composer Nicola Porpora (you know,
Handel's rival
), the VBO play with what the
Washington Post
described as a "percolating energy and lithe, silvery tone." Joining the soiree for his Chicago debut is
Philippe Jaroussky
, a young countertenor who has received France's coveted Victoire de la Musique four times.
(The Venice Baroque Orchestra and Philippe Jaroussky play on Friday, February 28, at Mandel Hall (1131 E. 57th St.) at 7:30 p.m. Tickets are $36. Purchase them here.)
Hubbard Street Dance Spring Series: Dive Deep
The dancers and choreographers at
Hubbard Street Dance
don't merely mine for contemporary dance; they chip away at provocative works until they've created something sharp and stunning and completely their own. This year's Spring Series dips into the works of world-renowned contemporary Czech choreographer
Jiří Kylián
, specifically his
Black and White
ballets
Sarabande
and
Falling Angels
, his popular
Petite Mort
, and the volatile
27'52"
.
Dive Deep
will be the company's debut of Kylián's
Black and White
ballets.
(
Dive Deep
runs March 13–16 at Harris Theater at Millennium Park, 205 E Randolph Dr. Click here for tickets.)
DePaul Opera Theatre Presents Falstaff
It's been six years since the Lyric Opera tackled Giuseppe Verdi's three-act commedia lirica, making its return to Chicago a welcome one. The opera—based on Shakespeare's
The Merry Wives of Windsor
and
Henry IV
—is especially suited for DePaul's Voice and Opera program. Who better to relate to the hard-drinking, flirtatious Falstaff than a group of college students? Adding to the production's charm is its setting of the
Merle Reskin Theatre
(60 E. Balbo Dr.), which has presented symphonies and operas on its proscenium stage since 1910.
(
Falstaff
plays Friday, March 14, at 7:30 p.m. and Sunday, March 16, at 2 p.m. Tickets are $5–$25. Purchase them here.)
Ani Gogova's Fantasies and Fairy Tales
Visiting the
PianoForte Studios
(1335 S. Michigan Ave.) should be one of the first stops for any classical music fan moving to Chicago. Focused exclusively on piano concerts, the venue showcases both popular and relatively unknown musicians. It also promises to make every show as affordable as possible without sacrificing talent. Basically, it's the Trader Joe's of classical music halls, and we mean that as a compliment. Of the many promising
upcoming events
, Ani Gogova's
Fantasies and Fairy Tales
stands out in concept alone. Like the 1940 film
Fantasia
, it explores the relationship between fairy tales and classical music throughout history. Gogova will perform fantasy-themed compositions from artists ranging from Schumann to Ligeti, some of which will most likely appear on her upcoming solo album:
Fantasies, Fairy Tales, and Nightmares
.
(Ani Gogova plays Sunday, April 27, at 3 p.m. Tickets are $5. Purchase them here.)
Photo courtesy of the Venice Baroque Orchestra