GROUPON GUIDE TO NEW YORK
Which Fish? A Seasonal Fish Guide from The Lobster Place's Ian MacGregor, Plus a Recipe
BY: Nathalie Lagerfeld |
Apr 17, 2013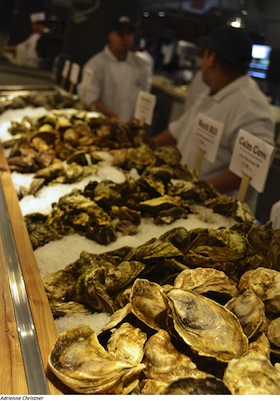 Lobster Place
CEO Ian MacGregor grew up around fish. "One of my first memories is how Dad always smelled like lobster when he got home from work," said Ian, whose parents opened the seafood market's original location on the Upper West Side. Today, Ian carries on the family tradition at Lobster Place in
Chelsea Market
, though on a vastly larger scale. Between its resale and wholesale operations through December 2012, the business averaged monthly sales of 60,000 pounds of salmon, 80,000 pounds of lobster, and more than 200,000 oysters. And that was before this winter's renovations added a dedicated lobster section designed to handle an additional 9,500 pounds of lobster per week. The revamped market reopened on April 4. "Our numbers are pretty staggering," Ian admitted. Thanks to the enormous size of the New York City market, he can source seafood from around the world. The retail section vends just about anything that roams the sea and can be fished and farmed sustainably, he said, including 30–40 types of fin fish, two dozen types of oysters, and specialties from sea urchin to abalone. But Ian is proudest of the fish he's able to source locally and said the business's strongest relationships are with dealers and fishermen from the Canadian Maritimes down to the mid-Atlantic states. No matter where seafood comes from, however, eating what's in season can help ensure maximum freshness. Below are a few of Ian's picks for spring.
Shad
With the season in full swing, Ian said he is excited about the quality of both the shad fillets and roe this year. Shad roe can be sautéed and served with eggs for a summery breakfast treat.
Blackfish or Tautog
Some great-looking specimens of this mild-tasting, firm-fleshed fish—similar to cod and sea bass—are coming in from Long Island this season, Ian said.
Wild Pacific-Northwest Salmon
The first wild salmon of the season started arriving at Lobster Place this week, Ian said. Though fillets are pricey now, they'll become more affordable as production ramps up through June.
Soft-Shell Maryland Crabs
These popular crustaceans will be hitting the market in the next month or so, Ian said. Contrary to popular belief, soft-shells are not their own species. They are blue crabs caught right after molting, so their shell hasn't had time to harden.
Scallops
Ian said he has been impressed with the quality of the scallops available so far this season. He sent us the following recipe from loyal Lobster Place customers Mel and Sheryl London, who are the authors of 11 cookbooks, including the James Beard Award–winning
Gourmet Garage Cookbook.
Steamed Sea Scallops with Chinese Black Beans and Garlic 
What You Need:
12 large sea scallops; you can also try this with cubed halibut or grouper 1 tablespoon Shao Hsing rice wine 1 tablespoon chinese salted black beans 1 teaspoon finely minced garlic (1 clove) 2 teaspoons light soy sauce 1 1/2 teaspoons dark soy sauce 1/4 teaspoon salt 1/8 teaspoon black pepper 1/2 teaspoons sugar 1 teaspoon vegetable oil (e.g. canola) 1 teaspoon cornstarch 1/4 teaspoon oriental sesame oil 1 scallion, green part only, very finely julienned 12 cilantro leaves 1/2 hot red chili, seeded and cut into 1/4-inch diamond shapes
What You Do:
1. Use four flat, heat-proof ramekins or four large scallop shells for cooking and serving. 2. Mix the scallops with the wine, and place three in each dish or shell. 3. Soak the black beans in cold water and cover for 15 minutes. 4. Rinse beans, dry on paper towels, and mince finely. 5. Combine the beans, garlic, light and dark soy sauce, salt, pepper, sugar, vegetable oil, and cornstarch. 6. Distribute some of this mixture equally on the surface of the scallops and trickle sesame oil over each. 7. In a steamer, bring a few inches of water to a vigorous boil. Place the scallops on the steamer rack, cover tightly, and steam for 5 minutes. 8. Remove, sprinkle with shreds of scallion and garnish with one cilantro leaf and a hot chili diamond before serving. 9. This recipe serves four.
Anna Skorczeski contributed to the reporting of this article.
PICTURED: The standing raw bar at Lobster Place in Chelsea Market, one of the highlights of the seafood emporium's recent renovations.
BY: Nathalie Lagerfeld
Guide Staff Writer
Nathalie is a writer and editor on the Guide's food team. Originally from Virginia, she now lives in Chicago, where she regularly indulges her love of tortas, bibimbap, and Cheez-Its. Follow her on Twitter @maviswillsaveus.