Why This Milliner Doesn't Mind That You're Not Wearing a Hat Right Now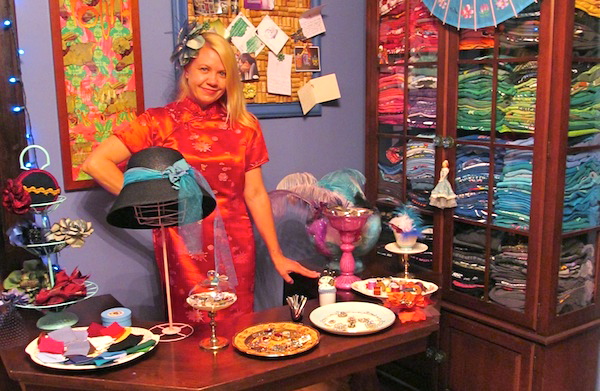 Professional milliner Jean Foley is quick to admit that formal hats will probably never be as popular as they were in the mid-20th century. "Fashion in general has become more casual…when you go to the airport, for example, you see folks wearing their pajamas." But surprisingly, Jean, a graduate of the School of the Art Institute of Chicago, isn't bothered by that. Rather, she thinks it makes wearing a hat feel like a special occasion. "I've seen my clients' and students' faces light up when they put on their hats and fascinators. They seem instantly transformed, confident, and happy.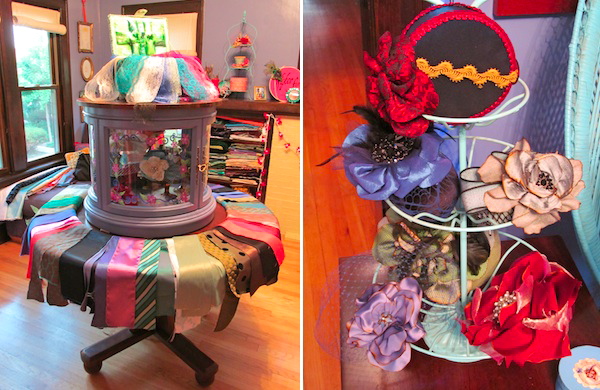 The students she's referring to are those who take her
fascinator workshop
, which I recently attended. There, I (and seemingly all my classmates) felt totally overwhelmed—there were a few murmurs of "I don't know if I picked the right fabrics" and "My sewing skills aren't good enough to do this." But Jean assured us that mistakes just weren't possible.
And she was right. By the workshop's end, anxious whispers turned to excited gasps as we stepped back and admired each other's work (check out mine, made from a vintage tie, above). The biggest concern had become, "Where can I wear my new hat?" According to Jean, who designs custom hats through her Etsy page, 
A Violet's Blue
, just about anywhere—a wedding, a Christmas party, even to school.
GROUPON: What influenced you to become a milliner? Were you always fascinated by hats?
JEAN FOLEY: In high school I became interested in fashion history. I would put together elaborate vintage ensembles…almost always topped off with a hat. That was until my school declared a new dress code banning hat-wearing. It was about three years ago that hats made a reappearance in my life. I was attending the wedding of my cousin in Kilarney, Ireland, [and] the Irish ladies in attendance [were wearing] the most colorful and elaborate hats and fascinators I had ever seen. I couldn't take my eyes off of them…I was so inspired, I decided I would try to make my own whimsical and creative hats.
G: At SAIC, you studied under fabric sculptor Nick Cave. How has he influenced your work?
JF: [Nick] taught me to push many boundaries [and use] nontraditional materials in new and unusual ways. It may be cliché, but he really taught me to "think outside the box." We were encouraged to push our works of art to the extreme.
G: Do you often use nontraditional materials for your hats?
JF: I adore using found materials in my work. I've made entire hats and their flourishes from recycled T-shirts and sweaters. This past Christmas I made a dress and hat out of ugly Christmas sweaters to wear to my family's ugly-sweater contest. I was disqualified for making something too darling!
G: Any especially weird or memorable hats you've made?
JF: I'm currently working on a hat that…consists of a cascade of multicolored tiki umbrellas, which is a bit challenging given their delicate nature. The most memorable hat I have made is a little heart-shaped pillbox that is made to look like a vintage Valentine's Day box. I used fabric from velvet hot-pink bellbottoms my aunt sewed for my mother when they were teenagers.
G: What's your most popular hat style?
JF: My most popular hat is the
mini top hat
. It crosses so many genres and can be customized for any occasion. Clients have worn [them to] the Mardi Gras parade, weddings, sporting events, bachelorette parties, birthdays, formal galas…I think [people like them because they] are looking to escape their everyday lives and [recapture] the fantasy and wonder of their childhoods.
G: Are hats making a come back?
JF: Definitely…[I think] the press on Kate Middleton and her amazing hats has increased their popularity tremendously. A hat store recently opened in my neighborhood called
Hoo Doo Headwear
(111 N. Marion St., Oak Park). Surely that is a good sign that [they're] making a comeback!
BY: Shannon Grilli
Shannon Grilli