WreckLess Chicago Plans the World's Most Debaucherous Fundraiser
BY: Emily Wachowiak |
Feb 28, 2014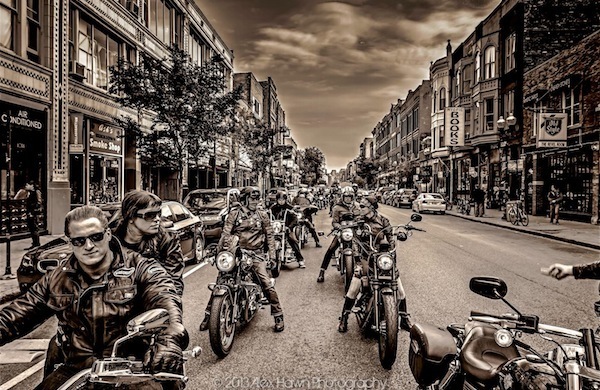 On March 15, WreckLess Chicago will bring rockabilly music, vintage motorcycles, and a raunchy circus freak show to the Bottom Lounge…all in the name of charity.
No,
WreckLess Chicago
isn't a bike gang, though its "greasers, gearheads, backstreet gamblers, and midnight ramblers" may look the part. On Saturday, March 15, the self-proclaimed social club is taking over the main stage at the
Bottom Lounge
(1375 W. Lake St.) for the
Rites of Spring fundraiser
, which benefits Lurie Children's Hospital. "We do enough on our part to damage society," says Joel Rabb, a WreckLess member and event organizer. "We ride pretty hard. We're always standing tall and talking loud." But every once in a while, the club also likes to pay for its sins. But why a children's hospital? "I don't care who you are. As an adult, you've screwed somebody over. You've done wrong to somebody," Joel says. "But a kid has never had the chance to screw anybody over. So we want to make sure that these kids have the chance to become assholes someday…just like the rest of us." It's this brand of rebellion and off-beat sincerity that fuels the casual social club, which formed in 2012. "There were a group of us who were always hanging out together, riding," Joel recalls. "[We] rode the same bikes, hung at the same bars, wore the same type of clothes, listened to the same type of music, and we were together all the time anyway, so it kind of crystallized and solidified into a group." The club's biggest events are its weekly summer rides, which are free and open to the public. "Anyone can come and hang out with us and check us out," Joel says, and the rides are indeed huge draws for anyone with a taste for vintage motorcycles, rockabilly music, and general debauchery. The Rites of Spring event, as it turns out, will feature a little of all three.
Act I: Raucous Rockabilly
The night kicks off with a set by
The Prowl
, "a hard-driving, fun rock band," according to Joel. He describes the tunes as "hard, but melodic," and bolstered by an energetic stage presence reminiscent of '80s glam rockers Poison. Next up is
Bailey Dee & The Late Night Bait
. Joel waxes nostalgic about Bailey Dee, lead singer of this old-school blues and rockabilly band, even comparing her to the late Janis Joplin. "She has so much soul that she should loan it out," he says. "She's an anachronism. She was born in the wrong era. Her entire band really just does it the way it was."
Hillbilly Casino
headlines the evening, and Joel believes they just might be "the very best live act in the country." The band came up in Nashville's fiercely competitive music scene, where "you've got to be able to turn an audience on," Joel says. Luckily, "these guys do it in spades." The crew will be busting out covers of Johnny Cash, Elvis, the Clash, and the Ramones, as well as their own rockabilly originals.
Act II: Devilish Debauchery
The revelry doesn't stop when the bands unplug. Between each set, naughty entertainer Maya Sinstress and her crew of "sadistic and demonic ne'er-do-wells" will take the stage for what Joel calls a "turn-of-the-century circus freak show." Acts include everything from "a man lying on a bed of nails while somebody smashes cinder blocks over his stomach" to something called
angle grinder burlesque
, which features scantily clad dancers, power tools, and plenty of sparks. This may be a fundraiser for children, but Joel suggests that you "leave the kids at home."
Act III: Righteous Rides
There will be plenty of parking for motorcycles and hot rods outside, but inside the venue, riders will find vendors selling vintage-style gear.
Jerry Chingas
will have his brushes on hand for custom pinstriping of motorcycles, cars, purses, shoes, or almost any other object. "I've seen him pinstripe the top of a laptop," Joel says. "He is hands down the best pinstriper in this part of the country." Jerry will also be pinstriping a motorcycle tank that will later go to the highest bidder in a silent auction. Though the event's proceeds benefit a worthy cause, Joel ensures all doubters that this will be a no-holds-barred, all-rules-optional kind of evening. "By the end of the night, no matter how good your intentions are, everybody is going to be guilty by association."
The Rites of Spring fundraiser takes over the Bottom Lounge on Saturday, March 15, at 7 p.m. Buy your tickets here.
Photo: Alex Hawn Photography
BY: Emily Wachowiak
Guide Staff Writer
Emily Wachowiak is a Chicago-based writer and editor.