Wrestling's Best and Worst Movies with Colt Cabana
BY: Tyler Clark |
Oct 14, 2013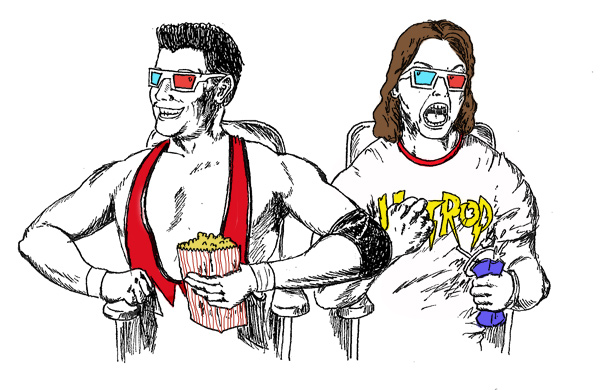 Since his release from the WWE in 2009,
Colt Cabana
has become one of wrestling's most popular ambassadors, building what the
Chicago Reader
calls a "mini media empire" with his sport at the center. He's filmed a documentary (
Wrestling Road Diaries
) about his life on the road, and with comedy partner
Marty DeRosa
, he's lampooned everything from wrestler promos (
Worst Promo Ever
) to over-the-top color commentary (
$5 Wrestling
). But his flagship venture remains
The Art of Wrestling
, a massively popular weekly podcast that features industry guests relating the funny, poignant stories accumulated during lives spent on the road. Cabana is also a film buff, but you won't find most of his favorite movies in the Criterion Collection. Unsurprisingly, the films nearest and dearest to his heart are the ones that grant insight into the world of wrestling and its denizens. During a break in his hectic schedule of independent wrestling shows, comedy appearances, and nonstop podcasting, the Wicker Park resident sat down with us to discuss his thoughts on wrestling movies and their place in the pop-culture universe.
A Sport Destined for the Silver Screen
Born Scott Colton in 1980, Cabana entered a world undergoing a wrestling renaissance. With the advent of
WrestleMania
and the so-called "
Rock 'n' Wrestling Connection
" with MTV and pop star Cyndi Lauper, grapplers such as Hulk Hogan and Andre the Giant soon found themselves rubbing elbows with celebrity tough guys such as Mr. T and Muhammad Ali. Wrestling's growing popularity also led to an uptick in cameos by pro wrestlers in Hollywood films, from Jesse "The Body" Ventura in
Predator
and
The Running Man
to Terry Funk in
Roadhouse
and
Over the Top
. As a kid, Cabana regarded this connection between wrestling and cinema as an exciting novelty. Looking back after his long professional career, however, he now finds the transition from in-ring grappling to on-set acting more natural than it once seemed. "For years, these guys went from arena to arena, grabbed a microphone, and did a 5- to 10-minute monologue, with no retakes, to 15,000 people, 300 days a year. A lot of people in the acting community take that for granted—that ability to perform live physically and verbally through the microphone." Cabana also credits wrestling's grueling physical demands with producing one of the movie world's seminal fight scenes: the brawl between "Rowdy" Roddy Piper and Keith David in John Carpenter's underrated
They Live
. Clocking in at #7 on
Rotten Tomatoes' list of the 20 greatest fight scenes ever
, the scene owes its engaging choreography to Piper's extensive background in wrestling. "People go, 'Oh, well, he's just a wrestler,' but years of training as a pro wrestler made for one of the greatest fight scenes in American cinema history," Cabana explains. "I live by
They Live
. It's an amazing movie."
A Wrestler on The Wrestler and Wrestling Blockbusters
That same professional perspective informs Cabana's nuanced opinion on
The Wrestler
, director Darren Aronofsky's brutal depiction of life as a washed-up superstar. Though Cabana doesn't personally identify with the demons that plague Mickey Rourke's fictional Randy "The Ram" Robinson, he admits that they reflect the real challenges faced by older generations of wrestlers. "[
The Wrestler
] didn't portray the life of what everyone sees on a Monday night, which is that rock-and-roll lifestyle of a millionaire. It showed what
I
do for a living," Cabana says. "We're circus men. That's the lifestyle that we take on." Cabana also takes a measured view on WWE Studios, the movie-making wing of World Wrestling Entertainment, Inc. Since its inception in 2002, the studio has produced feature-length vehicles for many of the WWE's best-known superstars. The results have been mixed, with a few hits (2002's co-production
The Scorpion King
, this year's
The Call
) intermingled with more than a few misses (2010's dreadful
Knucklehead
, which is currently saddled with
a 10% rating on Rotten Tomatoes
). In Cabana's mind, the good outweighs the bad. "I think they're nice little feathers in the cap for some of the wrestlers. I don't think [WWE owner Vince McMahon] is trying to change the movie industry, but…If they put out 600 crappy movies, and one of them turns into the next
Bridesmaids
or something, he made the right move."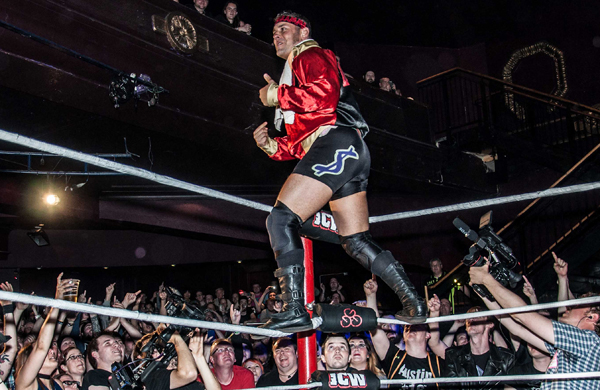 Starring Colt Cabana as Himself
Like any good showman, Cabana puts his love of wrestling's Hollywood dalliances to good use. He and longtime partner DeRosa recently began recording downloadable commentary tracks for some of their favorite wrestling films. Their
$5 Wrestling Movies
series follows the
Mystery Science Theater 3000
model and has so far covered four films. One of these films is
Suburban Commando
, a schlocky 1991 action flick that stars "Hollywood" Hulk Hogan as an intergalactic warrior. About an hour into their commentary track, as the Hulkster evades a bounty hunter played by Mark "The Undertaker" Calaway, Cabana and DeRosa land on an interesting question: at the height of Hogan's short-lived career as a movie star, did wrestlers such as The Ultimate Warrior and "Macho Man" Randy Savage expect to follow him with movies of their own? "It was going to be like the action figure," DeRosa quips. Eventually, everybody was going to get one. As they jokingly run through the list of WrestleMania superstars who would've made the best or unlikeliest leading men, Cabana's trademark enthusiasm shines through. "I would've loved to have seen Junkyard Dog in a movie," DeRosa says. With the excitement of a kid who grew up to be exactly what he wanted, Cabana replies, "I would've loved to have seen
everybody
in movies!"
Cabana is currently gearing up to kick off the Rocks Off Pro Wrestling Film Fest, which runs November 21–23 at New York's Kraine Theatre. He and DeRosa regularly host screenings at bars in Wicker Park; connect with Cabana online for updates.
Illustration © Will Landon, Groupon; Bottom photo courtesy of David Wilson/ICW