Yes, Coconut Oil Is Totally Worth the Hype
BY: Favin the Maven |
Feb 10, 2014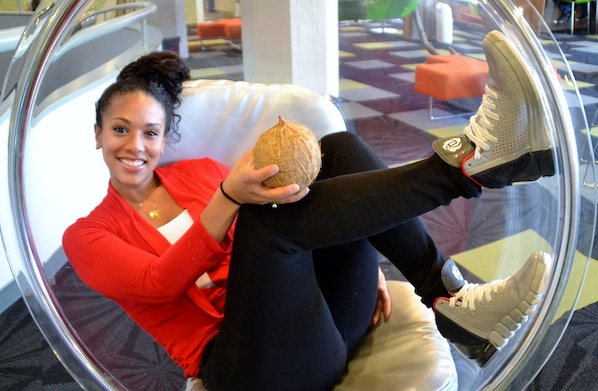 I wasn't quite sure how it happened. A year ago, coconut oil was barely on my radar—until I (skeptically) began experimenting with an oil-pulling regimen. Now flash-forward to last week, when I found myself staring down a TSA officer who was taking my coconut oil away. It was a good old-fashioned showdown in the security lines at O'Hare.
TSA officer: "You can't bring this on the plane. It's a gel."
Me: "No, it's not; it's a solid. It's rock hard."
TSA officer: "Well, I'm sorry, but they said no."
Me: [Enraged silence.]
I was almost one of those people they had to restrain. I could see the YouTube videos. I could see the headlines: "Passenger Goes Crazy Over Confiscated Coconut Oil."
See, what started last year as an innocent teeth-whitening experiment has become a full-body coconut-oil regimen. (I come from the deserts of Arizona. I really like moisturizing.) At this point, basically the only thing I don't do with coconut oil is eat it, but I'm sure that'll happen soon.
Here's how the stuff has become the cornerstone of my entire beauty routine:

Face
Acne Treatment
I'm almost 30, and I've always had either 1 or 12 pimples. Naturally, I was extremely hesitant to start layering my acne-prone skin with oil. But it has helped. Perhaps because, as the Huffington Post has reported, coconut oil has natural antibacterial properties. I apply a thin layer before bed and often wake up to smaller blemishes (and a little residue on my pillowcase, but nothing outrageous). I also feel like the average lifespan of my pimples has decreased from seven days to two or three.
Face Wash
I also use coconut oil in the shower as a "face wash." I take a dime-sized dab and emulsify it in my hands, cover my throat and face, and then rinse. Sometimes after the shower my skin still feels a little oily, so I just gently blot it with a dry towel. Then I wait 10 minutes to let the oil sink into my skin, otherwise my makeup doesn't go on well.
Makeup Remover
Speaking of makeup—coconut oil is honestly the best makeup remover I've ever used. Even my most hardcore mascaras can't resist its pigment-dissolving power. And because it's free of chemicals, I feel better about using it on my eyes. I've never experienced any stinging.
Body
I like to apply coconut oil toward the end of my shower, rubbing it in as if it were lotion. I use about four quarter-sized scoops to cover my entire body. I never notice it rinsing away—as cosmetic chemist Ni'Kita Wilson told Allure magazine, the oil's fatty acids give it staying power. I've even used it as a shave lotion. It gunks up my razor, but my legs have never felt smoother.
Once I get out of the shower, I just let my body air dry. (I feel like toweling off just steals some of the oil right back out of my skin.) When my skin is almost dry, I'll even layer on some lotion if I'm feeling extra dehydrated, particularly during the winter. In the summer, I take care to let the oil absorb into my skin before getting dressed. Otherwise it can show through thinner, light-colored fabrics.
Hair
I only shampoo every other week, so when I put coconut oil in my hair I do so sparingly to avoid greasy buildup. I'll use a tiny amount—usually whatever's left over on my hands after applying it to my face—to smooth down flyaways or de-fuzz my ends.
On the night before I wash my hair, I'll also coat it with coconut oil, tie it up on top of my head, and leave it in overnight. By morning, my curls have been brought back to life. It's like they were thirsty for it.
Photo by Mahreen Younus, Groupon
BY: Favin the Maven
For me, both beauty and fashion need to be accessible and not intimidating. I love a great deal and a good DIY beauty treatment. I pride myself on trying new trends, being open minded and getting a great treatment without breaking the bank. In the name of beauty I will try anything once.