Yes, I Have Six Sunscreens in My Beach Bag. So What?
BY: FAVIN THE MAVEN | 5.22.2014 |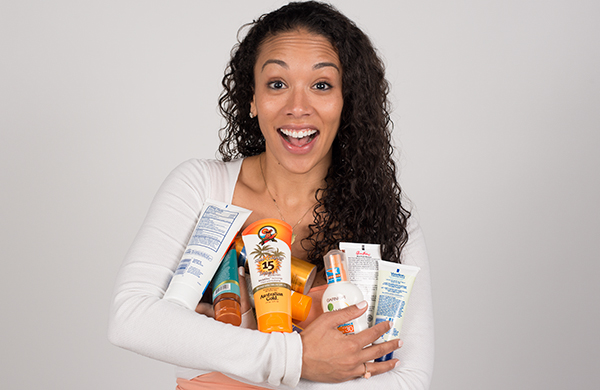 For me, putting on sunscreen is as natural as brushing my teeth. There's a history of skin cancer in my family, so I've been pretty anal-retentive about using it ever since I was a kid. But the way I look at it, it's another health and beauty product to learn about—and I love doing that!
So in honor of Chicago beaches finally opening today (I've never been more excited to get sand in uncomfortable places!), here's a rundown of the sunscreens I wear during my favorite beach activities. After all, even the best summer outfits can't make a sunburn look good.
For tanning:
Banana Boat Clear UltraMist Dry Oil Spray Sunscreen
SPF: 4 or 8
I love to lay out, so tanning oil is a given for any beach trip. Protecting my skin is just as important as getting a good glow, however, so I like my oil to have an SPF component. This dry oil sunscreen just requires a quick spray for total coverage, and it smells like banana-coconut rum!
For swimming:
Neutrogena Ultimate Sport Sunscreen Lotion
SPF: 30
Growing up in the Arizona desert, the only thing my siblings and I ever wanted to do was go to the pool. We were all on swim teams from ages 6–18, so putting on sunscreen became part of our morning ritual: by 6 a.m. every day, my mom had us slathered in goop. That goop was Neutrogena Ultimate Sport Sunscreen, and the water-resistant formula did a bang-up job of shielding us from the Arizona sun. It's still my go-to goop for swim days!
For jet-skiing:
Australian Gold Lotion with Kona Bronzers
SPF: 30
Zooming across the water on a jet ski is one of my favorite vacation activities. I've learned the hard way, though, that being out on the water is different from being in the water. The light reflects off the ocean's surface and gives me what feels like a double-dose of sun, so I burn way more easily. That's why, when I'm on a WaveRunner, I go for a long-lasting sunscreen with a higher SPF. Australian Gold Lotion is designed to stay on for upwards of 80 minutes, and its instant bronzers make me look like a consummate beach professional.
For picnicking:
L'Oréal Paris Advanced Suncare Quick Dry Sheer Finish Spray
SPF: 30 or 50
When I'm sitting in the sun but not trying to tan, this one's my favorite. The spray nozzle makes it a breeze to apply, and the super-high SPF is great for sensitive skin. The best thing about this spray is that it doesn't make me feel sticky or clog my pores, so I don't feel gross while I'm, uh, stuffing my face with beach snacks.
For beach volleyball:
Coppertone ClearlySheer Sunny Days Body Lotion
SPF: 15 or 30
This sunscreen is so lightweight, I barely feel it when it's on. The true benefits come out after I've been playing beach games for a while: the lotion doesn't run into my eyes when I sweat, and the lemon-lime scent means I don't smell like sweat.
For evening tiki parties:
Hawaiian Tropic Silk Hydration After Sun Lotion
SPF: N/A
Even after sunset, my skincare routine isn't over (I told you I was anal-retentive!). I use this after-sun lotion to soothe my skin, and it's truly a lifesaver, because it helps prevent peeling and cools burns with aloe gel. Of course, like most things I put on my body, it also smells amazing. Plus, the 24-hour moisturizing effect keeps my skin feeling great for whatever I'm doing the next day. Which is probably more beach stuff.
Photo by Andrew Nawrocki, Groupon
BY: Favin the Maven
Favin the Maven
Beauty blogger working at Groupon. For me, both beauty and fashion need to be accessible and not intimidating. I love a great deal and a good DIY beauty treatment. I pride myself on trying new trends, being open minded and getting a great treatment without breaking the bank. In the name of beauty I will try anything once.