GROUPON GUIDE TO WASHINGTON-DC
Yes, Pro Figure Skaters Fall on Icy Sidewalks, Too
BY: Stephanie McDaniel |
Feb 7, 2014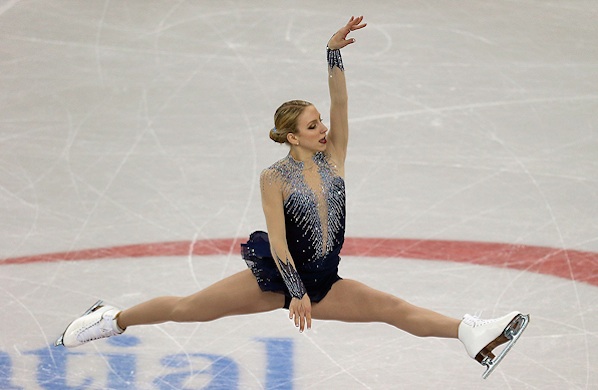 A Chicago native, Agnes Zawadzki started skating in Niles when she was 5 years old. She knew immediately that she had found her soulmate in sport form. "I loved being on the ice and feeling the wind in my hair, the carefree attitude, and the atmosphere of the rink," she says.
Since then, she has won a gold medal at the 2012 US International Classic and a bronze medal at the 2013 US Championships. She also trained to compete in the 2014 Sochi games, but unfortunately, she didn't qualify.
Missing Russia hardly flagged her spirit, though. Agnes considers skating her full-time job, and has spent her time "preparing for anything," from performing at corporate events to competing nationally. I spoke with her about what a professional figure skater's training regimen looks like, then asked for some tips on how to skate (and fall) properly.
Training On and Off the Ice
On a typical day, Agnes spends two to three hours on the ice (after a six-minute warm-up). She'll join other athletes in the rink, but crowds aren't a big problem—everyone tends to stay in their own mental zone.
As she skates, she works on her spins and jumps, trying to perfect every turn of her toe and slice of her blades. When the mood strikes her, she will throw in one of her favorite "exhilarating" tricks, the triple lutz or triple toe loop. You can see her nailing a triple toe loop–triple toe combination at the 2012 US Nationals below, starting at 1:10.
Off the ice, Agnes does Pilates, yoga, and cardio workouts twice a week. She also hikes on the trails by her house, when the weather permits. One trail in particular, Pikes Peak, provides a challenging climb to the summit, but the payoff is worth it: "It's amazing to be on top of a mountain and look down. It's like being on top of the world."
When she does get a chance to relax, Agnes prefers to "sit at home and watch Netflix," or explore local restaurants. She is a self-proclaimed healthy restaurant foodie, and perpetually on the hunt for vegetarian, vegan, and gluten-free places. Her edible weakness? "I really like peanut butter and almond butter. Put it on anything. I'll eat anything peanut-butter-flavored."

Pro Tips for Skating (and Walking on Ice Without Falling)
How to survive a stroll down an icy sidewalk: This can be a sport in itself. Agnes's professional advice is that "you're supposed to walk like a penguin, on your toes a little, and hold your weight forward."
If you find yourself falling, whether on the rink or on the road: Do what the pros do, and "just try to fall on your butt. It is as least painful as possible."
How to pick yourself back up: Once you've recovered from your less-than-graceful descent, use the rhyme that instructors teach kids who are beginning to skate: "Start like a doggie and turn into a froggie and push yourself up." That is, start on all fours, move into a squat, then stand. Inelegant, but effective.
If you're feeling nervous about leaving the wall: Agnes says that everyone feels scared their first time, even the pros. "It's really scary to go out there on the ice. You're like a deer, [and you] hold on to the wall for dear life. Everyone started like that; I started like that. You just need to take a leap of faith and go out there."
Photo: Leah Adams