Yes, Yoga Is a Sport
BY: Amanda Nyren |
Mar 12, 2014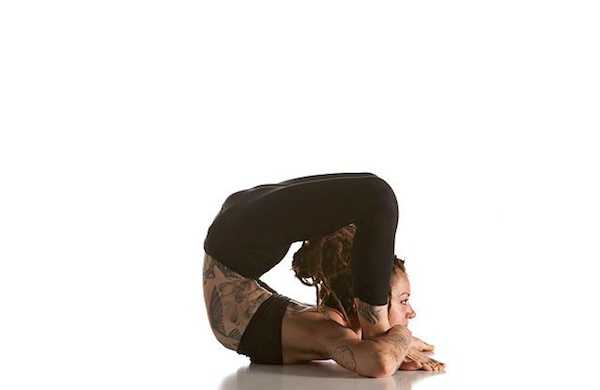 And Gianna Purcell is the reigning champion. (She'll defend her gold medal this weekend at the 2014 Yoga National Championship.) Here's how she worked her way to the top.
Yogis are more likely to chant om shanti than "WIN!" but that doesn't mean there aren't yoga competitions. Intense yoga competitions. The annual national championship, put together by the United States Yoga Federation, is basically the Olympics of yoga—medals, 10-point scale, and all. To compete, each contestant spends three minutes flowing through seven asanas, or postures; five are mandatory and two are freestyle. The rules are pretty elaborate, too—the definition of a fall, for example, has five subpoints.

For Gianna Purcell, last year's gold medalist, however, a fall is nothing to avoid. "Falling out is not failing," she says. "It is information." For her, yoga is less about winning contests than testing (and expanding) her limits, something she'll strive to do at this year's championships, held this weekend in San Antonio, Texas.
As she prepped for the contest, Gianna told us how she got where she is today. Here in her words are the key milestones, like when she started doing 6 a.m. yoga and quit her previous workout regimen, also known as walking to and from bars.
1987–2005: Childhood
I was active as a kid. I did gymnastics through high school and created many injuries for myself, as many gymnasts do.
2004: First Tattoo
I started getting tattoos when I was 16. My first was a heart for my mom, who was ill when I was 13. My tattoos have nothing to do with my yoga practice. It is a separate interest of mine, just like playing music and riding motorcycles. They all make me, me.
2005–2007: College
For the two years following high school, most of my exercise was on the walks to the bars.
2008: First Bikram Class
My first class was at the Lincoln Park 105F studio in Chicago. I had pants and a headscarf on. I was hot. I was pretty sure there was smoke in the room. I remember not being able to see the mirror in front of me. The air felt thick. I remember it well. I tried every posture.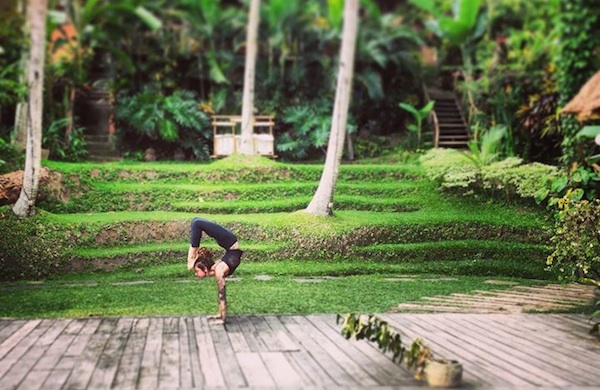 2009: India
I traveled to India for three months. I've traveled through much of Southeast Asia and Australia, as well as Nepal and Mexico. I'm most attracted to countries that are very different from the Western world. These are the places I learn the most about other cultures and myself.
2009: First Regional Competition
My first competition was in Chicago. I was coached by Jessica Rask, who still coaches me today. I started taking 6 a.m. classes, so anyone I was seeing … we'd hang out and do dinner, then I'd walk them to the bar and ride my bike home. I started dropping my dates off at the bars, instead of going out to bars on dates.
2010: First Regional Title
I won for Illinois. I was ecstatic. This jump-started my training enthusiasm. I would backbend every day, every chance I got.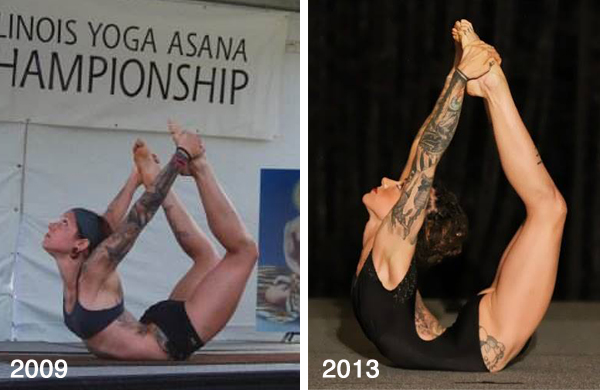 2011: First Full Locust
I remember when I could do full locust for the first time or full wheel to my chest. When I started practicing I was so all over the place that I don't remember much from my practice. It was about three years in that I really started understanding what I was doing there and working hard.
2013: Bali
Two highlights from my trip to Bali last year: I got circles tattooed up the back of my legs on my birthday, and we drove from Seminyak on motorbike to Ubud. We didn't have any maps, so we'd just have to stop periodically to figure out where we were going.
2013: First National Title
[Winning in LA] was just a cherry on top. I had so many wins in my own practice, breakthroughs mentally and physically. … A medal was just a really cool thing I got.
2014: Today
It's been weird recently. I used to concentrate so hard, and now competing is a meditation I can so easily get into that I often have to ask people if I did all the postures I meant to. My mind is clear, I feel at peace.
This interview has been condensed and edited for length.
Photos courtesy of Gianna Purcell and USA Yoga Federation
Explore yoga studios near you on Groupon.
BY: Amanda Nyren
Staff Writer
Amanda is a writer, editor, yoga teacher, and amateur tea-guzzler.