You Can Buy a (Dead) Pet Dinosaur in Evanston
BY: Stephanie McDaniel |
Mar 3, 2014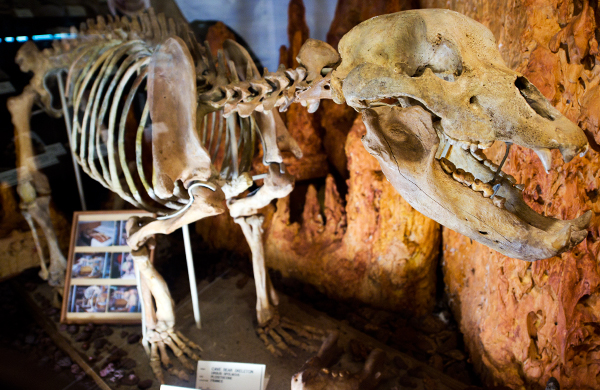 Dave Douglass started Dave's Down to Earth Rock Shop 44 years ago at age 20. Compared to his cave bear skeleton and Neanderthal hand tools, that's practically yesterday.
As a high schooler, Dave Douglass kept his head out of the clouds, preferring to bury it in the dirt. He was known as the resident rock fiend—and he earned the title with his massive collection of rocks, minerals, and fossils. Dave knew that these specimens were worthy of a museum, but he couldn't find a suitable place to display them. So in 1970, at the age of 20, he decided to establish his own. Dave's Down to Earth Rock Shop housed his collection and added a store component, thus allowing visitors to take home a literal chunk of history. Over time, the rock shop grew into one of the Midwest's premier destinations to purchase relics that formed or fossilized in the ground. Pretty standards, like fool's gold and turquoise necklaces, now sit alongside dinosaur footprints and humongous T. rex teeth. Store manager Zach White came to the Rock Shop 12 years ago. "[I was] blown away," he recalls. "I had never seen anything like this before." That seems to be a typical reaction among first-time visitors, who range from children to other advanced rock-hounds. "It's one of those things where, after one visit, you're pretty much hooked." More days than not, people also bring in their own specimens and ask staff members to identify them. These finds usually aren't
too
groundbreaking—the majority are bits of quartz or coal that fell off a barge in Lake Michigan. Zach says that the local bedrock isn't ideal for rock and fossil hunting. "It's basically the fossilized bottom of an ocean beneath us…not many crystals and minerals form in this type of limestone." However, they do see the occasional arrowhead or woolly mammoth bone from untouched land. And even though Chicago might not be a natural fossil hotspot, Dave's free museum makes up for the fact. The one-room wonder, located downstairs from the shop, contains rock formations in glass display cases as well as lots of bones. Its standout pieces recreate prehistory: dinosaur eggs, alone and in nests; an entire enormous cave bear skeleton; and one of the biggest pieces of amber ever found in the world. With obvious enthusiasm, Zach explains that the collection includes "fossils from every geologic time period going all the way back to Precambrian, which is the beginning of life on earth…about 4.2 billion years." Here are five souvenirs from different spots on that timeline.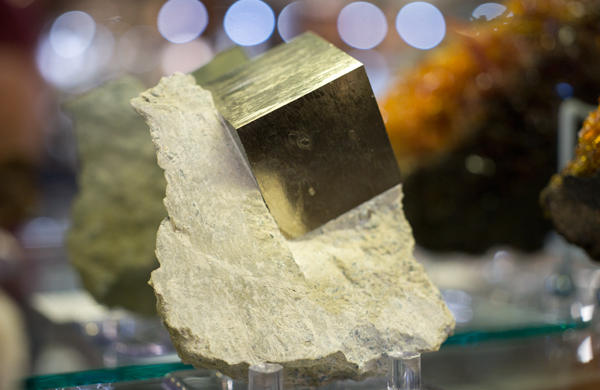 Pyrite Cube ($950, but small cubes start at $10)
Pyrite crystals form in the shape of a nearly perfect cube. Many people have a hard time believing that they just come out of the ground that way, and their skepticism is fair: though pyrites are common around the world, these cubes only form in one Spanish mine under precise geologic conditions. Zach says that geologists have been trying to figure out the process for decades. The mystery is intriguing, but Zach likes these crystals simply because "they're pretty."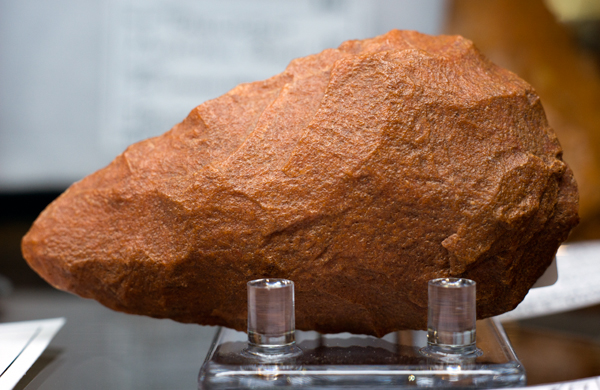 Neanderthal Hand Tools ($90–$300)
Neanderthal and homoerectus tools are some of the Rock Shop's oldest man-made artifacts—our ancient relatives broke flint and quartz into these practical shapes anywhere between 80,000 and 300,000 years ago. If we ever need to return to a simpler stone age, this is what we'll need to survive, Zach says. To get a feeling for just how special and ancient they are, you need to "hold one and really feel how it fits in your hand."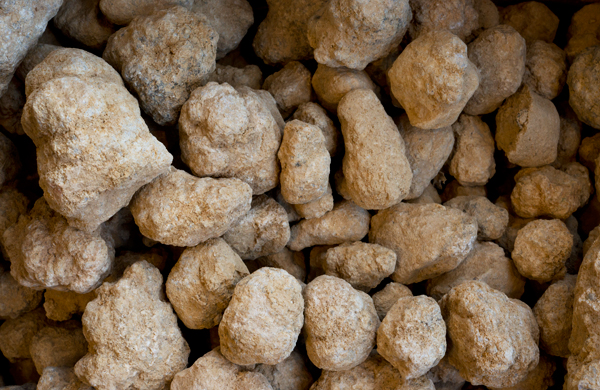 Break-Your-Own Geodes ($12.50 per pound)
The kids who come into the Rock Shop tend to love the tiny bottles of gold, small fossils, and shark teeth. Perhaps the most popular child-friendly gift, however, is the break-your-own geode. Once you (carefully) crack open its rough shell, the geode exposes thousands of sparkling crystals. Zach recommends presenting them as a mini expedition: "It's like mining, except you're always going to find something."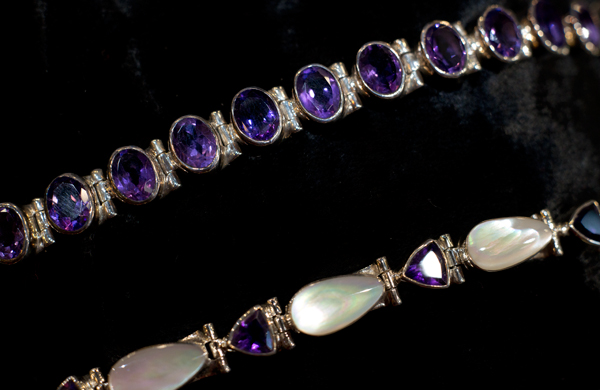 Amethyst Rocks and Jewelry (rocks approximately $25; finished jewelry starts at $15)
Amethyst is a common material, but Zach explains that "all caliber of collectors will want amethyst in their collection, whether it's a kid who wants a $5 piece or somebody who…wants a humongous one from the front window that's $3,000." To fill this demand, the Rock Shop stocks amethyst stones of all shapes and sizes, plus amethyst keychains, bookends, and statuary. In addition to finished necklaces and bracelets, the shop also has strings of beads for jewelry DIY projects.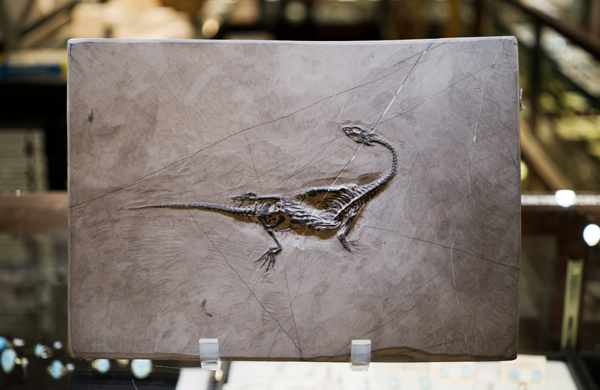 Keichousaurus ($795)
The keichousaurus is probably the cutest fossil in the shop. Sitting on a slab of stone brought over from China, this skeleton is one of the only complete reptile fossils for sale here—"the closest thing to a dinosaur that's not astronomically expensive." While alive, it was a small aquatic creature that swam the inland seas during the Triassic period, about 180–200 million years ago.
Photo: Andrew Nawrocki, Groupon
BY: Stephanie McDaniel
Stephanie McDaniel is a political theorist-turned-novelist from South Carolina. On the rare occasion she's not writing, she spends her time folk dancing, singing, and adding sea salt to Lake Michigan.