You Might Be Ruining Your Engagement Ring by Accident
BY: Rachel Matuch |
Feb 13, 2014
When I first got engaged, I'd catch myself staring at my shiny new ring, just watching it glimmer. A few years down the road? Not so much. I thought I was just used to having it on my finger every day, but it turns out it really had gotten less shiny—and it was my fault.
After enduring some scolding from the jeweler, I decided to do a little more research to find out how to keep my ring in better shape. Turns out, there was quite a bit I didn't know. Whether you've been wearing your ring for years or are expecting a sparkler during February's most romantic holiday (George Washington's Birthday, of course), these tips will help you keep it shiny and safe till death do you part.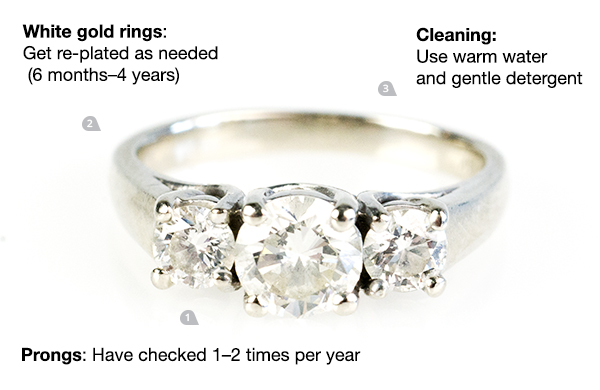 1. Get your prongs checked regularly.
Take your rings to a jeweler to be checked at least once or twice a year. Besides giving your ring a professional polish, the jeweler will know if any prongs need to be tightened. This might be the most important rule of ring maintenance: neglect it, and you could find yourself on hands and knees searching for a missing stone.
2. Keep it clean—but not necessarily with ring cleaner.
There are plenty of ring cleaners sold in stores, but you can also clean your ring with warm water and gentle detergent. Gently brush it with a soft-bristled toothbrush or polishing cloth—scrub too hard, and you could scratch it.
Never use store-bought ring cleaner on a white-gold ring that's been plated with rhodium. It will eat away at the plating and cause it to wear off prematurely. You should also never use traditional ring cleaner on tungsten-carbide rings (a popular choice for the gents), which can react to the chemicals. Try the warm water and detergent method instead.
3. Have white-gold rings replated regularly.
White gold is an alloy made with yellow gold, so it has a natural yellow tint. That's why most white-gold rings are plated in rhodium. Rhodium is a hard, brilliant metal that masks the yellow tint and gives rings a pure, platinum-like shine.
Eventually, that plating wears off—especially if you wear the ring constantly. You'll usually notice it first on the bottom of the band between your finger and palm. How fast? That depends on how often you wear it, how your skin reacts to the metal, and the thickness of the plating. It can happen in as little as six months, or it might take four years or more.
You can restore white gold to a brilliant shine by having it "redipped" in rhodium. I called around to several Chicagoland jewelers, and most offered replating for about $40. (Pro tip: if you bring your ring back to the store where it was purchased, some jewelers will perform the service for free.) You can usually pick up your ring the day after you drop it off.
4. Know when to take it off.
Never wear your ring while swimming in pools because the chlorine can damage the metal. You should also remove it while cleaning, as chemicals (especially bleach) can also do harm.
Diamonds may be one of the hardest substances on earth, but they can still get chipped if they're hit the wrong way. So take them off before operating heavy machinery or performing crazy motorcycle stunts.
Photo by Tim Burkhart, Groupon
BY: Rachel Matuch
Guide Staff Writer
When she's not writing, Rachel pillages her local library, plays board games, and cooks (but never, ever bakes).