You Probably Don't Have Vintage Balenciaga. Wear This Instead.
BY: Michelle Schuman |
Jan 22, 2014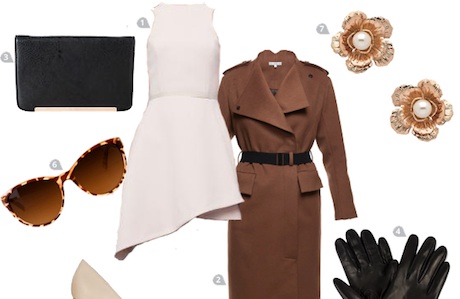 In a 1956 episode of
I Love Lucy
, Lucy Ricardo tickled American audiences as she traipsed around Paris in what she thought was a designer frock, but was actually a burlap sack gag-gifted to her from Ricky. Behind the scenes, the joke wore a clever second layer: the sack was meant to be a parody of Spanish couturier Cristobal Balenciaga's revolutionary chemise dress, a boxy design that freed women from the cinched waists of Christian Dior's then-ubiquitous New Look. Despite being the butt of a televised joke, the sack dress eventually helped cement Balenciaga as one of the most innovative fashion designers of all time. Even would-be rivals such as Dior and Coco Chanel were fans, following his lead as closely as his many dedicated clients. Dior once quipped, "Haute couture is like an orchestra, whose conductor is Balenciaga. We other couturiers are the musicians and we follow the directions he gives." Throughout his decades-long career, Balenciaga invented fashion-forward silhouettes that shaped many styles still popular today, including tunics, baby-doll dresses, balloon hems, and knee-high boots, among others. Since vintage Balenciaga gowns are hard to come by (and burlap sacks are, as it turns out, terribly itchy), here are looks inspired by two of the couturier's most famous designs.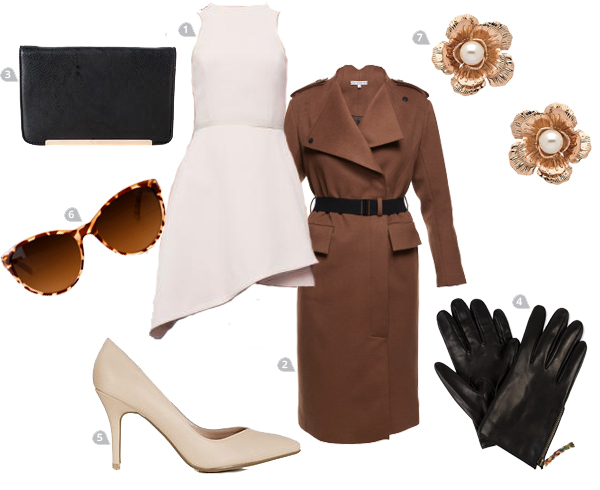 The Look: Petale Gazar Dress
The asymmetric folds of this dress mimic the clean lines and petal-like structures in Balenciaga's 1965 winter collection. Match its elegance with a classic camel trench and nude heels, and play up the midcentury vibe with gloves, cat-eye shades, and pearl earrings. 1. Structured dress;
camilla and marc
($590) 2. Camel trenchcoat;
Dagmar
($316.53) 3. Clutch;
Francesca's
($38) 4. Gloves;
Paul Smith
($280) 5. Nude pumps;
New Look
($29.54) 6. Sunglasses;
Francesca's
($14) 7. Pearl earrings;
Max & Chloe
($18)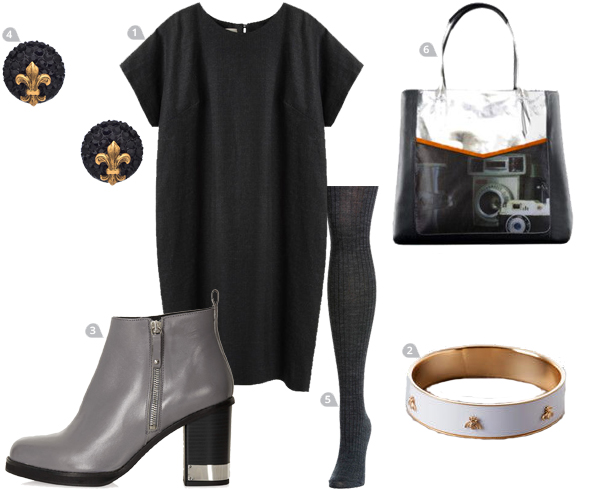 The Look: The Sack Dress
This dress proves that Balenciaga's waistless design still feels modern. To prevent looking overwhelmed by the oversize silhouette, elongate the leg with lined hosiery in a similar hue and a heeled boot. The photo-print tote and white bangle keep the outfit from feeling overly monotone. 1. Sack dress;
La Garçonne
($495) 2. Bee bangle;
Francesca's
($16) 3. Gray boots;
Topshop
($160) 4. Earrings;
Max & Chloe
($38) 5. Ribbed wool tights;
Penelope's
($29) 6. Photo-print tote;
ShopBop
($276.50)
BY: Michelle Schuman
Michelle is a freelance fashion designer and dancer from Detroit. She has traveled the US extensively (and loves it!), but her biggest goal is to travel abroad.