You Should Bring a Scarf to São Paulo
BY: Mae Rice |
Mar 17, 2014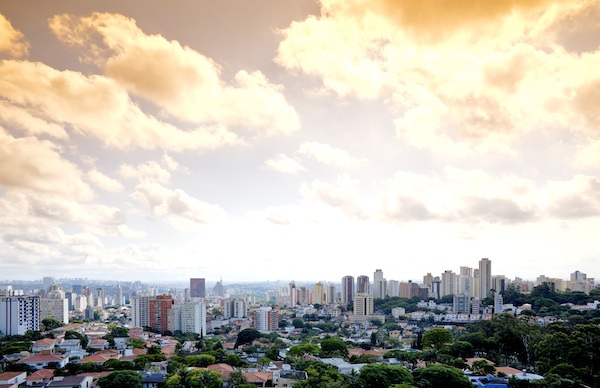 Paula Randon owns a boutique and a bar in São Paulo, so she knows how to dress for the city's many scenes. Hint: pack flip-flops and sequins.
At
B. Luxo
, her vintage shop in São Paulo, Paula Randon strikes a balance between stylish and strange. She and her husband, Gil, stock their cute finds (like
polka-dot sunglasses
and
flapper-esque sequined dresses
) alongside not-so-cute decor—think taxidermied animals and vintage mannequins from the '40s, some of which are
baby
mannequins. "[It] often comes off as bizarre and scary to people," Paula says, "but that's what actually makes it so special." She and Gil also run a bar, B. Bar. There, you'll find more taxidermy, vegetarian snacks, and original drinks, including the Rosemary: mashed grapes, vodka, and alecrim (that's rosemary in Portuguese). Paula's two businesses demand that she know her city's fashion and nightlife better than any visitor, and most locals. So, as an aspiring São Paulo tourist, I asked her what items to pack for a trip to the city—and where to wear them for a good time.
For Casual Outdoor Fun
Pack:
Havaianas. They're sturdy enough for long walks, and Paula calls them "a Brazilian classic." Try these
classic solid flip-flops
($26), or these slightly more formal
white keyhole sandals
($30).
Go to:
The outdoor flea market in Bexiga, São Paulo's Italian neighborhood (São Paulo has one of the biggest Italian populations in the world). The market is held in Dom Orione Square every Sunday, and showcases treasures ranging from silver antiques to souvenir knick-knacks. Afterward, head to one of the neighborhood's authentic cantinas and eat the polar opposite of food-court pizza.
For Your Art Fix
Pack:
It sounds counterintuitive for the weather, but…a scarf. It looks artsy, and offers some sun protection for when you wear your hair up (you should still be wearing sunscreen, of course). Try
this scarf
from Kay Lim on Etsy ($55). Its neutral pattern is easy to mix and match.
Go to:
Pinacoteca do Estado
, an art museum that's only a few steps away from the Luz subway station. It's been around for more than a century, and houses about 9,000 pieces, most of which are by Brazilian artists. The scarf will prove especially handy if you decide to stroll through the sun-drenched
sculpture park
. (One of the sculptures looks like a dinosaur's spine, and would fit right in at B. Luxo!)
For a Night Out
Pack:
A sequined top. At night, you don't have to worry about dark clothing sucking up the sun's heat, so feel free to break out the black. I like
this sequined black leotard
from ASOS ($122.32). Beyoncé hasn't weighed in on it, but I'm pretty sure she would approve.
If you're brave, pair it with:
Leather pants from
Carol Gannon
, a São Paulo–based designer Paula loves. Keep in mind, though, that Carol only opens her shop (a downtown São Paulo apartment) upon request.
Go to:
D-edge
, a club that stays open until dawn. Its best parties are the Monday "On the Rocks" parties, which celebrate rock music and just might make "Monday Funday" a popular saying. If you want a sense of the vibe, check out some jams from the club's new house electronica label
here
.
Major thanks to Isa Giallorenzo, the street-style blogger behind Chicago Looks, for her translating help.