Young at Heart in Chicago: A City Guide for Your Inner Child
BY: Emily Wachowiak |
Dec 9, 2015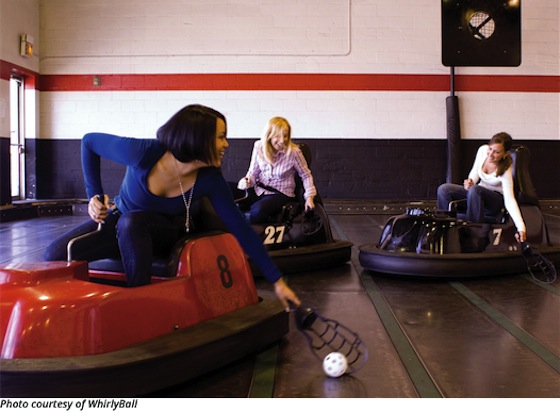 Bookended by traffic jams or sardine-can L rides, the 9-to-5 workday can take a toll on your inner child. You may have outgrown moon bounces and ball pits, but it's still important to cut loose once in a while. Until it's socially acceptable to schedule girls' night at Chuck E. Cheese's, these childish Chicago hot spots will have to suffice.
Play Like a Kid
WhirlyBall | Bucktown, Lombard, and Vernon Hills
Part lacrosse match, part basketball game, and part bumper-car free-for-all, WhirlyBall puts you in the driver's seat of a tiny cart known as a WhirlyBug. Though this motorized cart lacks brakes, you won't miss them as you careen around a court and use a plastic scoop to whip wiffle balls off the walls, off other cars, and—hopefully—into the opposing team's net. WhirlyBall's Chicago location transforms into a 21-plus venue after 5 p.m., giving winners the chance to celebrate with one of the 20 beers on tap. Craft brews also flow freely at the other two locations, where laser-tag arenas offer further opportunities for youthful escape.
With Wicker Park's Emporium Arcade Bar packing in the crowds and Boystown's Replay set to open soon, barcades are officially a trend. Headquarters Beercade stands out from the pack, letting visitors save their quarters for beer by throwing open the joysticks on more than 30 arcade games free of charge. Gen-Xers might feel like kids in a candy store as they go from NBA Jam to Donkey Kong to Frogger before they've finished their pint of barleywine or apricot cider.
Eat Like a Kid
Nothing says childhood like a grilled cheese sandwich or a plate of mac 'n' cheese. Cheesie's Pub & Grub has the audacity to combine both, and the result is a deliciously gooey creation called the Mac. This sandwich packs american cheese, Merkts cheddar, and housemade macaroni noodles between two thick slices of bread. For a more grown-up version of the kiddie classic, try a caprese on sourdough or spice things up with the Tradicion: chorizo and chihuahua cheese with jalapeños on texas toast.
Though Mindy's HotChocolate does have a savory menu with mac 'n' cheese to boot, why not realize a childhood dream and eat dessert first? You'll want to save plenty of room for James Beard Award-winning chef Mindy Segal's signature desserts, which include brioche donuts served with caramel corn and signature hot chocolates such as a Black & Tan poured with hot fudge. Go all in with Segal's rotating special plate, which features a creative "study" on a seasonal ingredient such as rhubarb.
Explore Like a Kid
This after-hours adventure at Lincoln Park Zoo affords visitors a rare glimpse at red wolves, pumas, and other nocturnal animals just waking up for their nightly prowls. Open exclusively to the 16-or-older crowd, the photo-worthy stroll also showcases seasonal flora in the zoo's gardens. The 90-minute safari costs $13 ($10 for members) and begins at 6:30 p.m. on the following Wednesdays: May 22, June 26, July 24, and August 28.
Cocktails and stargazing go hand in hand at Adler Planetarium's monthly After Dark events. Visitors aged 21 or older can enjoy cash-bar libations as they expand their minds with scheduled sky shows and wide-eyed peeks at the universe through the Doane Observatory telescope. DJ-spun tunes, live theater performances, and other surprises round out the educational—if slightly tipsy—evening. Admission is $12 in advance ($9 for members), and the event runs from 6:30 p.m. to 10:30 p.m. on the third Thursday of every month.
BY: Emily Wachowiak
Guide Staff Writer
Emily Wachowiak is a Chicago-based writer and editor.