GROUPON GUIDE TO WASHINGTON-DC
Five TV Students. One Back-to-School Outfit.
BY: Courtney Ryan |
Aug 4, 2014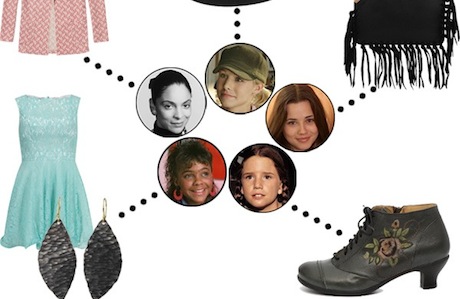 You
could
study
Vogue
's upcoming September issue for inspiration for your back-to-school wardrobe. Or you could take a crash course in Netflix, revisiting four decades' worth of TV shows with school-aged stars who could have easily been voted Best Dressed in their class. We went with the latter and then took it a bit further, picking five of our favorite students of fashion and building an outfit that combined their best style sensibilities. See our list of characters below, then check out the look they inspired.
The List
Laura Ingalls Wilder:
This might seem like a curveball, but the braids and lace-up boots Laura wore to her one-room schoolhouse on
Little House on the Prairie
couldn't be more relevant.
Whitley Gilbert:
On
A Different World
, the collegiate spinoff of
The Cosby Show
, Whitley stood out not only for her smarts but also for her smart, geometric-patterned blazers.
Lisa Turtle:
The undisputed First Fashionista of
Saved by the Bell
, Lisa wasn't afraid to mix statement pieces such as lacy dresses and oversize earrings.
Lindsay Weir:
Everything seemed burdensome to angsty Lindsay, which might explain the minimalist, rock 'n' roll-tinged style she sported on
Freaks and Geeks
.
Veronica Mars:
The super-aughts styles Veronica wore aren't exactly timeless, but the show's teen-noir aesthetic is certainly worth revisiting.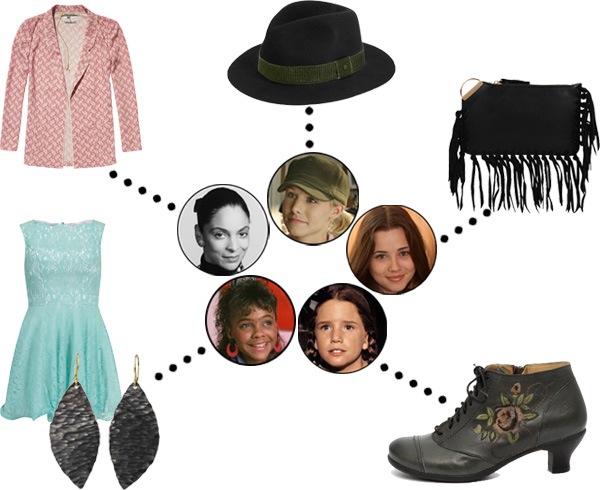 The Look
Fedora, rag & bone ($195); lace shift dress, Dorothy Perkins ($89); blazer, Scotch & Soda ($70 on sale); fringe clutch, Lori's Shoes ($64.95); booties, Brako ($240); ridged petal earrings, Sarah McGuire ($295)