Your Purse Could Be Charging Your Phone Right Now
BY: Stephanie McDaniel |
May 12, 2014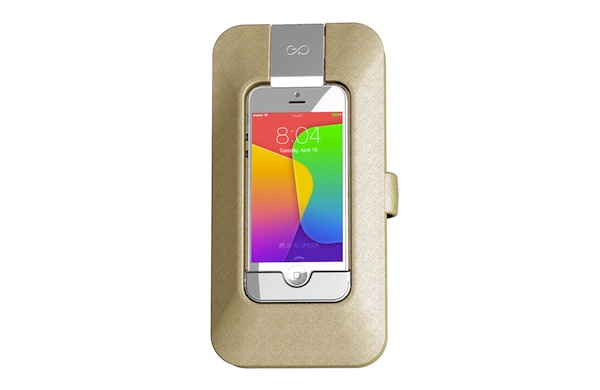 What does Liz Salcedo, CEO of
Everpurse
, keep in her purse? Pretty traditional stuff, actually. "I keep my phone, my ID, credit card, keys. I keep an EpiPen because I have a peanut allergy and some chapstick," she says. Oh, and enough power to keep her phone charged over a long weekend. Everpurse is a Chicago startup with a brilliant idea: a line of purses that can wirelessly charge a cell phone. There are no cords or cables—just a special pocket inside each purse that carries enough juice to fully charge an iPhone twice over. Once the pocket battery runs out of power, you simply set the whole bag on a wireless mat to recharge. The purses even come with an interchangeable sleeve that you can switch out to fit various phones. As if that idea wasn't smart enough, the company recently announced its newest product, Mini by Everpurse, a hard-shell wallet that also serves as both a phone case and charger. On one side, the Mini looks like a regular wallet. The other side holds a secure slot for your phone. Pop the phone into the slot, and it will charge while you continue using it. Inside, in addition to credit-card pockets, there's a hidden USB port that you can use to charge the wallet anywhere you go. Another fascinating fact about Everpurse: the company consists of just seven employees, all working out of a one-room office in River North. To better understand what it takes to build a business from the ground up, we spoke with Liz about her idea and the future of wearable tech.
GROUPON: I think almost everyone can relate to that feeling of worry when you're out and your battery suddenly alerts you it's low. Tell me about how you decided to actually do something about it.
LIZ SALCEDO: I was having trouble keeping my phone charged. I thought it would be awesome to find a way to charge it in my bag because I always have a bag with me, but I never remember to carry chargers or cords or things like that. Two and a half years ago we made our first one. We found some off-the-shelf parts, took it apart, jerry-rigged it, and then found a way to put it in a bag.
G: Does the phone ever come loose inside the bag?
LS: Part of our patent is around how we formed that dock so that it slides in and automatically connects with the lightning cable at the bottom with no fiddling around or pulling out cables or anything. It fits perfectly to the phone. Even if you turn it upside down, [the phone] doesn't fall out.
G: How did you figure out how to keep everything secure?
LS: [I built a prototype using a] material called InstaMorph moldable plastic. When the beads are put in hot water they melt and become like silly putty—think stretchy plastic—that I wrapped around my phone. (I wrapped my phone in tinfoil first). I probably left it in the freezer [to cool and harden] for 15 minutes.
G: From there, how did you refine the design to what it is today?
LS: Over the next couple of months…we figured out how to make it work better. Then people started asking me to buy them, so they would pay me to cut apart their bags and put tech inside. That was a lot of fun because I learned a lot. By the time we realized [we] could make a business out of this, we had made 50 different versions just making them for people. After that, we launched on Kickstarter, built a team, and scaled it.
G: Do you still make the purses in-house?
LS: We made them all in the beginning, which was a huge learning experience because everyone knew how our product worked. From there we taught the manufacturers how you put it together because nobody knew how to put together textiles and electronics. When we build new products, we print out all of our prototypes on our 3D printer, which is incredible because then every time we make a small change we can print out a new one.
G: Why did you choose a clutch style?
LS: We wanted something that was versatile…Our purses are big enough to carry your essentials but small enough to put in a larger bag if you wanted a pouch…Even if tech is really cool, people aren't going to want to use it if it doesn't fit their personal style. I think there's a lot of growth for wearable tech if things look good.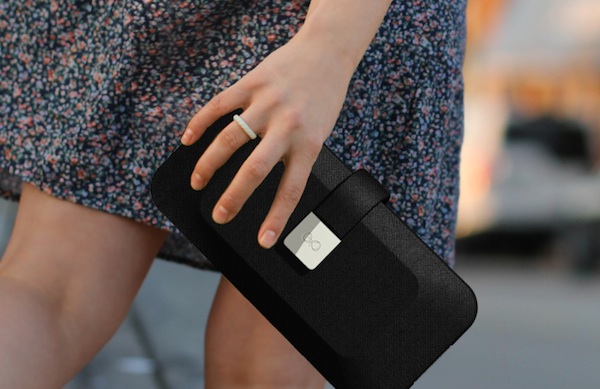 G: So far you have tech-savvy purses and wallets. What's next?
LS: Our long-term goal is to start working with brands. We know we'll never be able to create every single product in every color that everyone wants. We'd much rather partner with all these different brands that are already making these incredible products, and teach them how to integrate the tech into their products, so that people can purchase their favorite bag with tech inside. We've also been talking about being able to locate your accessory if it goes missing or being able to tag things. For instance, if you forget your keys. We're coming up with a lot of practical applications, but making sure the design comes first. Accessories are a part of people's personal identity. You shouldn't have to think about your tech. It just works and empowers you and makes your life a little easier.
Photos courtesy of Everpurse
BY: Stephanie McDaniel
Stephanie McDaniel is a political theorist-turned-novelist from South Carolina. On the rare occasion she's not writing, she spends her time folk dancing, singing, and adding sea salt to Lake Michigan.