Zilker Park with Kids
BY: Heidi Gollub |
Aug 7, 2013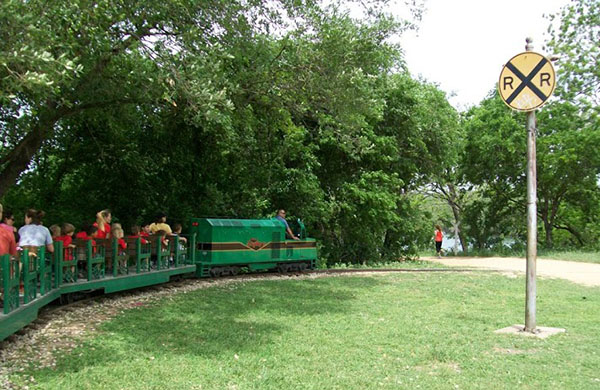 As a mother of three small boys, who never seem to tire, I am ever on the hunt for kid-exhausting adventures. Wide-open spaces, to accommodate outside voices and boundless energy, are key. Throw in some scenery for an adult to enjoy, while the boys run in circles, and the deal is sealed. In Austin, Zilker Park is a one-stop shop for family fun in the great outdoors. Located minutes from downtown, the 351-acre oasis has all the essentials for an outing under the Texas sun: water, sand, and a sprawling playscape.  The park's other attractions - animals, a mini-train, gardens, and works of art - are just gravy. The gorgeous, green water encompassing Zilker Park is a powerful draw, in a city that boasts year-round sunshine.  Explore Lady Bird Lake by canoe or kayak, to see the city from afar, while watching turtles and waterfowl up close.  Upstream from the rental boats, kids can wade in Barton Creek, or swim in the refreshing 68-degree water of Barton Springs Pool.  It certainly doesn't hurt – where boys are concerned – that spring-fed pools offer minnows, and the creek is home to fish and snakes. Steps away from Barton Springs, you will find the train depot for the Zilker Zephyr, Austin's own miniature locomotive. Hop aboard for a twenty-five-minute tour of the park, as you travel along the Hike and Bike trail, under a bridge, and through a tunnel.  If you're lucky, you may spot local troubadour, Woody Woode, who occasionally serenades passers-by. Indulge in an ice cream snack and some playground time before heading up the road to Zilker Botanical Garden.  This collection of themed gardens offers urban adventurers a wide variety of flora and fauna to explore.  From a bamboo-lined trail, waterfalls and a butterfly garden there is a lot of interesting ground to cover. The Japanese Garden, with its stepping stones crossing koi-filled ponds, rustic wooden bridge and interconnecting streams, is not to be missed.  Also fun for tikes, is watching the blacksmith in Pioneer Village and tracking dinosaur footprints in Hartman Prehistoric Garden. Junior scientists can continue their paleontological education at the free Austin Nature and Science Center.  Here, kids dig in The Dino Pit to unearth casts of dinosaur fossils.  Austin Nature and Science Center is also home to a variety of living creatures, from reptiles to raptors. Visitors can learn about Central Texas animals, then hunt for some in the wild. Be sure to ask to borrow an Eco Detective Kit, which includes binoculars for birding along the center's nature trails. Treat yourself to one final Zilker experience, by making your way to the park's cultural gem,
Umlauf Sculpture Garden and Museum
.  This secluded corner of the park features works by American sculptor, Charles Umlauf.  Stop at the front desk to pick up a scavenger hunt for kids, and set off on a statue safari along shaded paths. All of that trekking around Austin's most beloved park is sure to wear a parent out.  No guarantees on the kids, though.  They may ask to go back and do it all over again.
BY: Heidi Gollub
FreeFunInAustin.com was voted Best Hyperlocal Blog in the 2010 Austin Blogger Awards, was a Critics Pick in The Austin Chronicle's 2011 Best of Austin, was honored at The Statesman Social Media Awards in 2012, and has won Best Website in the Austin Family magazine awards for the past two years. Heidi Gollub started Free Fun in Austin in 2010 as a way to get out of doing housework.  Her theory was that running her five kids all over town on adventures for material to write about was a pretty awesome excuse for not doing dishes.  This worked swimmingly as her husband bought into her "I'm too busy being a good mother to bother with dusting" schtick and people not even related to her began visiting the website. Heidi's work on the website even led to other fun gigs, like writing for magazines and working as a True Local expert for the Austin Convention and Visitors Bureau.  All things considered, her kids don't really need clean clothes, do they?