10 Awesome Austin Places to Play
BY: Heidi Gollub |
Feb 12, 2014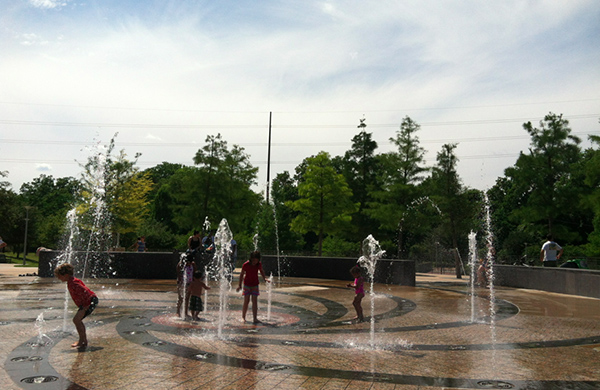 When it comes to free places to play, Austin has got you covered. There are parks, splash pads and shady playgrounds galore. If you want to venture out of your neighborhood and explore someplace new, here are ten local favorites worth checking out.
Central:
Butler Park - Hike up the spiral path at Doug Sahm Hill, enjoy a view of the Austin skyline, then roll back down to the bottom. Dust yourself off and head for a splash in the Liz Carpenter Splash pad. It's operational year round and if you stay past dark, you can enjoy a colorful light show!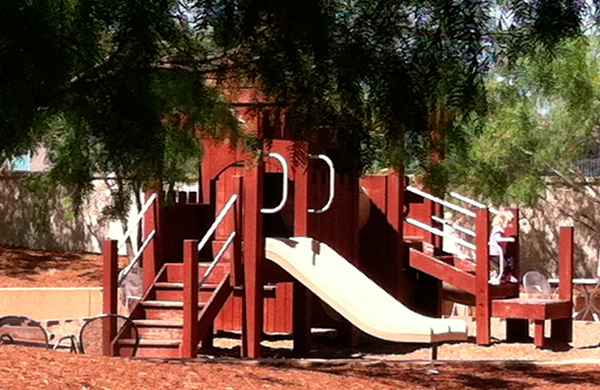 Whole Foods - Visiting the Whole Foods flagship store is an experience no Austinite should miss. Create your own lunch from the incredible selection of soup, salad and pasta bars and don't forget a tart or cupcake from the bakery. Then, head to the rooftop plaza for a casual picnic, while the kids monkey around on the small playground. After lunch, head across the street toBookPeople. The second floor is a wonderland for children, filled with reading nooks and a tunnel under the storytime arena.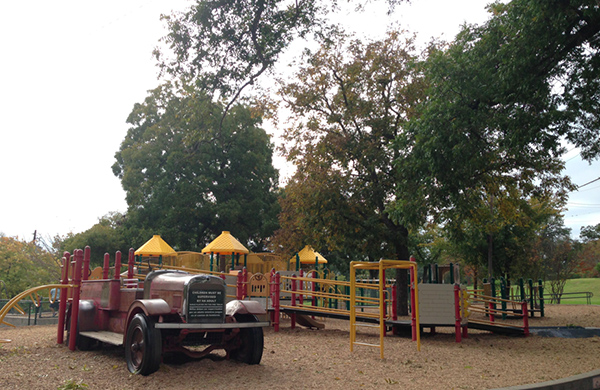 Zilker Park - Known as "Austin's most-loved park," Zilker Park offers351 acres to explore. Start on the massive playground, check out the exhibit in the Sheffield Education Center, hunt for turtles along Barton Creek, dig for dino bones at the Austin Nature & Science Center, and feed the ducks at Lou Neff Point. All for free! If you have a bit to spend, be sure to ride the Zilker Zephyr train, visit the koi at Zilker Botanical Garden, and take a stroll through Umlauf Sculpture Garden.
North: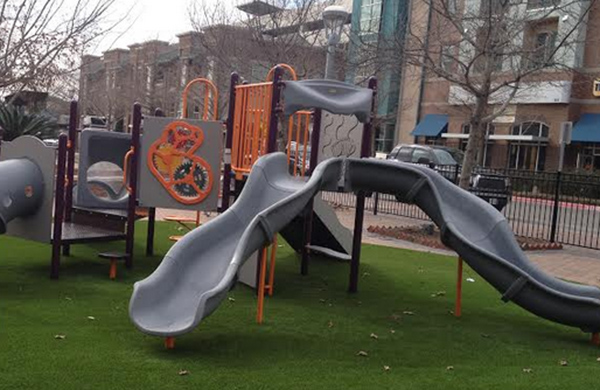 The Triangle - Home to theSFC Farmers' Market on Wednesday afternoons year-round, this little park packs a big punch. After stocking up on fresh veggies, let kids get soaked in the seasonal splash pad and zip down a slide on the new playground. Bocce balls are also available to borrow from nearby Mandola's Italian Market. End your outing with a tasty gelato from Mandola's - you'll be glad you did!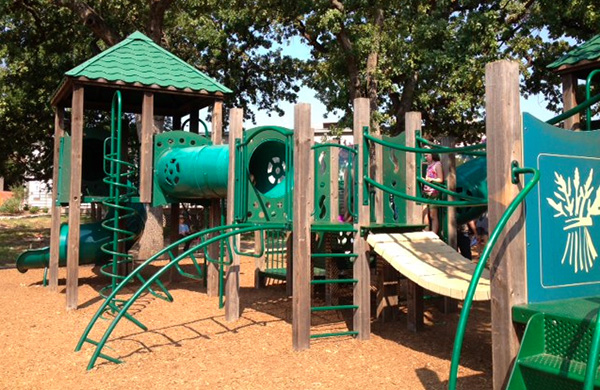 Central Market North - Central Market offers the perfect blend of parent and child entertainment. On Tuesdays after 5, kids eat free with adult purchase from the Central Market Cafe. Enjoy a glass of wine on the patio while the children burn off steam on the sprawling, outdoor playground. The patio stage offersfree live music Thursday through Sunday evenings. After relaxing for a while, walk off dinner by the duck pond. You may even spot a turtle or two.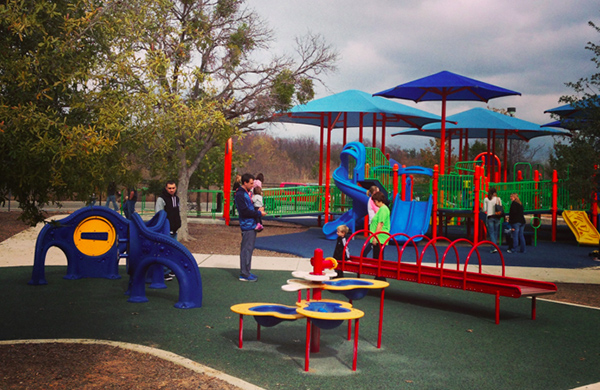 Play for All Abilities Park - With 51,000 square feet of fully-enclosed play area, kids and parents alike love this Round Rock park! Featuring several unique play areas - or pods - each built to develop specific skill sets in all children, there is plenty of ground to cover. The pods include Retreat Pod, Sensory Pod-Sand Box, Rock Band Pod, Rolling Hill/Performance Lawn, Sensory Pod, All Abilities Playscape, All Ability Swings, and a Brushy Creek Village life skills area. Be sure to bring along a bike or trike for kids to ride on the streets of the village!
East: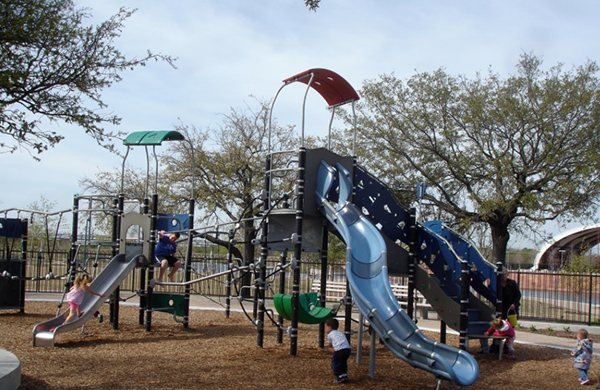 Mueller Lake Park - This park has it all: aSunday farmers' market, anamazing playscape, a lake, and miles of trails. As an added bonus, Mueller Lake Park is also home to Austin's brand new children's Museum, the Thinkery! The Thinkery has an amazing outdoor playground as well, plus indoor and outdoor water play areas.
South: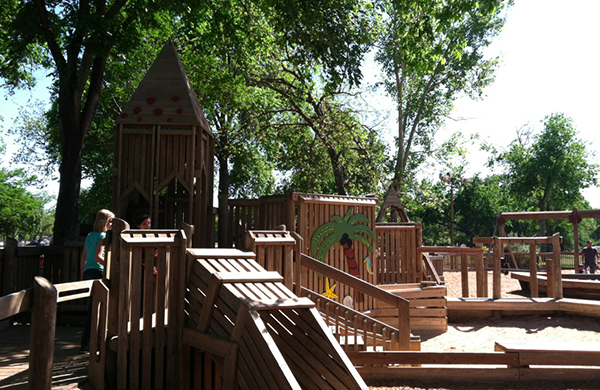 Children's Park - If you're looking for an old school playground, head south to San Marcos. Children's Park boasts wooden forts, slides, swings, and more. Kids will have a blast navigating tunnels, hiding in towers, and digging in the sand.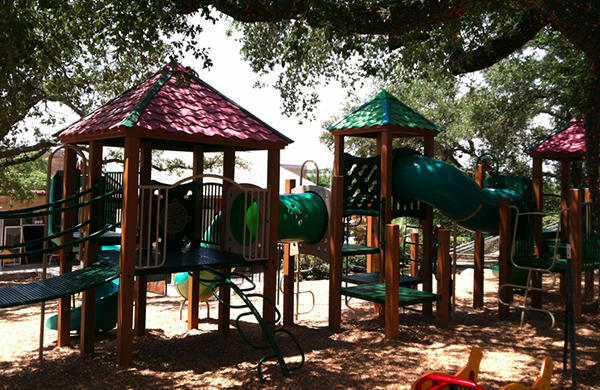 Southpark Meadows - Nestled in the middle of a South Austin shopping center, you'll find this shady spot filled with play equipment for all ages. There is also a stage for the occasional live music performance and seasonal water bubblers to help kids cool off in the summer. Wrap up your outing with a treat from nearby Amy's Ice Creams.
West: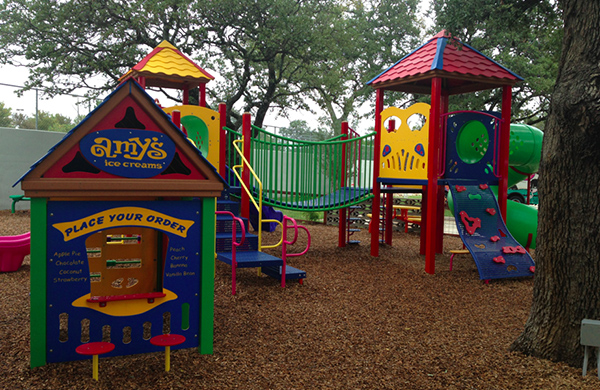 Amy's Ice Creams - ManyAmy's Ice Creams locations boast playgrounds and the newest Austinville 78750 location near Anderson Mill is no exception. Grab a burger at the neighboring Phil's Icehouse, a cup or cone from Amy's, and sit in the shade while the kids enjoy Austinville's shiny, new playscape.
BY: Heidi Gollub
FreeFunInAustin.com was voted Best Hyperlocal Blog in the 2010 Austin Blogger Awards, was a Critics Pick in The Austin Chronicle's 2011 Best of Austin, was honored at The Statesman Social Media Awards in 2012, and has won Best Website in the Austin Family magazine awards for the past two years. Heidi Gollub started Free Fun in Austin in 2010 as a way to get out of doing housework.  Her theory was that running her five kids all over town on adventures for material to write about was a pretty awesome excuse for not doing dishes.  This worked swimmingly as her husband bought into her "I'm too busy being a good mother to bother with dusting" schtick and people not even related to her began visiting the website. Heidi's work on the website even led to other fun gigs, like writing for magazines and working as a True Local expert for the Austin Convention and Visitors Bureau.  All things considered, her kids don't really need clean clothes, do they?