The Thinkery
BY: HEIDI GOLLUB | 1.22.2014 |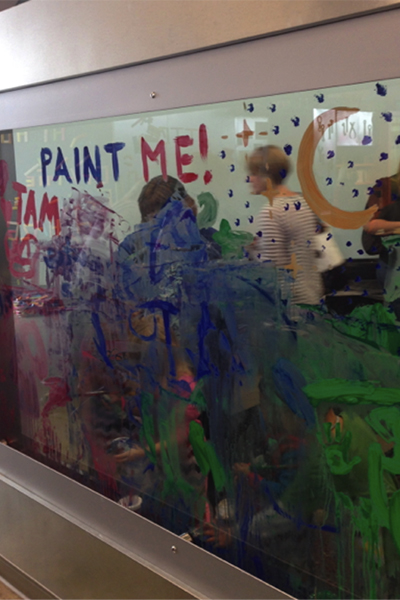 Austin's brand new children's museum, the Thinkery, is a tinkerer's paradise.  A veritable wonderland of hands-on exploration, the two-story red building beckons builders, makers, and artists of all ages to come and learn through play.  From water, to paint, to colored light, the media on offer provide seemingly endless opportunities for tactile experiences.  Parents will find it hard to resist playing alongside their child in this fun environment.
Located in East Austin's Mueller community, the 40,000 square foot Thinkery is equal parts science and technology center and children's museum. Focusing on "STEAM" learning – science, technology, engineering, art, and math – the unique museum offers eight interactive exhibit galleries, each hosting a variety of engaging activities.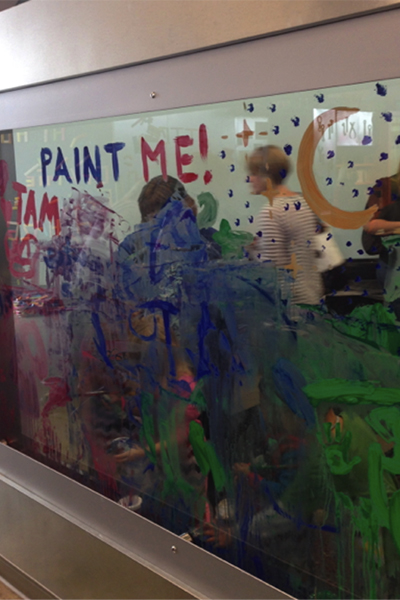 Innovators' Workshop invites young inventors to design and build to their heart's content, with 2,500 square feet of materials and tools at their disposal.  There are recyclables for crafting, string for weaving, and do-dads for connecting.  The vast gallery includes a glass wall for painting, a wall of magnets, and a table filled with moveable metal shavings, among many other intriguing stations. In this special place where engineering meets art, young imaginations are ignited.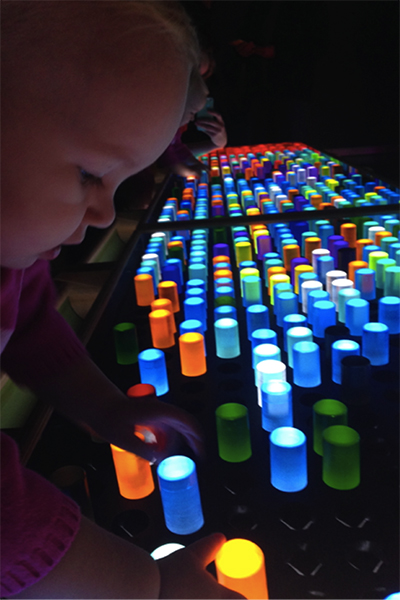 Light Lab offers a rainbow of activities, from a giant Lite-Brite to mini building blocks with colorful LEDs.  It's fun in the dark, when you've got lasers and shadows to play with!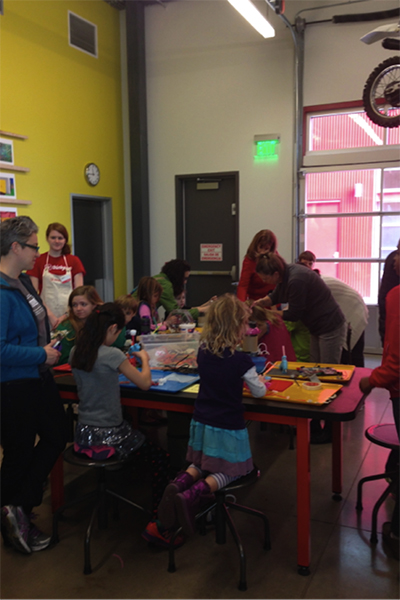 Spark Shop is a destination for older children to take on more advanced design challenges, like making foam airplanes to launch in the projectile range. Future engineers will enjoy this space created with them in mind.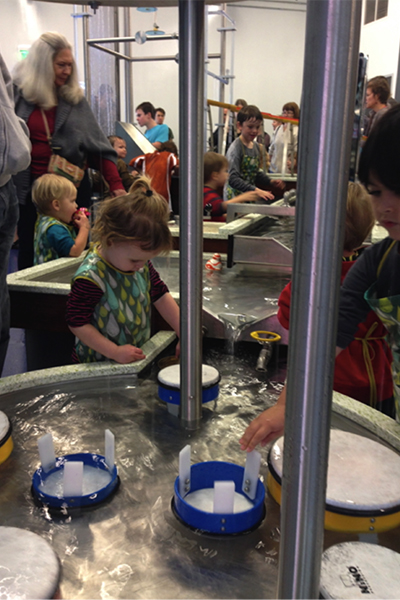 Currents is a watery science exhibit where your child will get wet.  Possibly very wet.  As in, you should probably bring spare clothes along wet.  Visitors to this gallery can't resist making waves playing water drums and piping tunes on the hydraulophone.  It is worth the sogginess to let kids immerse themselves in the concepts of fluid dynamics, but you may want to save this upstairs exhibit for last.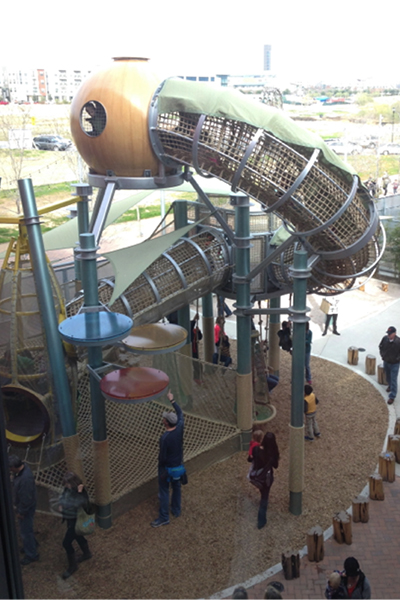 These galleries are just a taste of all the Thinkery has to offer.  There is also a fun story time nook, neat playgrounds both indoors and out, a chicken coop for kids, a Kitchen Lab, an outside area for water play, and more.  Even when the Thinkery is bustling with activity, the cheerful staff welcomes young visitors to explore every possible STEAM opportunity. My children, ages 10 months up to 13, all had a grand morning out at the Thinkery.
Admission to the Thinkery is $9. It is free on Sundays from 5-6 p.m. and by donation (suggested $1) on Community Nights, which are every Wednesday from 5-8 p.m. Admission is always free for kids under 24 months old. Parking is also free. According to Thinkery staff, the best time to visit is on weekday afternoons. No Tour Tuesdays are less crowded, as no school groups are scheduled on these days. To best plan your outing, read the Thinkery's Tips for Your Visit and The Statesman's Interactive Guide to the Thinkery.
BY: Heidi Gollub
Free Fun in Austin
FreeFunInAustin.com was voted Best Hyperlocal Blog in the 2010 Austin Blogger Awards, was a Critics Pick in The Austin Chronicle's 2011 Best of Austin, was honored at The Statesman Social Media Awards in 2012, and has won Best Website in the Austin Family magazine awards for the past two years. Heidi Gollub started Free Fun in Austin in 2010 as a way to get out of doing housework.  Her theory was that running her five kids all over town on adventures for material to write about was a pretty awesome excuse for not doing dishes.  This worked swimmingly as her husband bought into her "I'm too busy being a good mother to bother with dusting" schtick and people not even related to her began visiting the website. Heidi's work on the website even led to other fun gigs, like writing for magazines and working as a True Local expert for the Austin Convention and Visitors Bureau.  All things considered, her kids don't really need clean clothes, do they?