10 Handwritten Book Recommendations from Unabridged Bookstore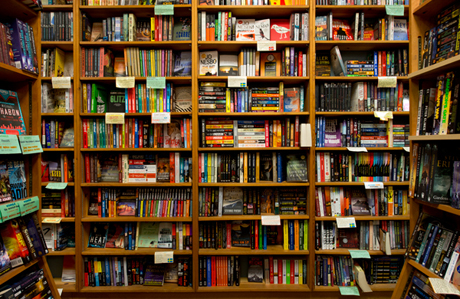 Lakeview's Unabridged Bookstore is known for its handwritten recommendations. We asked the staff to recommend books for 10 categories, including "The Book That Redefines What It Means to Be a Book."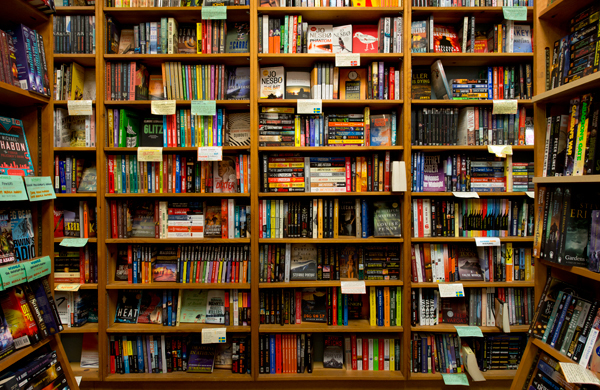 Since Lakeview's
Unabridged Bookstore
(3251 N. Broadway) opened in 1980, owner Ed Devereux and his staff have written boxfuls of book recommendations. Given the sheer volume of cards he's filled with offhand literary wisdom, you'll have to excuse Ed for forgetting the first one. "I do remember
A Confederacy of Dunces
because it was a huge book right away when we opened the store," he recalls. "It must have been that." For Ed, the decision to post recommendations on his shelves was a no-brainer. A former sales rep who frequented bookstores on his daily rounds, he had witnessed the selling power of shelf signs long before opening his own store. "If I didn't do a shelf sign," he says, "no one would ever know that I love that book." Each of Unabridged's recommendations is charmingly handwritten, which can bring up issues of spelling and legibility. Shane, a bookseller at the store, knows this all too well. "I won't name names," he says, "but one of my old coworker's handwriting was atrocious. I felt bad because he always had insightful things to say, but no one could read it." For the most part, though, the recommendations are legible and make compelling cases for the books they're promoting. We asked Ed, Shane, and the rest of Unabridged's well-read staff to scan their shelves and recommend 10 books for us. Here they are, handwritten as usual:
The Best Book for Reading on the Train: Tinkers, by Paul Harding
For this category, the size of the book must be taken into the equation (extra points if it has noise-canceling headphones attached to it).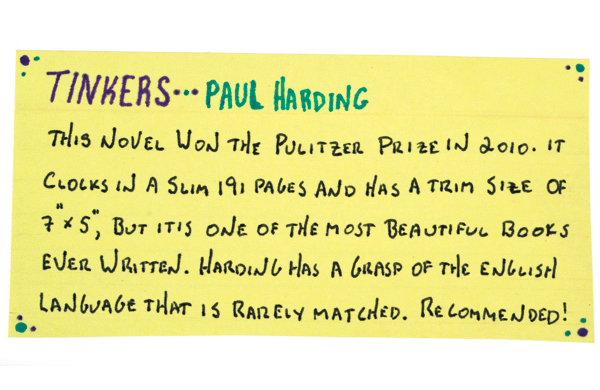 The Kids' Book That Will Turn Any Kid Into a Lifelong Reader: From the Mixed-Up Files of Mrs. Basil E. Frankweiler, by E. L. Konigsburg
This introduction to the world of literature should capture a youngster's imagination and, in 20 years' time, lead to the purchase of a sturdy bookshelf.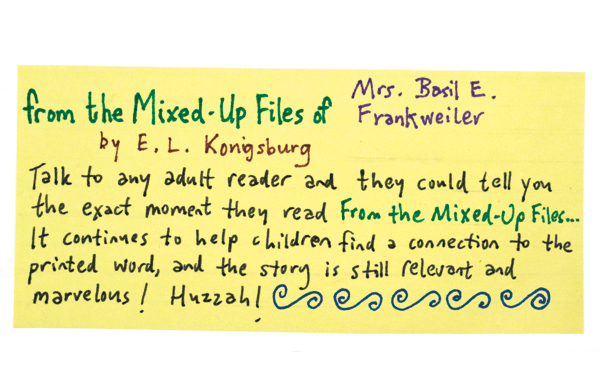 The Best Book to Look At: Vivian Maier: Self-Portraits
If a regular picture is worth 1,000 words, this book's pictures should be worth, let's say, 2,000 words (each).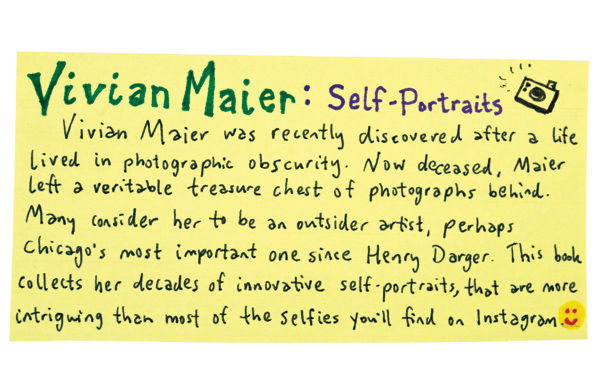 The Book That Redefines What It Means to Be a Book: Building Stories, by Chris Ware
This experimental work proves that, even after several millennia of written words, there's still room for originality.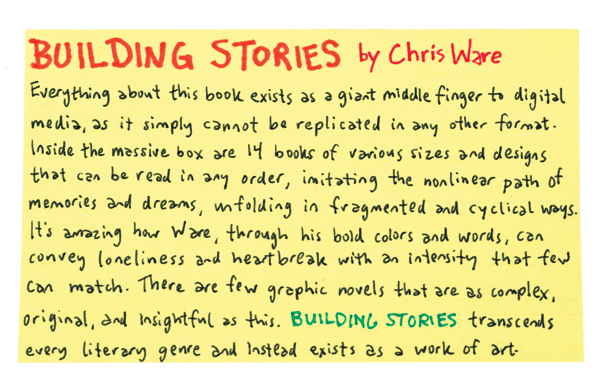 The Book That Leads to Another: Wolf Hall, by Hilary Mantel
Whether it's a prequel or the first chapter of an epic trilogy, this story keeps going long after the first book ends.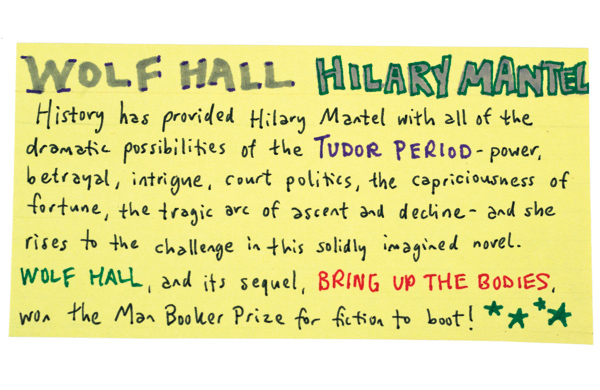 The Book You Enjoyed Most in 2013: Tenth of December, by George Saunders
This book didn't need a bookmark, since you never put it down.
The Book You're Looking Forward to Most in 2014: Dept. of Speculation, by Jenny Offill
Let's say that, for some reason, the government just spent millions of dollars building a radar to detect soon-to-be-published books. This book should be the first blip on the screen.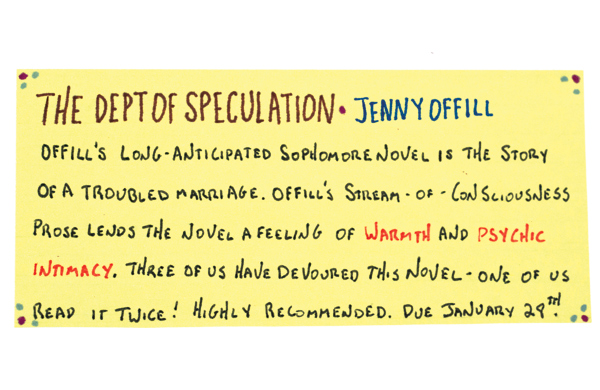 The Literary Classic That Puts All Other Books in Context: The Odyssey, by Homer (trans. Robert Fagel)
Squeeze this timeless title onto your reading list—ideally somewhere between the book you're reading and the one you're about to read.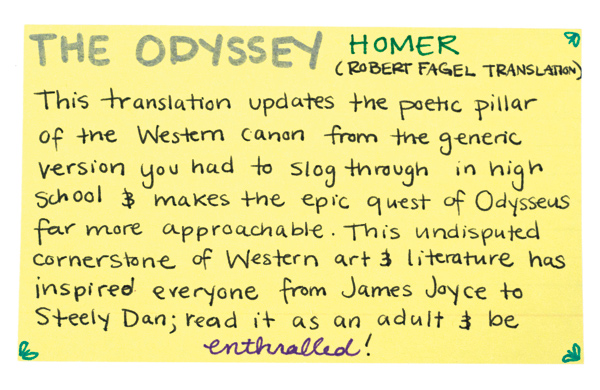 The Best Book by a New Author: Nevada, by Imogen Binnie
Dickens, Hemingway, and Austen are yesterday's news. Here's a new name to look for while scanning the shelf.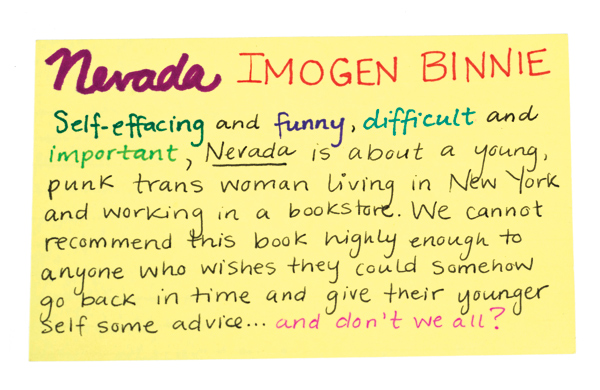 The Best Book by a Chicago Author: Hack, by Dmitry Samarov
This book should capture the essence of the Second City, so having a native Chicagoan at the keyboard naturally helps.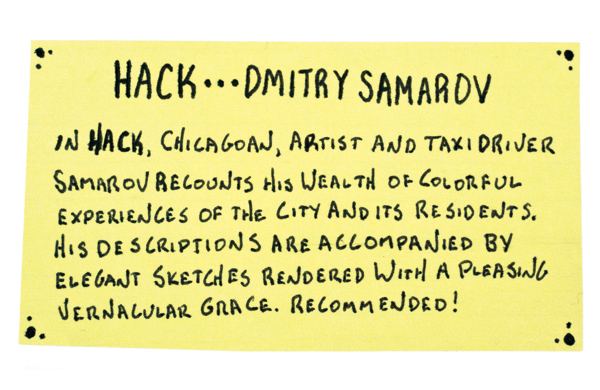 Photos by Andrew Nawrocki (interior) and Tim Burkhart (notecards).