15 Things You Should Know About K-Pop Superstars Boyfriend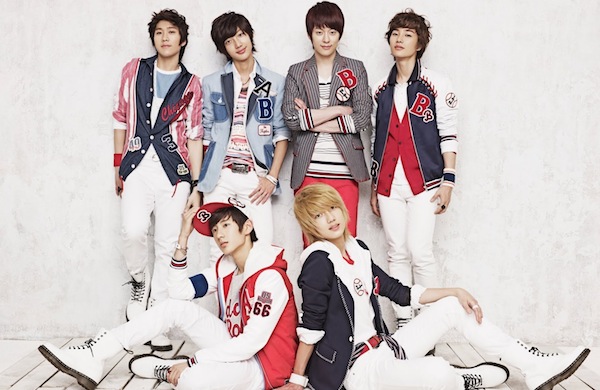 Get to know these K-pop sensations before their first US performance. Who's "the shy one"? Who's "the fashion king"? The The Guide bares all.
We'll forgive you for not knowing who
Boyfriend
is. After all, the band's upcoming performance at the
Riviera Theatre
is their
first-ever
US showcase. But the K-pop darlings have been sending South Korean audiences into fits of rapture as far back as 2011, when their namesake single became a staple in tween bedrooms across the country. Compare them to One Direction if that helps you, but like most K-pop groups, Boyfriend tends to eschew sentimentality for a sort of dazzling superficiality. That's not a slam. The band's meticulously arranged pop songs glimmer like a crowded thoroughfare aglow in neon lights—they want to make you happy, they want to make you dance. This is old news to South Koreans, but it's time for Americans to finally jump on the glittery bandwagon. We've compiled 15 helpful tidbits to introduce you to the boys of Boyfriend before they hit the Riv on Tuesday, March 11.
1.
The band consists of six members: Kim Donghyun, Shim Hyunseong, Lee Jeongmin, Jo Youngmin, Jo Kwangmin, and No Minwoo.
2.
They're only playing two concerts on this "tour"—one in Chicago, the other in Dallas.
3.
Boyfriend is responsible for the massive K-pop hits
"Janus"
and
"I Yah."
4.
The band is known for their incredibly complicated, gorgeously presented choreography.
5.
Donghyun is considered Boyfriend's de facto leader.
6.
Minwoo wears three shoe insoles to appear taller than he actually is.
7.
Boyfriend is the first boy band to count twins (Youngmin and Kwangmin) among its ranks.
8.
As youngsters, the twins appeared in more than 300 commercials.
9.
In fact, several of the members were child actors, having appeared on South Korean programs like
Conduct Zero
,
All My Love
, and
Ghost Pang Pang
.
10.
They affectionately refer to their fanbase as "Best Friend."
11.
Donghyun is considered the "fashion king" of the band.
12.
Jeongmin enjoys tiger prints and the Beatles song "Yesterday."
13.
Hyunseong is considered "the shy one."
14.
The band members' ages range from 18 to 25.
15.
This quiz
tells me my boyfriend from Boyfriend would be Minwoo, who "is childish, so sometimes you have to be the mature one. But that's okay, because you two love each other unconditionally and he is very protective of you!"
Boyfriend will be at the Riviera Theatre on Tuesday, March 11, at 7 p.m. Buy tickets here.