The Riviera Theatre: Uptown's Grizzled Gem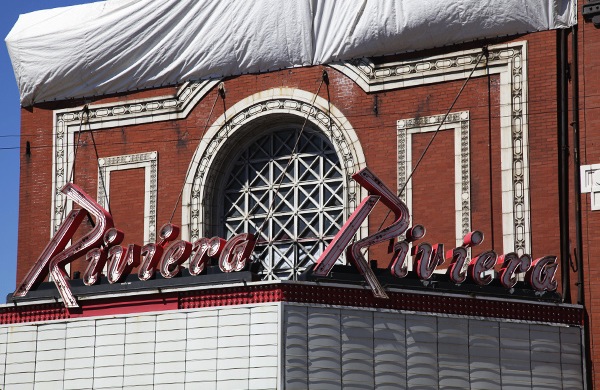 The 90-year-old venue may not look as pretty as it used to, but looks don't matter when the music's this good.
---
Check Out Our Featured Article for the Riviera Theatre:
Eight Times Heavy Metal Made Us Laugh
Onstage, Mastodon makes heavy metal that's both ambitious and literary. Offstage, they make us laugh.

Mastodon will be at the Riviera on Thursday, May 8.
---
Cascading stairways, triumphal arches, corinthian columns carved from solid blocks of marble—these staples of French Renaissance Revival architecture were found in nearly all of George Rapp and C.W. Rapp's theaters. The legendary Chicago architects certainly had expensive tastes, but they also had a knack for finding pockets deep enough to fund their vision. The Rapp brothers are perhaps best known for the
Chicago Theatre
, the centerpiece of State Street and a building that feels as opulent now as it did back in 1921. But if you take the Red Line north to Uptown, you'll find the
Riviera Theatre
, another Rapp masterpiece that's grown a bit scraggly in its old age. Let's put it this way: if the Chicago Theatre is Stephen Stills, the Riv is Neil Young. Like a grizzled elder wearing the rags of what was once a pristine suit, the Riviera Theatre flaunts its faded majesty with a quiet confidence. An unassuming exterior belies the grandeur of the cavernous concert space inside. The Riv still sports that signature Rapp opulence—it just complements the gold trim with rickety cocktail tables and PBR tallboys. It's an aesthetic that offers a singular sort of charm, the kind that lets you kick up your ripped Converse on the balcony of what resembles an antique opera house. For decades now, the Riv's old-timey marquee has served as a visual cue that you've entered Uptown. On any given night its bold, black letters herald the arrival of bands old and new. For every swiftly rising upstart (think Young the Giant), there's a modern-day legend (Kraftwerk, the Pixies) with something still to prove. And a diverse lineup of acts means diverse audiences. Salt-and-pepper beards are as common a sight as leather-jacketed teens, giving the Riv the sort of "all are welcome" vibe you won't find at every Chicago venue. The Riviera's come a long way since the Rapps envisioned it as just another in a series of sumptuous movie houses. The organ has given way to searing electric guitars, and the interior's initial grandeur has transformed into something simply, well,
grand
. And that's just how they like it, those crowds with tallboys raised in the air. Just ask, and they'll tell you: the Riviera is about so much more than architecture.
Find deals on things to do in Chicago throughout all of Groupon.