Eight Times Heavy Metal Made Us Laugh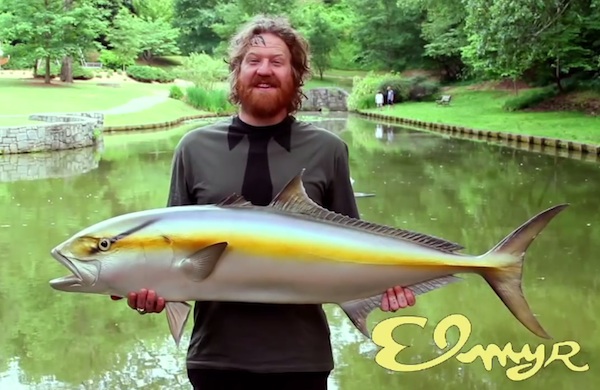 Sometimes, metal can be a drag. The darkness, the self-seriousness, the preoccupation with
death and destruction
. On the surface, Atlanta's Mastodon look like just another band of bearded buzzkills, what with their concept albums about
Moby-Dick
and Rasputin. But a closer look reveals the band's fierce intelligence and wicked sense of humor. Song titles like "Octopus Has No Friends," "Where Strides the Behemoth," and "Curl of the Burl" gently poke fun at the mythological underpinnings of Mastodon's heavy-metal music. And offstage, guitarist Brent Hinds lends his tattooed mug to any number of
comedic
videos
. So in anticipation of Mastodon's upcoming gig at the
Riviera Theatre
on Thursday, May 8, we thought it might be fun to explore the lighter side of metal. Here are eight instances where comedy reared its cackling head above the riffs and shrieks, be it intentionally or, well, not.
1. Mastodon's Brent Hinds Stars in a Local Restaurant Commercial
This ad for
Elmyr
, an Atlanta Mexican restaurant, parodies pharmaceutical ads with its promise to cure OHP ("Overwhelming Hunger Pains"). Hinds's tatted-up, unkempt appearance juxtaposes hilariously with the dramatization of his "healthy lifestyle," which includes golfing, fishing, and yoga.
2. Glenn Danzig Shares His Book Collection
"Welcome to my book collection," a shirtless Glenn Danzig says with a wink, and if that were all that existed of this video, it would still make the list. Fortunately for us, there's more. Danzig shows off a collection of werewolf stories ("all documented, all true") before cycling through "various books on death, anthropology of evil." It might be too metal, were there such a thing as "too metal."
3. Mötley Crüe's "Too Young to Fall in Love" Video
Lyrically, "Too Young to Fail in Love" is a pretty straightforward song. Girl loves guy, guy isn't ready for a relationship, guy kills her. Wait, what? Well, the video's even weirder. Mötley Crüe doing kung fu? Tommy Lee being a total jerk and throwing rice in some guy's face? Must be seen to be believed.
4. Death Metal Rooster
London-based metal band
Talanas
provide the music that underscores this much-funnier-than-it-has-any-right-to-be video. Everything about it is perfect, from the hilariously prolonged scream to the indifference of the other birds to the rooster's look of confusion once the noise stops.
5. The Postal Service Band Auditions
No, The Postal Service is not metal. They, and pretty much anything Ben Gibbard has touched, are the complete antithesis of metal. But you know who is metal? Duff McKagan of Guns N' Roses. Page Hamilton from Helmet, too. And both of them do a fine job of skewering their personas in this Funny or Die video, in which McKagan storms off and Hamilton literally slams his guitar into the amp as he shreds.
6. Dio's "Holy Diver" Video
Nearly 50 seconds of ominous ambiance underscores panning shots of a burnt-out church before Dio's crunchy riffs kick in. It's not long before the man himself appears, clad in medieval armor and holding a longsword. It's as if we're witnessing the birth of a great mythological hero, one whose luscious black locks and muscular riffs were destined to fan the flames of hell.
7. Heavy Metal Parking Lot
When: 1986. Where: Landover, Maryland. Why: Judas Priest and Dokken, baby. Jeff Krulik and John Heyn's 30-minute documentary canvasses the Capital Centre parking lot, where tailgating Priest fans chug beer, cuss, and somehow encompass an entire subculture's ethos. Bootlegged and shared feverishly among friends, the documentary was one of the underground's first viral videos.
8. The Black Satans' "The Satan of Hell" Video
Play music video. Mute music video. Play "Yakety Sax." Enjoy.
Mastodon will be at the Riviera Theatre on Thursday, May 8, at 7:30 p.m. Buy tickets here.