5 Great Places for Turkey Dinners Year Round
BY: Aubrey Bach |
Nov 21, 2013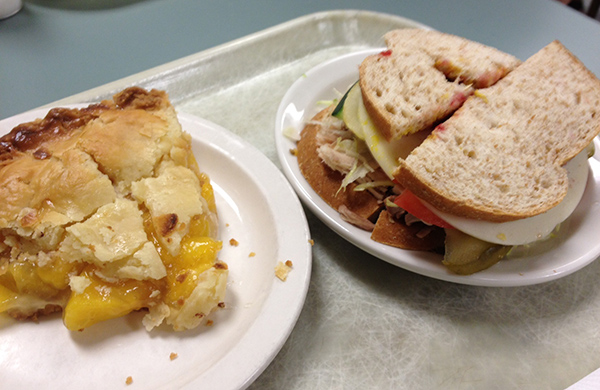 Thanksgiving dinner is one of life's great treasures - not only do you get to celebrate everything you're thankful for with friends and family, but you get to top it all off with stuffing and gravy and a big piece of pumpkin pie. If you wish Thanksgiving happened more than just once a year, then you're in luck. Here's a list of Seattle eateries where I get my turkey dinner fix any time of year:
Bakemans Restaurant:
Pioneer Square is in the midst of hipsterfication, but Bakemans Restaurant was around way before it was cool to eat delicious food south of downtown. Bakeman's is a little hard to find (it's hidden away in a basement under a bank) and you need to get your order straight before getting in line (seriously, no substitutions), and I've had the owner call me "kiddo" on numerous visits, but it serves up one of the greatest turkey sandwiches (cranberry sauce optional but recommended) in Seattle for under five dollars. And don't even think about not ordering pie - they've got a rotating selection of homemade pies that are to die for.
Gobble Restaurant (Woodinville):
Who knew that you could find an entire restaurant dedicated to turkey out in wine country? Gobble Restaurant serves up a Carved Turkey Platter for just $10.99 any time of year, so you can get your fix any time.
Now Make Me a Sandwich:
One of the best-named food trucks in Seattle also serves up an entire holiday between two pieces of bread. Their Thanksgiving Sandwich consists of turkey, bacon, cranberry sauce, stuffing, gravy, and rosemary aioli and proves that the only thing that can make Thanksgiving even more awesome is bacon.
Witness Bar
: A new addition to Capitol Hill, this Southern cocktail bar may not strike you as a place to get your Thanksgiving fix, but one bite of their Stuffing Fritters will make you a believer. Full of buttery bready goodness, they are made even better when accompanied by something from the Witness cocktail menu.
Radiator Whiskey
: Want to nosh on a giant turkey leg like Fred Flinstone? Then cozy up to the bar (or grab a table) at Radiator Whiskey and feast on the Turkey Drum Confit. You'll feel like it's the holiday season (or like you're at a Renaissance Faire) no matter what month it is.
BY: Aubrey Bach
Aubrey Bach has been blogging about Seattle's best (and most delicious) events and restaurants at www.yay-today.com since moving to Seattle in 2008. With an eye for deals and a slight obsession with food, Aubrey hunts out the best and most affordable treasures in and around Seattle.