9 of the Best Bottomless Brunches in Chicago
BY: Jordan Sward |
Dec 18, 2014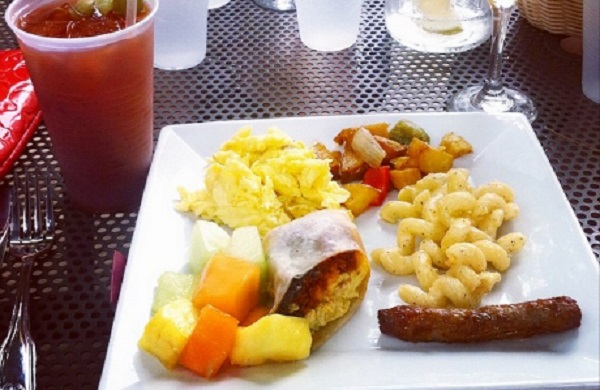 What's better than a boozy brunch? A bottomless boozy brunch! When you're ready to put your day drinking pants on, there's nothing better than joining a group of friends for eggs and all-you-can-drink mimosas on the weekend.
If you're a fan of the kind of brunch that falls under the "all-you-can-drink" category, you're in luck. Here's a list of some of the best bottomless brunches in Chicago. Some are known for their fun atmosphere, some pride themselves in keeping the drinks flowing, some offer actually amazing food, and all are a guaranteed good time.
Patsy's Pub & Grill
At $22.95 for bottomless mimosas, Patsy's is one of the best deals around. Even better, they keep the mimosas flowing – none of that cut you off when you're done eating stuff! Amazing service + good/inexpensive food = brunch for every budget.
LOKaL Restaurant & Lounge
An amazing menu full of farm egg creations, sandwiches, and more comfort food classics plus drink packages that last while you're dining (only $9 for mimosas, $10 for bloody marys, and $14 for champagne – limit 7).
Zella
Zellas is mostly known for their great patio during the summer, but it works for winter as well because of the cozy fireplace. Be prepared to drink if you go to Zella - $37 will get you an all-you-can-drink AND all-you-can-eat service (AKA heaven). Food is buffet-style.
Broadway Cellars
This charming Edgewater spot is perfect for when you want something a little more quiet and relaxing. Their amazing brunch menu features bottomless mimosas and/or bloody marys on Saturdays and Sundays.
25 Degrees
Pair a great location (736 N. Clark) with $15 bottomless mimosas, bellinis and bloody marys and you've got yourself a darn good day. Plus, the food is just plain amazing!
Timothy O'Toole's Pub
Say hello to build-your-own mimosa and bloody mary bar! Headed to the game? This is a great place for a Bears game pregame since it provides a shuttle to Soldier Field.
Minibar Chicago
Gay nightclub by night, $25 food and champagne brunch by day! Head to this Boystown location to start the day … Minibar's fun atmosphere definitely won't disappoint.
The Standard Bar & Grill
If you love The Standard at night, consider the fun, TV- packed location for Saturday brunch! Their special is $25 for one brunch item plus bottomless mimosas, bloody marys and Miller drafts.
O'Donovan's Pub and Restaurant
This is another spot for those who like to drink! Just $25 for their champagne brunch buffet on Sundays. Plus, the place is packed with TVs perfect for football season.
BY: Jordan Sward
Jordan Sward started Smile Sandwich in 2013 as a way to share her passion for healthy, seasonal recipes that fit a young professionals lifestyle and budget. As someone who could barely make a grilled cheese three years ago, she believes anyone can learn to cook healthy recipes that actually taste good. On her blog you'll find lighter versions of your favorite foods, plus a sprinkling of ramblings from a brand ambassador by day/ Beyonce-listening, wine-guzzling, adventure seeker by night. Nothing makes her smile more than delicious good-for-you food, red wine, and great people to share both with.