9,063 Wineglasses (Oh, and One Pork Chop)
BY: Colleen Loggins Loster |
Dec 23, 2013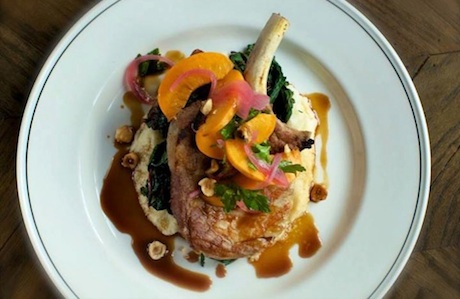 The bone-in berkshire pork chop won over our taste buds at Alpana Singh's Boarding House in River North, even though the massive overhead art installation demanded our eyes' attention.
Even from a couple of blocks away, you can see
The Boarding House
's (720 N. Wells St.) enormous chandelier. More of an art installation, it's made up of 9,063 wineglasses set above glowing lights, so it shines through the River North restaurant's first-floor windows. When I visited on a cold November night, it was a beacon beckoning me into warmth.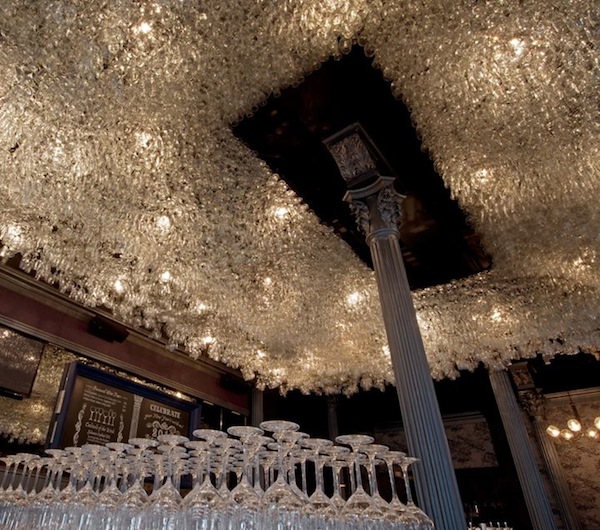 The Boarding House is owned by
Alpana Singh
, who hosted the restaurant-review TV show
Check, Please!
for nine years. She's also the youngest woman ever to pass the master-sommelier exam. This is her first restaurant venture, and it has been lauded for its food, wine list, and decor. The decor, thanks to this massive overhead art installation, is the first thing that strikes you when you breeze through the doors. Museum-quality wire suspends the wineglasses upside-down above the lights, and it takes up nearly the entire first-floor ceiling. After drinks at the first-floor bar, located underneath the twinkling glasses, my friend and I headed back to the hostess stand, where we were escorted to the elevator. The hostess ushered us in and pressed the No. 3 button for the dining floor, but she didn't get in with us. The two of us rode up in eager silence. It sounds dumb, but it was oddly exciting to take a private elevator ride. It's amazing how such a simple thing can make you feel superfancy. On the third floor, the doors opened up to another awe-inspiring chandelier/art installation—one made of nearly 4,000 green wine bottles. It dangled high above the diners' heads from a vaulted ceiling. Outside the large bay windows, the cityscape twinkled. Seated amid all the beauty, I tucked into an excellent entree, a bone-in berkshire pork chop with roasted butternut squash, mascarpone grits, butternut-squash aigre-doux, and sage.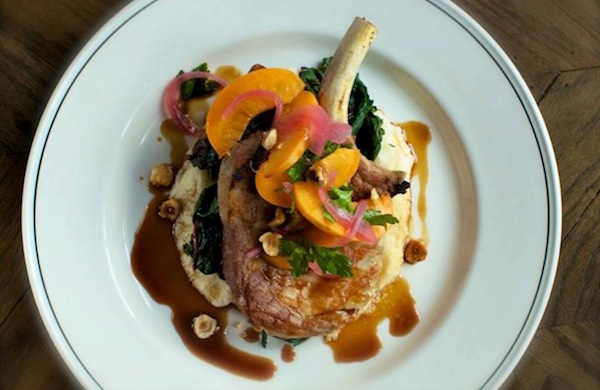 Next came a seasonal pumpkin cheesecake bar and the oatmeal-raisin cookie sandwich. "It's one of the things we're known for," the hostess downstairs had told us. Unfortunately, it was not quite so memorable for us. Dessert may be hit or miss, but The Boarding House really nails the service. Our server chose our wine from the 450-bottle wine list, relying on nothing more than our vague instructions of "We like reds … cabs! And we want to spend around $40." She deftly pointed out things that she called "cab-esque." Even though it was a little more than we wanted to spend, she said we couldn't go wrong with the $48 Justin Vineyards cabernet produced by a master sommelier in California. She was right. She also kept our bottle over at the sommelier station (our table was tiny), and came back to pour it for us whenever our wine dwindled. She was attentive but never disruptive. And she didn't seem to mind that we stayed at our table for a good two hours. We both enthused about the experience while waiting to get our jackets from coat check. While we piled on scarves and gloves and hats downstairs, a hostess asked how our meal was and somehow managed to sound interested, not just polite. That friendliness, embodied by the whole staff, made dining at The Boarding House so positive for me—but the fantastic pork chop, velvety smooth wine, and the unique art installations definitely didn't hurt.
Wine bar photo courtesy of The Boarding House; bone-in Berkshire pork chop photo courtesy of Jeff Schear Visuals
BY: Colleen Loggins Loster
Colleen is a makeup/skincare junkie who has a serious Sephora problem. She writes about all things beauty and occasionally does hand modeling for work. Her job is strange.