A Creamy Mushroom Soup Recipe for Autumn, Courtesy of The Spice House
BY: Halley Lawrence |
Oct 2, 2013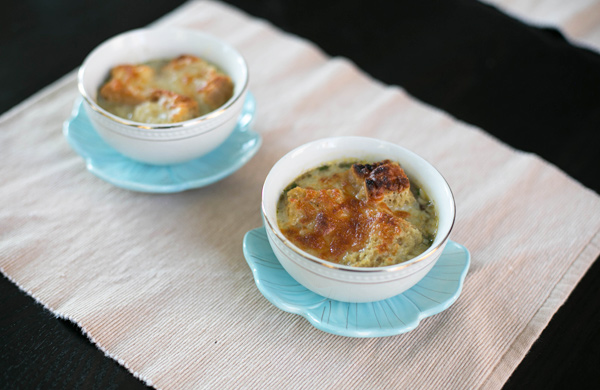 I've never been much of a nutmeg fan. I've always associated its taste and smell with spice cakes and other holiday desserts, which I find too cloyingly sweet to enjoy. But that all changed after talking with Patty Erd, co-owner of
The Spice House
(multiple Chicagoland locations), about
her trip to tour a nutmeg farm cooperative in Grenada
. Patty educated me about nutmeg's tropical origins (turns out it doesn't grow in Grandma's cabinet!) and also clued me into ways that nutmeg can be used in savory dishes like this creamy mushroom soup. It's warm, comforting, and healthy-ish (it has arugula. . . beneath a layer of gruyère cheese). Check out my step-by-step pictorial below, or if you carry a torch for sweet, nutmeggy desserts, scroll further down: The Spice House also provided us with a
pumpkin muffin recipe
.
Creamy Mushroom Soup Recipe
Recipe courtesy of Mabel, a Chicago Spice House customer
What You Need: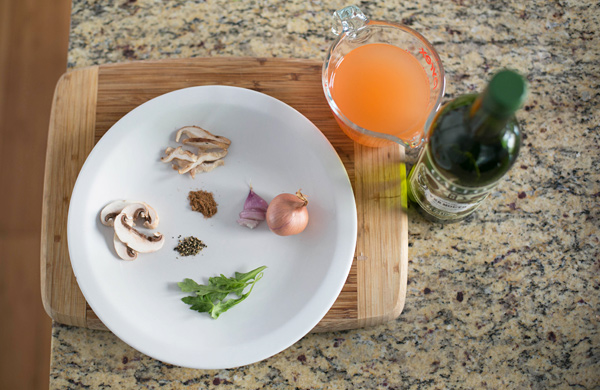 1 shallot, roughly chopped 2 cups roughly chopped assorted mushrooms (We went with a mix of baby bellas and shiitakes, but the recipe will work with criminis, oyster mushrooms, white button mushrooms. . . basically whatever you can get your hands on) 2 cups vegetable broth 1 cup roughly chopped arugula Black pepper to taste Dash of nutmeg Splash of vermouth Croutons Gruyère cheese
What You Do: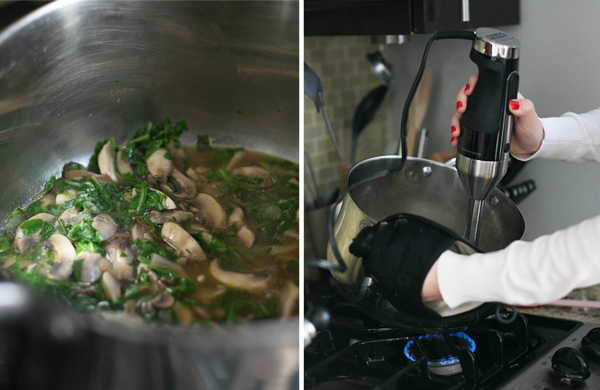 Toss the chopped shallots, mushrooms, and vegetable broth in a saucepan and bring them to a boil. Reduce the heat, cover, and simmer for 30 minutes. Toss in the chopped arugula and simmer for another 15 minutes, then pour into a blender and mix to a smooth consistency (we used our handy immersion blender). If you're using an old-fashioned blender, pour the mixture back into the saucepan and bring it to a low simmer. Add the black pepper, nutmeg, and vermouth, and mix well. Ladle into individual ramekins, sprinkle with croutons and cheese, and broil until the cheese is brown and bubbly.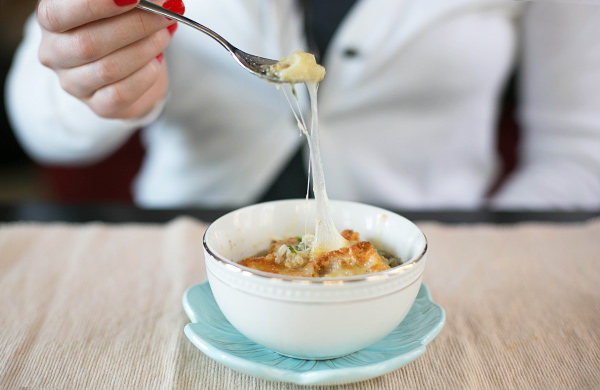 And for the sweet-tooth reader. . .
Pumpkin Muffin Recipe
Recipe courtesy of Ann, an Evanstonian Spice House customer
What You Need:
3 cups sugar 1 cup oil 4 eggs 1 pound canned pumpkin 3 1/2 cups flour 2 teaspoons baking soda 1 teaspoon ground cinnamon 1 teaspoon ground allspice 1 teaspoon ground nutmeg 2/3 cup water
What You Do:
Preheat oven to 325 (or 350 if you want to make this in loaf pans). Mix the oil, sugar, and eggs in a large bowl. Stir in the pumpkin. Sift the dry ingredients together in another large bowl, then slowly add the mixture to the wet ingredients. Add the water, little by little. The batter should gradually become thicker and harder to stir. Grease and flour muffin tins (16 muffins total) or two 9"x5" loaf pans. Bake for 30–35 minutes for muffins, or 60 minutes for loaves.
Photo: © Stephanie Bassos, Groupon