The Spice House Owner Tells Us Where Nutmeg Really Comes From
BY: Halley Lawrence |
Oct 2, 2013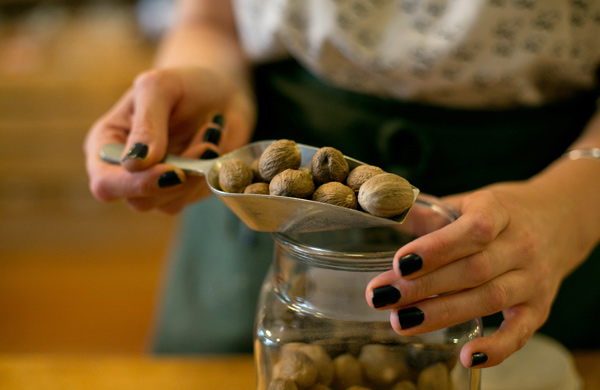 Most people know the smell of nutmeg at first whiff, easily associating the scent with memories of pumpkin pie in the fall or mulled wine around Christmastime. But most have only seen the spice in pulverized form—they wouldn't recognize the sight of a whole nutmeg pod. That's not the case for Patty Erd, co-owner of
The Spice House
(multiple Chicagoland locations) and daughter of Bill and Ruth Penzey, who opened the original Spice House in Milwaukee in 1957. The Penzey kids have continued their parents' legacy—Patty and her husband took the reins of the shop in 1992, and her brother, William Jr., launched the national catalog brand
Penzeys Spices
. Their devotion to the family trade is no surprise, given how much the spice shop figured into their childhood.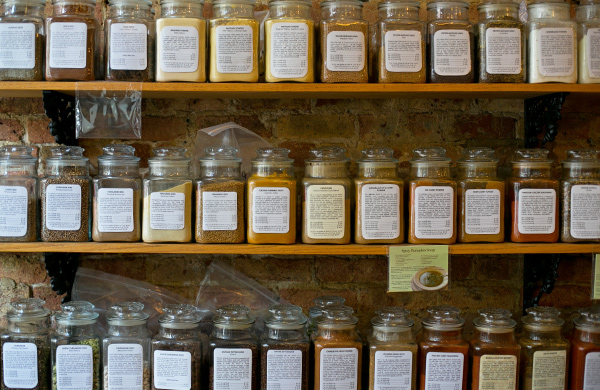 "My mom just put the crib in the back of the store," Patty said. As she grew up, her parents let her help with simple tasks, such as sorting nutmeg pods. "We sold little tubes, each filled with five nutmegs," she said. "And you might get a nickel for every tube you filled." Patty and her husband, Tom, have expanded the family business beyond Milwaukee, opening bustling
locations
in Evanston and around Chicago. But they still preserve many of her parents' traditions. They even invite their nieces to help fill nutmeg tubes during the busy Christmas season, just as Patty did when she was a child. Patty gained an even deeper understanding of nutmeg a few years ago, when she and her husband took a trip to the balmy Caribbean island of Grenada. There, they toured the cooperative from which they source nutmeg for their shops. "All the different farmers pick nutmeg on their farms and put them in sacks on their heads to carry down the mountain," she said.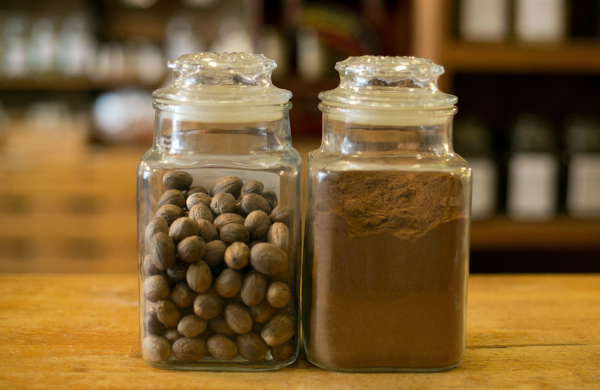 Hanging from leafy trees, the round pods were the color of bartlett pears. Splitting them open revealed a nutmeg seed wrapped in a "lacy scarlet covering," which is mace, the second major spice derived from the trees. These elements were everywhere on the island—in dishes of the native cuisine and even on the paths underfoot, since builders use cracked pod shells as a paving component. "Sometimes," Patty said, "you'll be walking along and you won't see any nutmeg trees, and think, 'Why am I smelling so much nutmeg?' It's [in] the path. Everything on the island smelled like nutmeg for one reason or another." Today, the Erds still stock their shops with nutmeg from that same cooperative whenever possible. In addition to selling the spice, they recommend recipes that incorporate it—many of which are supplied by customers. "Our customers wouldn't be our customers if they didn't love to cook. . . most of them are really good cooks," Patty said. Many of The Spice House's nutmeg recipes are for sweet holiday desserts, but Patty and her customers also recommend using nutmeg in savory recipes. We tried out their recipe for creamy mushroom soup with arugula and gruyère cheese.
Click to see a step-by-step pictorial recipe.
Photo: © Stephanie Bassos, Groupon
BY: Halley Lawrence
Guide Staff Writer
Halley is a Chicago writer with southern roots. When she isn't typing, she enjoys cooking without recipes and designing garments for her upcoming clothing line, Ambidestre.