A DIY Guide to Bitters
BY: Lisa Ladehoff |
Mar 28, 2014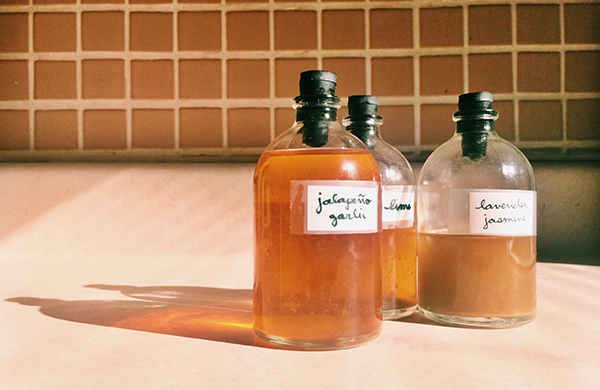 Even the simplest of cocktails require a shake of bitters.
On every self-respecting bar, you'll see a lineup of little brown bottles with eyedroppers, or a tall bottle of Angostura bitters wrapped in its familiar oversize white label, or Regan's orange bitters, or maybe a few colorfully labeled blue bottles from Bittercube. Bartenders shake and drop them into and onto drinks with a dramatic flourish.
But what's the point?
I've made infused alcohols before (it's almost insultingly simple), and after doing some light research on bitters, I foolishly concluded that the process wasn't much different. So I went about making my own.
Batching bitters for a restaurant or bar is an entirely different story, since a bartender might use up an entire bottle in a week or two. At home, a smaller batch is more practical—both in terms of usage, and cost. So for this project, I embarked upon the bitters journey with two knowledgeable bartenders holding my hands, and an end-goal of three different recipes with roughly a 12-ounce yield each.
For help, I solicited the expertise of Sam Wilder (of La Sirena Clandestina) and Chiyo Takemoto (of Juno Restaurant—which recently burned down and is now temporarily closed for repairs). Quickly into the process, I realized that there was a lot to be learned about the art of making bitters—because it truly is an art.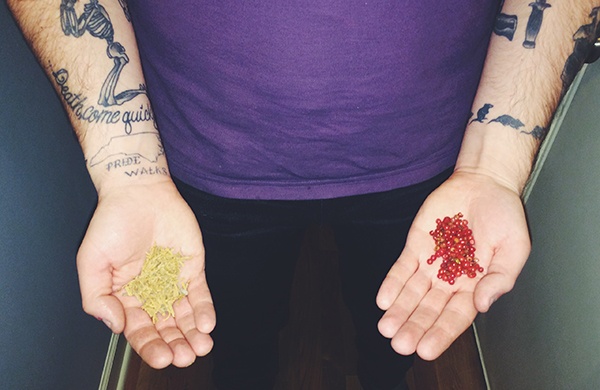 Dried gentian root and pink peppercorn, each of which went into jalapeño-garlic bitters
After deciding the types of bitters we were going to make (lime, lavender-jasmine, and jalapeño-garlic), the two of them developed recipes. Then we shopped for ingredients at Whole Foods.
Since some of the ingredients are more difficult to find, it might require in-advance internet shopping—depending on what you're going for. Things like gentian, burdock, or dandelion root, and the long list of other acceptable bittering agents ("the herbs, roots, barks, and botanicals that will provide much of the actual bitterness to your brew," according to Bitters expert Brad Thomas Parsons) might be difficult to find.
Each ingredient has a different level of bitterness and botanical notes, and can complement flavors in a different way. This is undoubtedly the most complex and challenging aspect of developing a recipe. Using multiple bittering agents creates a more complicated and layered flavor and aroma.
As Sam put it, "Bitters add depth to the flavor profile of a cocktail. Most drinks will taste just fine without bitters, but by adding bitters that complement a cocktail's base spirit, you get a subtle, complex layer otherwise absent."
Some people recommend letting each ingredient macerate in a different jar. That way, you can blend your ingredients at the end and have a more tightly controlled result. But that requires a lot of jars.
So we opted to go all-in, literally, chopping up our ingredients for each recipe and letting them soak in a high proof, clear spirit (in this case, Spirytus, which is a 192-proof Polish vodka. You probably don't want to drink it straight.)
A high-proof or overproof alcohol absorbs the most flavor in the least amount of time, so use a spirit that's at least 150 proof. It's also possible to use brown spirits, but that will yield a totally different result. Again, the whole experience seems to beg for experimentation.
The ingredients for the lime bitters, including a long, slender stalk of lemongrass
Lime Bitters
Peel of one lime, chopped




Zest of one lime




½ tsp coriander




½ tsp rainbow peppercorns




½ lemongrass stalk, chopped into ¼-inch pieces




½ tbsp green cardamom pods, crushed




½ tsp angelica root




½ tsp dandelion root




½ tsp gentian root




2 kaffir lime leaves, crushed




2 bay leaves



Combine all ingredients in a jar with 8 oz of a high-proof spirit. Let sit for at least two weeks in a cool, dark place, agitating twice a day every day.
Lavender-Jasmine Bitters
Flowers from 3 stalks of fresh lavender




Zest of one large lemon




2 bags of jasmine tea, loose (this was the cheapest option we found for jasmine tea, but it's not going to make an immense difference since there are so many different ingredients. An expensive jasmine won't behoove you)




¾ tbsp dandelion root



Combine all ingredients in a jar with 8 oz of a high-proof spirit. Let sit for at least two weeks in a cool, dark place, agitating twice a day every day.
Jalepeño-Garlic Bitters
1 ½ oz dried gentian rootParagraph




1 ½ jalapeños, julienned




3 large cloves of garlic




1 oz pink peppercorns



Combine all ingredients in a jar with 8 oz of a high-proof spirit. Let sit for at least two weeks in a cool, dark place, agitating twice a day every day.
I judiciously shook the jars each day, agitating the ingredients for 15–30 seconds as I watched the macerate decline in color, while the hue of the alcohol deepened into three shades of unappealing green and brown. After the two weeks was up, I strained the whole mess and then brought the once-dry ingredients to a quick simmer, diluted with 8 ounces of water, each. I added that back in with the strained liquid and then let them sit, again, this time for a week. Still, I shook every day.
The ugly brown mess that remained of the once-colorful lime bitters ingredients
After the simmering happened, the jars took on a strange appearance, and when I opened the cupboard each day, they had separated into what looked like liquid, then organic silt, then all the bigger bits on the bottom. I strained them again at the week's end, then filtered the whole mess through a coffee filter—which, mind you, took a while due to all that organic silty stuff.
The end result was mixed with a tablespoon of simple syrup for each 8-ounce batch (which was now around 12–16 ounces, after straining) to cut the bitterness—this is a totally personal preference, and can be adjusted to taste. The jalapeño-garlic was by far the spiciest, smelliest, and bitterest of the three. After that, I put them in little bottles and handed them off to Chiyo and Sam.
Here are a few cocktails they came up with:
From Sam:
With the jalapeño-garlic bitters, Sam made a "jalapeño tequila rickey with cracked black pepper." This is a nod to his time tending bar in DC, since the official cocktail of DC is the rickey (originally made with bourbon in the late 1800s, but widely popularized around the turn of the century when it was made with gin).
The Ricardo
1 ½ oz blanco tequila




1 oz fresh lime juice




½ oz turbinado simple syrup (turbinado simple makes a richer simple with a hint of caramel roundness that mellows out the acidity of the lime nicely)




½ a small jalapeño, cut into chunks (seeds in, pith out)




2 or 3 turns on a smoked black pepper grinder




2 dashes (or 14 drops) jalapeño-garlic bitters



Combine all ingredients into a cheater tin and fill with ice. Cap and shake vigorously for 15 seconds. Roll into a tall collins glass and top with soda water. No garnish (the pepper and jalapeño chunks make for a busy glass…garnish would look garish).
With the lime bitters, Sam made a "bastard of the Corpse Reviver No. 2," which is a hair-of-the-dog cocktail (same category as bloody marys).
Back from the Grave
1 oz American dry gin (Bluecoat is a very aromatic, botanical option)




1 oz Lillet Blonde




1 oz dry curaçao (generic triple sec will work, but will make a sweeter cocktail)




¾ oz fresh lime juice




2 dashes (or 14 drops) lime bitters



Combine all ingredients into a cheater tin and fill with ice. Cap and shake gently for 10 seconds. Double strain (Hawthorne and tea strainer) into a chilled martini glass. Zest a swath of lime peel over the glass, swipe along the lip of the glass, and rest in the cocktail.
From Chiyo:
Inspired by a classic Bees Knees cocktail (which is just gin, honey, and lemon), Chiyo added extra flavor components and made the drink more floral with the bitters, while adding depth and richness in texture with the Mandarine Napoleon. Her version is a more complex take on a simple classic.
The Bee Keeper
1 ½ oz dry gin




¼ oz Mandarine Napoleon cognac-based orange liqueur




½ oz honey syrup (equal parts honey and water)




½ oz lemon juice




5 drops lavender-jasmine bitters



Combine all ingredients except the bitters in a shaker with ice. Strain over ice into a rocks glass, apply the bitters and garnish with a sprig of fresh lavender.
Overall, as it turns out, making bitters isn't that easy, and it's more of an art than a science. Perfecting the recipe is the most important and difficult aspect of the whole task—and remembering to shake the bitters twice a day every day was like having to take the dog out (I made myself a sign that I taped on the cabinet at eye-level).
The lime bitters were spicy and aromatic from the peppercorns, and smelled strongly of the lemongrass. Using multiple bittering agents made for a complexly bitter result, whereas the single bittering agent of the jalapeño-garlic—plus the insane spiciness of peppercorns, jalapeño, and garlic—made them a difficult and savory challenge when it came to constructing a final cocktail. By far the most interesting was the lavender-jasmine, which smelled of anise and was slightly sweet and spicy with a murky, dark-green tint.
If I were to try it again, I'd most certainly follow the single-ingredient path, which strikes me as the best way to acquaint oneself with the totally bizarre (and sometimes gross) flavors and smells the ingredients emit after soaking for three weeks. Following that approach, dilution, mixing, and sweetening seems to take a much less intimidating path.
Next time, I'll buy more jars.
Photos by Lisa Ladehoff, Groupon