A Hearty Breakfast, Filipino-Style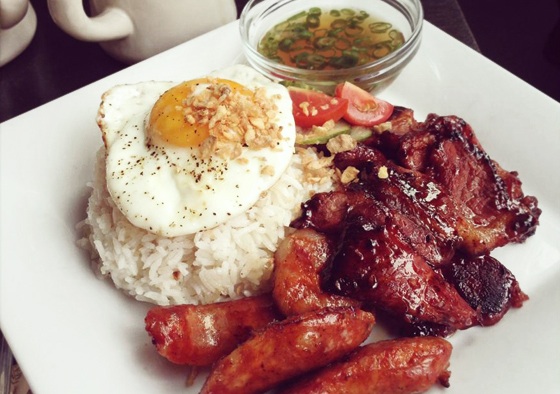 A bowl of cereal, a bagel with cream cheese, a toaster pop: none of these have ever given me much satisfaction. Growing up with two Filipino parents, breakfast was always hearty and comforting, capable of fueling either a long school day or a long nap. Lucky for me, Filipino breakfast has been on the rise in Chicago as of late, and plenty of restaurants now feature plates of smoky-sweet tocino and garlic fried rice on their menus. Because my parents also taught me to share, here's my guide to Filipino breakfast: what it is, and where you can get it.
What it is:
A combination of these three items:
1. Sinagag (see'-na-gag): essentially, refried rice, or cooked rice that is tossed in a skillet with garlic and oil
2. Itlog (it-log'): eggs, cooked sunny-side up and nestled atop the bed of rice, perfect for soaking up that savory yolk
3. One of the following meatstuffs:
- Longanisa (long-ga-nee'-sa): pork sausage infused with garlic and anise, with a sweet finish and a bright pink tone
- Tocino (toe-see'-no): grilled sliced pork, also pink, with the same flavor profile as the longanisa
- Tapa (ta'-pa): sliced beef marinated in vinegar or lemon juice, with garlic, soy, and sugar, then pan-fried or grilled
- Bangus (bong'-oos): whole milkfish marinated in vinegar and garlic, split open and boned, then fried
- Spam (spam): yes, that Spam. The canned meat was introduced to the Philippines during the US occupation in World War II and remains a staple at breakfast, sliced and fried till the edges are crispy.
PRO TIP: Identifying these dishes requires a lesson in the Filipino portmanteau. For example, a breakfast with tapa is often called "tapsilog," where the "tap-" refers to the tapa, the "-si-" to the sinagag, and the "-log" to the itlog. Hence, a bangus breakfast is "bangsilog," tocino "tocilog," etc. etc.
Where to get it:
Uncle Mike's Place | Ukranian Village
This unassuming American diner gained a quiet cult following when, along with omelets and pancakes, its kitchen began serving from a chalkboard-only Filipino breakfast menu. Word of mouth spread pretty quickly, and now the Filipino breakfast menu is one of the restaurant's main draws. Breakfast here is served along with zesty sawsawan kamatis, a Filipino-style pico de gallo with tomatoes, onions, and fish sauce, as well as a steaming bowl of champorado, a cocoa-flavored rice pudding. The only breakfast it doesn't serve is the tapsilog, although it substitutes that with a skirt steak marinated in soy sauce, garlic, and lemon-lime soda that the diner claims is "the best east of the Pecos."
Merla's Kitchen | North Park
Situated in a tiny storefront, Merla's Kitchen is intimate and bright, its café-style atmosphere peppered with bistro tables and lots of green plants. Merla herself is often behind the counter, apron on. Though known for her crisp empanadas, Merla also dishes out delicious breakfast plates to eat in or take to go.
Ruby's Fast Food | Albany Park
Absolutely no frills here, Ruby's Fast Food is a turo turo–style eatery (turo meaning point, as with your fingers). Stainless-steel bins of steaming food lie behind the glass counter, beneath televisions playing soap operas on the Filipino Channel. People are willing to wait in the often-long line, and it's been that way since even before Andrew Zimmern paid the restaurant a visit for an episode of Bizarre Foods.
Rodan | Wicker Park
In counterpoint to Ruby's, this sleek pan-Asian lounge sits amidst the nightlife of Wicker Park. Libations flow freely in the evening hours, and the weekend brunch menu aims to cure morning-after aches. Rodan's longanisa 
(pictured above with tocino) is soaked in Pabst Blue Ribbon; and instead of tapa, the chefs serve hanger steak alongside a housemade steak sauce. Their longanisa can also be found in a breakfast burrito rolled with egg, peppers, avocado, and corn salsa.
Halo Asian Mix | Loop
The fare at this casual eatery is "Asian fusion," a medley of dishes from Thailand, China, Japan, Hawaii, and the Philippines. Morning diners can perch at high-topped tables after ordering plates of tocilog, longsilog, and tapsilog at the counter.
Sariling Atin Filipino Restaurant | Niles
Located in a strip mall where the other stalls often change residents, Sariling Atin hasn't slowed down since its launch in 2011. The decor here is sparse, save for the traditional wooden carvings of spoons and forks on the wall. Though this simple and bright suburban eatery is known for its all-day weekend buffet, weekday breakfast specials featuring tapa, tocino, longanisa, and bangus make before-work visits well worth it.
BY: Aimee Algas Alker
Guide Staff Writer
Though Aimee stays up to date on the latest food trends for the Guide, most of her meals are served cold and cut into tiny, toddler-sized bites.