Could Filipino Food Be the Next Thai Food? The Answer May Lie Inside an Egg.
BY: Aimee Algas Alker |
Sep 25, 2014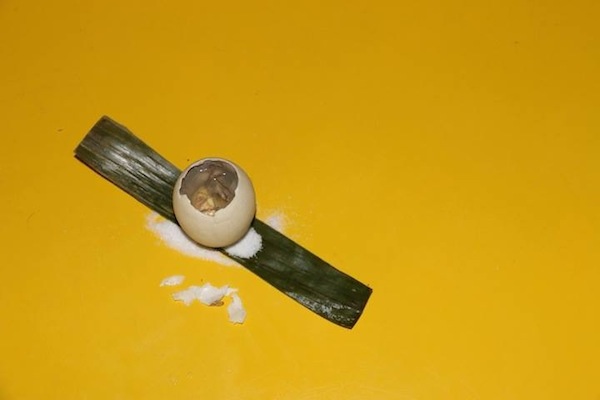 Those in the know have long prognosticated the arrival of Filipino food. But for some reason, the cuisine has never quite hit the American mainstream like other Asian cuisines, such as Thai, Indian, or Vietnamese.
But its time may have finally come, and some say that the true test of whether the American palate is ready to accept it lies within the gray-white shell of a fertilized duck egg known as balut.
Why balut?
High in nutrients and minerals, many nutritionists tout balut as a superfood, just like kale and quinoa. Food critics have written that "the little embryo … taste[s] something like duck liver mixed with duck breast." Some sources even tote its effectiveness as a hangover cure.

Yet an image search for balut can cause even the most steel-stomached to cringe. Even I—the daughter of Filipino immigrants, who slurped the salty broth as a child and relished the dark-yellow yolk—can understand the reaction to the sight of the partially developed embryo within. Many Westerners just don't want to be reminded of what their food looked like before it became food. It's the reason some people have a visceral reaction to seeing a whole lechon splayed out on a table at a Filipino celebration or a lamb turning on a spit in Greece. We just don't want to be reminded that the burger on our plate once had a head, that the bacon lying next to our eggs once had eyes.
Removing the stigma
One woman leading the charge to push Filipino cuisine out of the shadows and onto white tablecloths is Nicole Ponseca, co-owner of two Filipino restaurants in New York City, Maharlika Filipino Moderno and Jeepney. Ponseca's menus do indeed feature balut, something that even compatriots warned against: no one will want to eat it.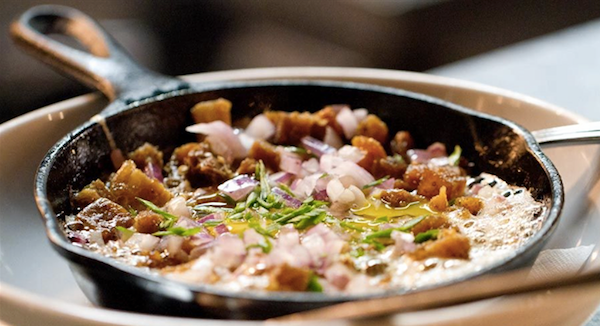 A skillet of sisig at Maharlika in New York
But why?
Germans eat pigs feet, people of many nationalities eat tripe. And Filipinos, reasoned Ponseca, eat balut. So she's kept it on the menu at both Maharlika and Jeepney. The very first non-Filipino customers to order it were from Italy.
"I thought maybe they didn't know what they were ordering," she said. "But sure enough, they ordered a second round."
Since then, it's become a dish that draws patrons from different tables together. Some people recognize it from shows like Fear Factor, and at another table, "a whole group of lolas [grandmothers] will be like, 'Try it! Try it! It's like Viagra,'" she quoted. (Balut has a legendary reputation as an aphrodisiac.) Those lolas, she said, "become our own ambassadors."
Though her goal is to normalize Filipino cooking, she's also not shy about the spectacle. At Jeepney, when someone orders the dish, the staff shouts "Baluuuuut!" just like they do in the Philippines.
And then, of course, there's the contest.
Yep, a contest.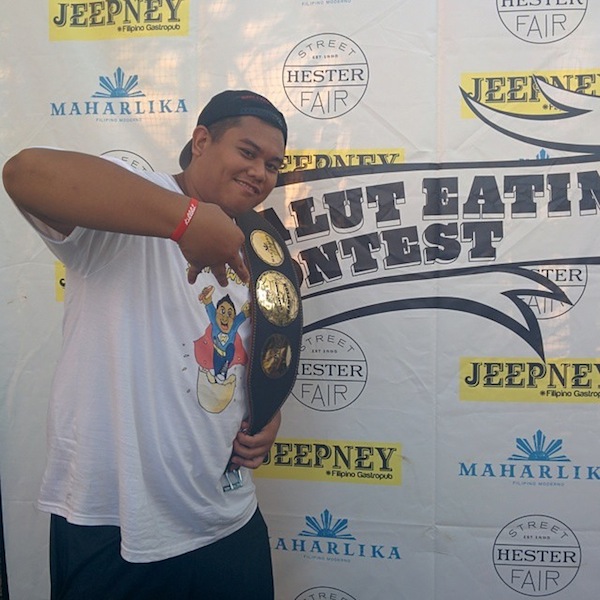 Wayne Algenio and the belt commemorating his three-peat
"We were drunk when we came up with the idea," Ponseca admitted. But when it still seemed like a good idea the next day, she began planning. In 2012, Maharlika and Jeepney cohosted the first balut-eating contest, drawing eight contestants, including fellow Filipino-American Wayne Algenio.
Though he was born in the Philippines, Algenio had never eaten balut before the contest. So he prepared by watching YouTube videos of other balut-eating contests.
"One guy would crack the egg and just squeeze the whole thing in his mouth at once," Algenio said. "[During my first contest,] when I heard I was down by three eggs, I started doing that."
It worked: in 2012, he won by eating 18 eggs in five minutes; in 2013, he won with 37. And just this past weekend, on September 20, he held on to his title by devouring 40. Eight eggs per minute—with no preparation whatsoever. He doesn't even eat balut outside of these contests.
Algenio is a storied amateur competitor, regularly courted by the professional leagues, and he's competed in—and won—numerous other eating challenges. Yet he still can't escape the shine from his balut wins. But he's happy, he says, to have played a part in bringing Filipino cuisine to the forefront.
What's next
Ponseca is enthusiastic about the mainstreaming of Filipino cuisine and uses the recent popularity of the nose-to-tail movement as evidence that many diners are eager to branch out and try nontraditional proteins. In the meantime, she enjoys finding ways to make the cuisine more approachable by modernizing dishes with different cooking techniques.
How does she know it's working? "More and more non-Filipino faces are coming through the door."
Photos of food courtesy of Maharlika and Jeepney. Photo of Wayne Algenio courtesy of Wayne Algenio.
Shop Goods for kitchen and dining products:
Read about fresh, exotic desserts:
| | |
| --- | --- |
| | |
| A Filipino Dessert with Eight Beautiful Parts | This Vietnamese Dessert Is Like a Cool, Frosty Rainbow |