GROUPON GUIDE TO WASHINGTON-DC
Filipino Food Is the (Current) Next Food Trend
BY: Aimee Algas Alker |
Apr 21, 2016
America is apparently about to get to know Filipino food. A whole bunch of foodie prognosticators have it listed as a hot trend for 2014.
Now, for me, there is no greater comfort food than Filipino food. I grew up with calderetta, adobo, bistik, and the scent of garlic and onions sizzling in a fry pan. But I realize this is not the norm.
So I started thinking, What should someone try first, if they've never had Filipino food? First things first, I went to my mom and asked her:
"You mean like they never had pancit?"
"No."
"Even lumpia?"
"No."
"No lechon or barbecue pork? Not even adobo?"
And there was my list.
I reviewed it with other Filipino food lovers, including my non-Filipino husband. It's pretty airtight. Pork is a staple, and pops up in Filipino cuisine in many forms. And of course, all of this must be consumed with steaming piles of fluffy white rice.
So, to get a headstart on this "new" trend, here are the five Filipino dishes you should try:
Pancit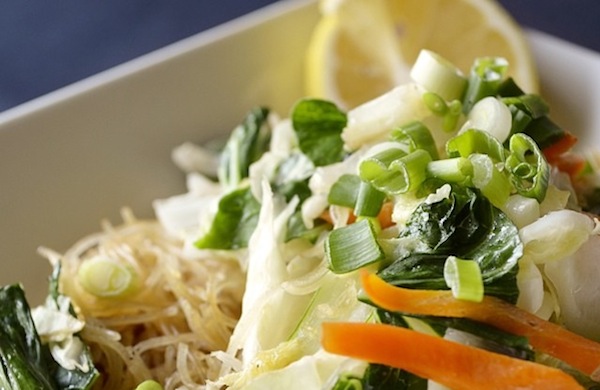 Pancit in Tagalog means noodles. And of course, there are different configurations: palabok, its orange tinge granted by annatto, with grated chicharron (crisp pig skin) and slices of green onions atop the fat, short noodles; canton, similar to Chinese lo mein; guisado, probably referring to the tangle of thin, pan-fried noodles. But when people say simply pancit, they are most likely referring to pancit bihon, ubiquitous at any Filipino party. On birthdays, you eat pancit for long life—thin rice noodles, sautéed in garlic and onions, tossed with any number of sliced meats, from chinese sausage, to shredded chicken or pork, and even shrimp.
Lumpia Shanghai
Thinner than the egg rolls from Chinese delivery, these are about the width of a cigar. And they're filled mostly with meat, usually ground pork or shrimp, or both. The egg-roll wrapping is thin, more like wontons, and when the egg roll is deep-fried, it gives it a crispness, rather than a crunchiness. Dip them in sweet and sour sauce or Jufran banana ketchup. These are easy to taste-test in just a few bites, and they're sort of considered an appetizer, so if you don't like them (but, seriously, I haven't met anyone who doesn't like lumpia), you can focus on the other dishes on the table.
Lechon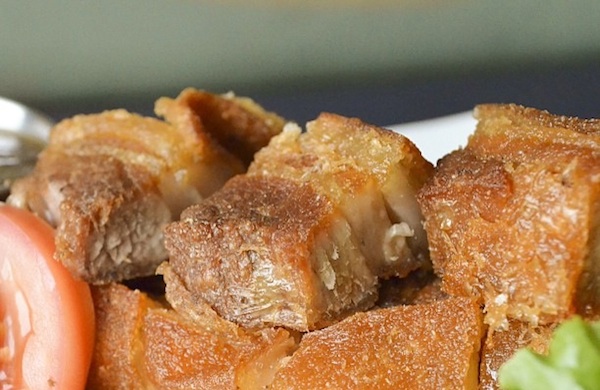 I've extolled the virtues of lechon before, and referred to Anthony Bourdain's proclamation that Filipino whole-roasted pig belongs atop his hierarchy of pork. Though it's tough to find a spot that serves whole-roasted pig on the regular, lechon kawali is more readily available. Kawali means frying pan or wok, and the pork belly is deep-fried to a crisp (a delicious, golden crisp) after it's boiled with garlic and bay leaves. The key to this dish is the lechon sauce, a sweet-savory gravy made from pig liver, vinegar, and sugar.
Adobo
All you need for a decent adobo is soy sauce and white vinegar. Brown the meat, usually pork or chicken (and it's better with the bone in). Then simmer it in equal parts soy sauce and vinegar. Some say add onions and garlic, some say add bay leaves, salt, and pepper. My friend's sister uses pork ribs; another friend once used balsamic vinegar; I use pork shoulder, throw in black beans, and make it in my slow cooker. Variations abound, as evidenced by the annual Adobofest thrown in the summertime by the Filipino American Network.
Barbecue pork
Slices of pork are threaded onto a skewer, then marinated in a sticky-sweet blend of soy sauce, garlic, and usually something sugary. My best friend's father swears by 7Up (not Sprite), but I've heard of people who use Coca-Cola or just straight-up sugar. My husband will down five skewers alone as a meal, no rice, no pancit, nothing but a Coke to wash it all down with.
Photo credit: Hide Obara courtesy of Isla Pilipina in Chicago