Why Filipino Lechon Sits Atop the Hierarchy of Pork
BY: AIMEE ALGAS ALKER | 8.20.2013 |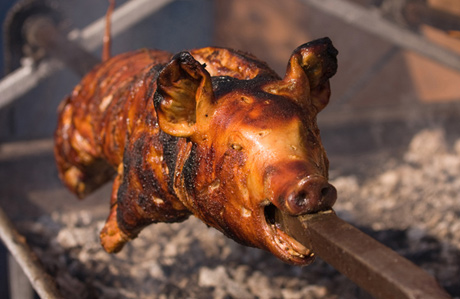 Filipino lechon is in a class of its own. For while spit-roasted pigs appear in cuisines around the world, Anthony Bourdain will be the first to tell you they're not all alike. The well-traveled chef has organized a full hierarchy of pork, and there's only room for one porcine delicacy at the top. Enter Filipino lechon—specifically, the lechon Bourdain tasted on Cebu island in the Philippines. After being cooked until its skin is brown and crunchy, the whole hog is laid out atop the table as the centerpiece for a celebration or feast.
To find out where Chicagoans can taste similar lechon without booking a trip to Cebu, I pressed my Chicago connections and queried my extended Filipino family. I found that while many eateries serve lechon in other iterations—fried or roasted in pieces—very few have the capacity to roast a 40-plus-pound hog. The only restaurant that serves whole roasted lechon with any regularity is Little Quiapo in Rogers Park (6259 N. McCormick Blvd.). All week long, the restaurant's buffet serves other traditional Filipino dishes, but the weekend is when you'll find the lechon laid out alongside deep bowls of sarza, a sweet gravy made with ground liver, brown sugar, and vinegar.
If you can't go out for lechon, make it come to you. The following purveyors roast whole pigs to order, so all you need to do is call ahead and make sure you've invited enough friends, family, and former high-school teachers for a proper backyard piyesta.
Uni-Mart | 1038 W. Golf Rd., Hoffman Estates
This Filipino supermarket has four locations in the city and suburbs and touts itself as a one-stop shop. Customers come seeking pantry staples as well as hot foods and bakery cakes. It's the Hoffman Estates location that will roast and deliver a whole pig to your doorstep.
Oscar's Foods | 6130 1/2 W. Belmont Ave., Portage Park
Oscar began making longanisa—a sweet-cured pork sausage—in the Philippines to fund his education. He continued this craft when he migrated to the States and eventually branched out to make other Filipino meatstuffs and dishes, which he distributes wholesale to many local Filipino groceries and sells directly to the public. Stop by to pick up your own whole lechon—deemed to be "the best" in my informal survey.
Adeline's Catering | 4016 Main St., Skokie
Suburban party hosts procure their crispy lechon from Adeline's Catering, which features a range of other traditional Filipino dishes, too. One of their other specialties includes carving elaborate table centerpieces from brightly colored fruit.
That guy in Lombard who does it out of his yard. 
Most Filipinos know someone who knows someone who has rigged up a spit roaster in their backyard. Keep asking and you might make a connection.
BY: Aimee Algas Alker
Guide Staff Writer
Though Aimee stays up to date on the latest food trends for the Guide, most of her meals are served cold and cut into tiny, toddler-sized bites.